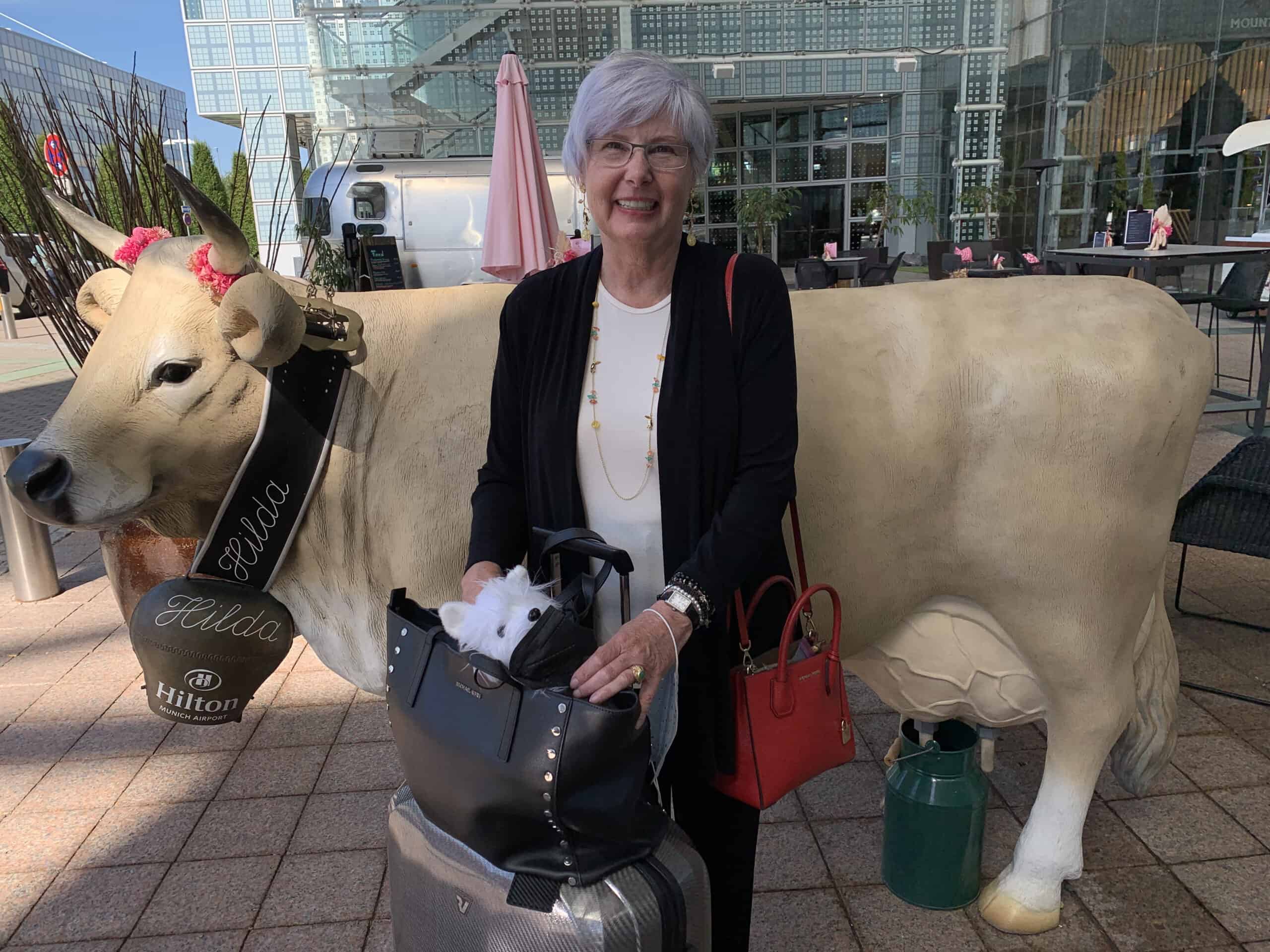 We'd been planning the 'picking up our car' part of the trip for two years. As with everyone, we were shut down and our 2020 plans were shut down.
Even so, we found ourselves scrambling when we finally got the go ahead two weeks out. Luckily, the Ancona Airport had recently reopened. The seaport city of Ancona is just up the coast. The question was, how could we get there?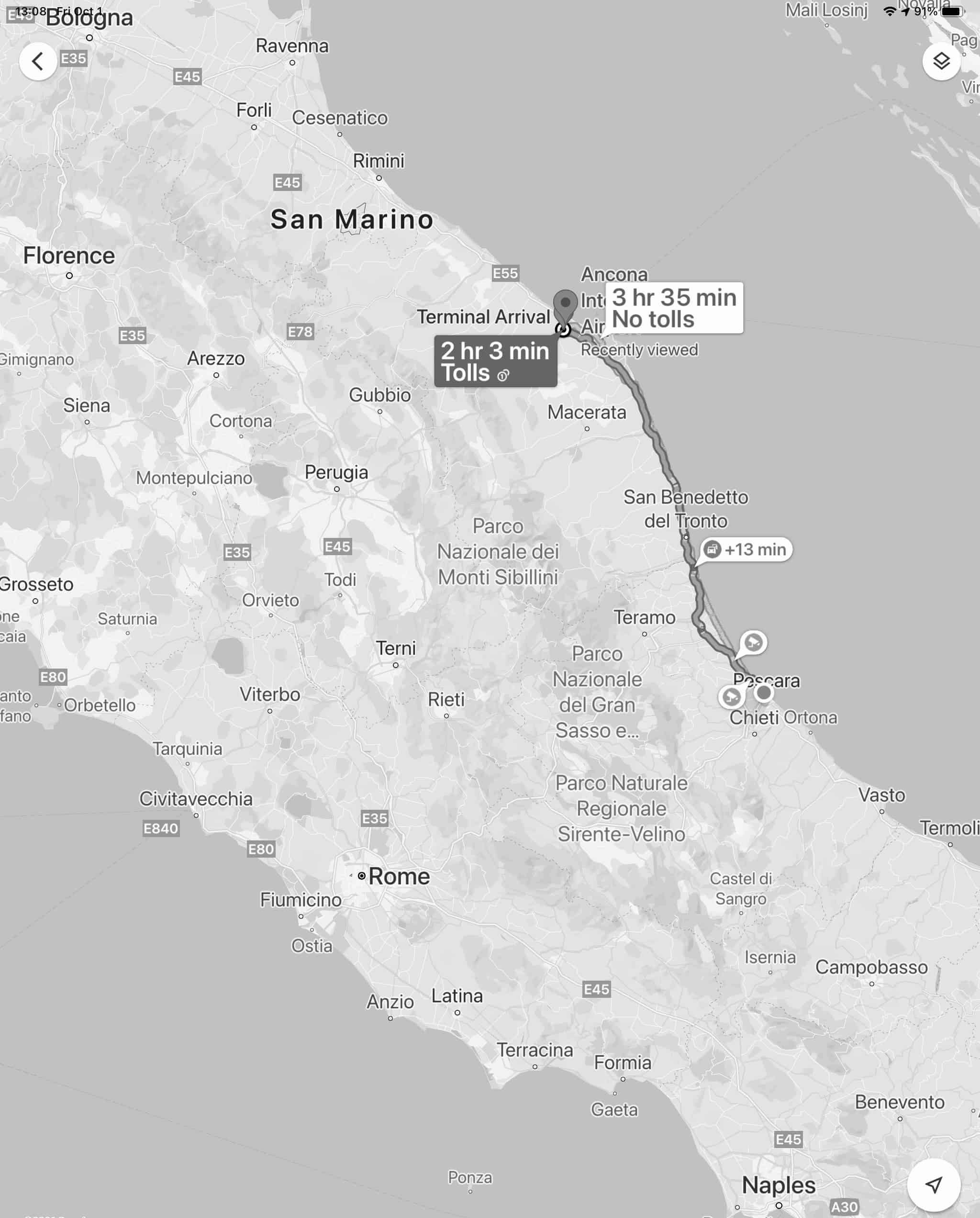 Pescara to Marche Airport, Ancona route.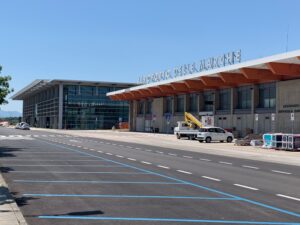 Marche Airport. We've never seen an airport so quiet. Eerie.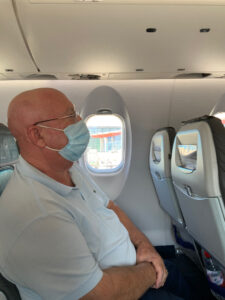 Steve is in his seat and ready to fly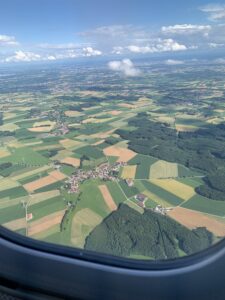 Our first glimpses of Germany. Lovely.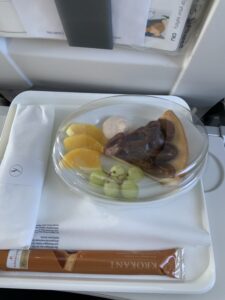 Lufthansa snacks are hard to beat.
Steve:
We hired a Mercedes sedan to take us to the Ancona Airport. We were so excited that we neglected to take photos of the MB. Is was a nice ride and the driver spoke English well. That helped pass the time. Ancona is a couple hours north of Pescara (162 km). Ancona has a direct flight to Munich where our new car was. We chose this option as it was easier than driving to Rome (four hour drive) in a one-way rental and flying from there. In addition there is only one flight to Munich per day on our favored carrier and it was an early morning flight. This left us thinking we'd have to get a room at Fiumicino the night before to ensure we made our flight. It seemed to be nothing but a hassle. Flying out of Rome is really great sometimes. Not this time.
Dawn:
Our first trip in 18 months! We left Pescara in plenty of time since freeway slowdowns were reported on the autostrada. We were about three hours early. The Marche Airport was nearly empty. One lady monotonously driving a floor cleaning Zamboni everywhere and a lady running the Bar were the only people we saw at first. A glass of wine to sip, and no lines at the bathroom. Not a bad wait.
People started showing up about 30 minutes before four small planes took off. We were on one and headed to München – Munich.
Steve:
We had to have virus swabs done within 48 hours of our flight. We had this done at a medical lab that we have had tests done previously here in Pescara. Everything went smooth. We had to wear masks on the plane, of course. If everyone on that plane had been tested before boarding, please tell me why we had to wear masks. 
Steve:
The flight to Munich was great.
Clear skies gave us beautiful views of the verdant south German countryside.
Dawn:
Flying Lufthansa is always wonderful. Their service is impeccable and the food always hits the spot. We were so excited. We had waited sooooo long for this day!
Steve:
With food in my fist, I don't need a mask.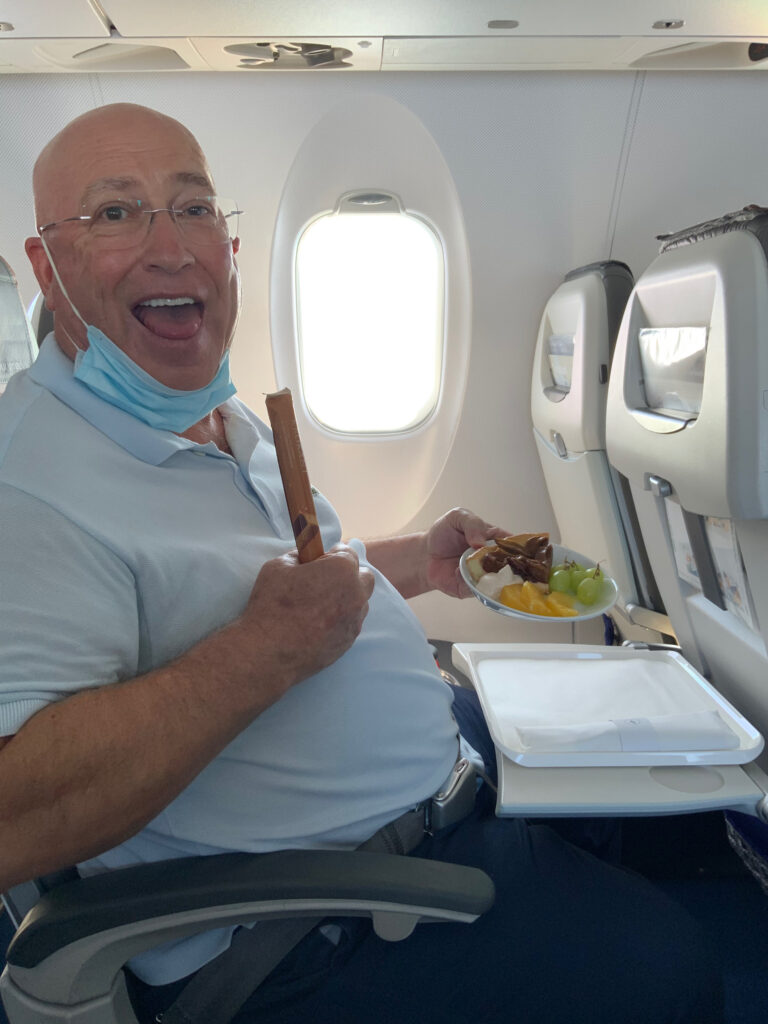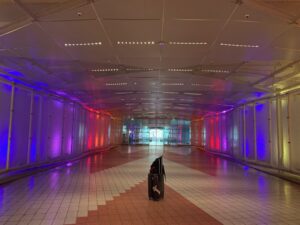 One of the most efficient debarkations ever. Our luggage was promptly at the carousel and before we knew it, everyone had cleared out.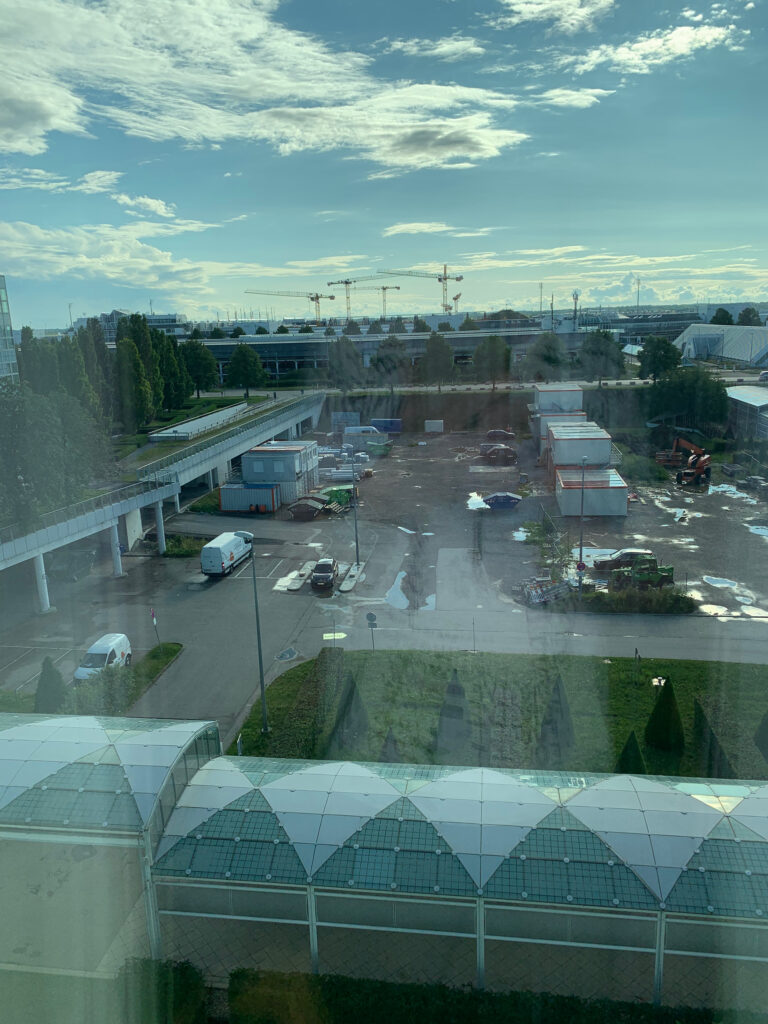 Steve:
We had been following the travel requirements in Germany as closely as we could. Germany has "states" much like the US. Each state has their own virus regime. Things change quickly regarding virus protocols.  Germany is no exception.
Dawn:
Clear sailing through the baggage carousel; the Munich airport cleared out rapidly. We had decided to stay at the airport because we would be picking up Rolland the next morning and The Hilton was an easy walk with all our bags.
Steve:
We checked in to the Munich Airport Hilton for the night planning to stay a couple or three nights. We wanted extra time there in order to learn about Rolland before we took to the Autobahns. We also planned on visiting the BMW museum and the Welt at BMW headquarters. The Front Desk Lady checked our covid documents and said our swabs were good enough to check in but not good enough for 2 or more days. We would have to get another swab to stay longer.
Dawn:
Despite all of our research we couldn't find any covid requirements mentioned except for air travel. Now this …
We were starting to stress about these unforeseen restrictions when the Front Desk Lady said she was going to upgrade our room because we reserved it on their site. That made the bad news easier to swallow. Of course having to lug our own bags about five kilometers to get to the "new addition" to discover we had a great view of a construction dump zone made that upgrade seem not as much of a perk as we anticipated.
Steve:
Over dinner, we discussed our plight. Having a swab every 48 hours is ridiculous. We quickly cancelled the hotel reservation we had for the next night and decided that we would drive back to Italy, ditching all our hopes of touring Germany.
Dawn:
Heartbroken, I said I wished we could at least drive by the Neuschwanstein Castle. Sleeping Beauty was my favourite movie as a kid and I've always wanted to see the actual castle that inspired Walt Disney and Eyvind Earle. (BUCKET LIST)
Steve:
That's a great idea!
Dawn:
 LATER THAT NIGHT
We realised that all their new high tech room features were not intuitive because it took us 15 minutes to turn off a light. Their proximity detecting toilet seat with soothing blue nightlight was much appreciated at about 3 am, but still … It was a room for the night and we needed to completely rethink this adventure on the fly. I didn't sleep well.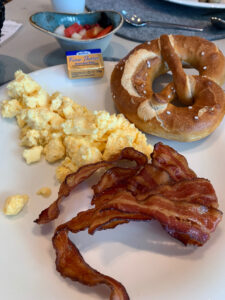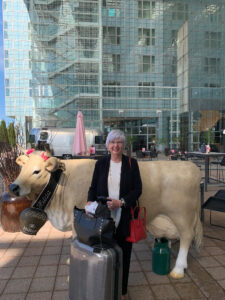 Arfy loved the cow. Arfy doesn't like wearing a mask.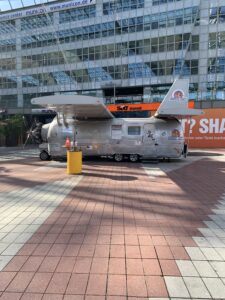 Airplanes and BBQ. Great art for a hotel outside an airport.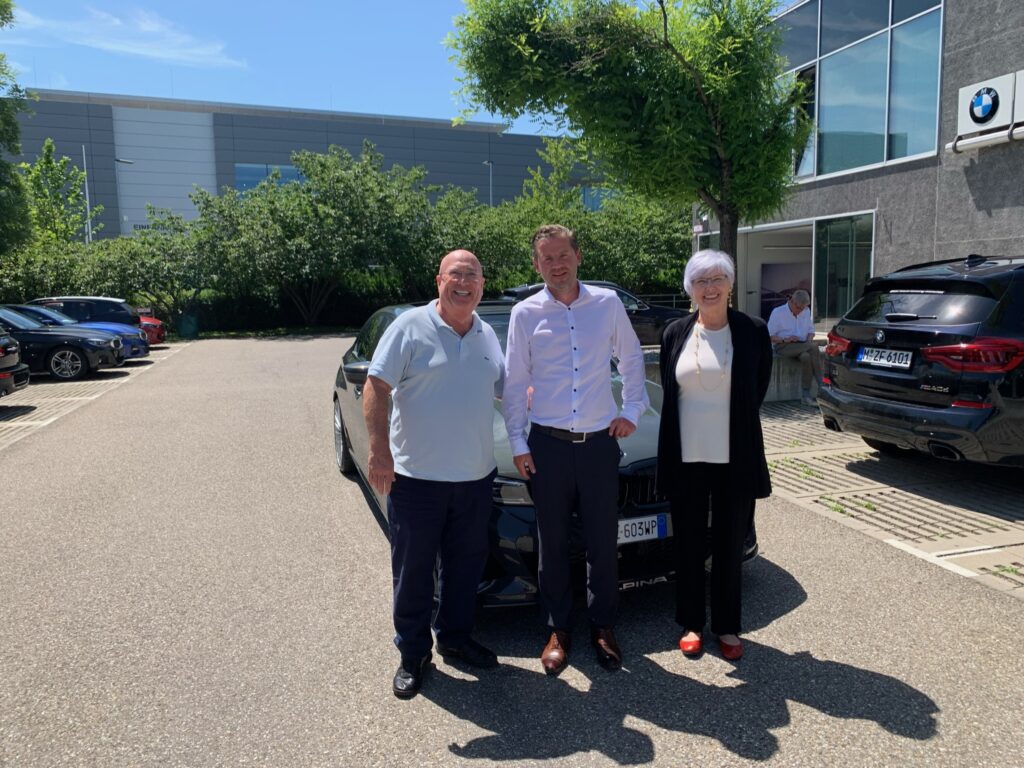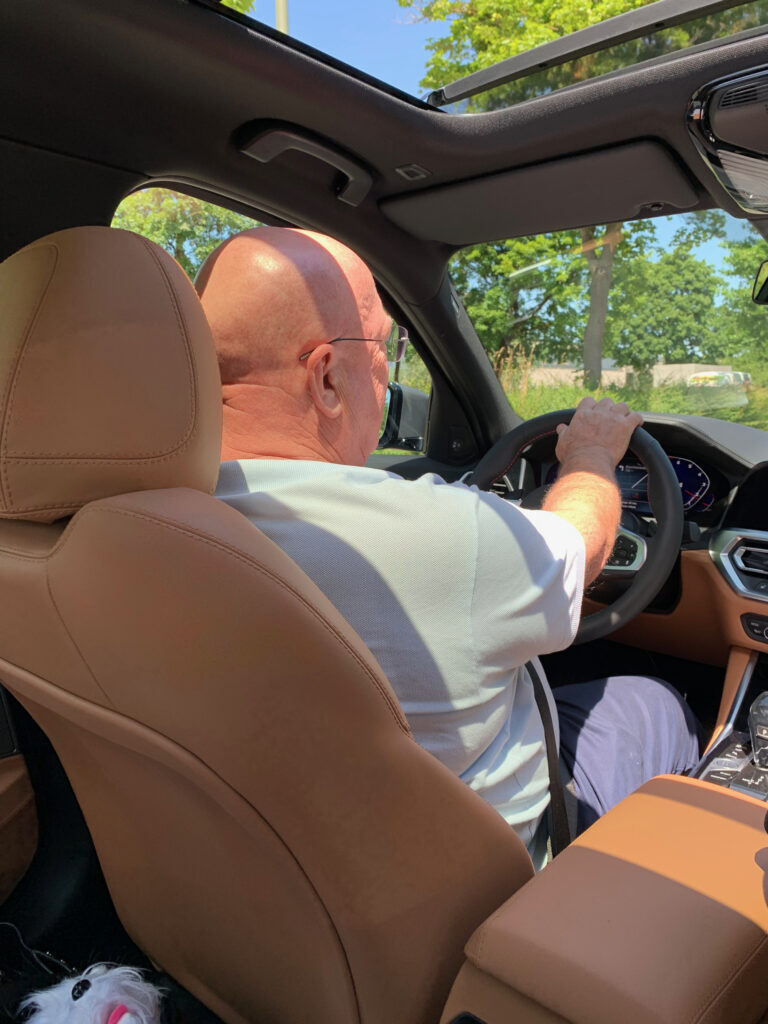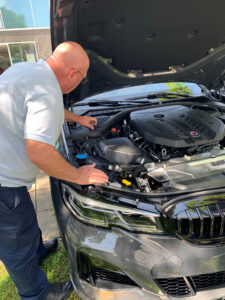 "If the only prayer you said in your whole life was thank you that would suffice."

– Meister Eckhart
Steve:
We made sure to get up early enough to shower, do the last minute packing, and have breakfast before we went to get the car. The buffet was decent. It included a guy that would cook your eggs to order. And real bacon! Not the fried pancetta we get at home. There was plenty of great tasting butter to be had. This was not the same butter we get in Italy that tastes like they made it from leftover Parmesan curd. There is a distinct cheese flavor about it. Marveling at the good butter would become a food theme for the rest of the trip.
Steve:
We caught a cab out front and handed over the dealership's address to the driver. It took about 45 minutes on the Autobahn and through some residential areas to get there. The road and entrances into the place were confusing so we let the driver let us off at the back. Big mistake. We had to hump all our luggage over this endless cobble rock path. A bit winded we found our way through multiple showrooms to the reception desk. We announced our names and asked for our dear salesman, Herr Marc Vamers. The ladies looked puzzled and told us they had never heard of him. After some searching in the computer we were told he worked at another location. A call was placed to inform Marc that we were going to be late. 
Dawn:
Another cab ride?!? At least Steve got to see the outside of the Welt.
We just shrug. We have learned to take setbacks as omens of synchronicity. We don't know why we were delayed. We can only trust. There is usually a good reason.
Steve:
Another 35 minute cab ride through residential areas finally got us to Marc and the car. This was the first time I had met Marc. For a year and a half all of our correspondence about the car was done by email. Handshakes and introductions were exchanged. Then it was time to see the car. It was exactly as ordered over a year ago. It looked great. There was a little gnashing of teeth when I noticed the dash. When I ordered the leather covered dash I thought it would be trimmed with the same color as the seats. Cognac. But it was black. Marc did some checking and reported that the head-up display would only work with black. Our Italian license plates were screwed to the car. The first drive of the car consisted of pulling it out of the delivery bay over to a shady spot in the parking lot. Marc was in the back seat and began our hour and a half tutorial of the basics of Rolland's operation. There was (still is) much to learn. The car has Adaptive Cruise Control, whereby once properly employed, the car will maintain a driver-selected distance from the car in front of you. It has Lane Assist where the car will steer itself within marked lanes. With these options the car becomes essentially self driving. It also has Park Assist. This car will park itself parallel, diagonally, or back into a single straight-in space. I have not been able to explore the self-parking features yet. As mentioned we had planned to spend a couple days in Munich simply learning what this car is capable of but we were forced to hit the road and attempt to learn the technology on the fly.
After our tutorial, Marc sent us into the outside world to get the car gassed up. We were accompanied by a young man from the dealership. He would guide us to the gas station and pay for the amount of gas that BMW delivers their cars with. Everything over that I had to pay for. The gas station was a zoo. There was a guy making a bottled water delivery and his truck was parked at the entrance. The gap to the pumps was narrow. The young man instructed me to shoot the gap. I nervously guided my brand new car between parked cars and the delivery truck. According to Dawn I nearly ripped of my right side mirror on the water guy's truck. She was pretty vocal about it which did not help with my anxiety. Fortunately I cleared everything and pulled up to a vacant pump. Paying for the two separate gas tickets was a challenge. It was made even more difficult when I decided we needed water for the road. I managed to knock about ten bottles to the floor while reaching into the back of the case to get the coldest one possible. The clerk was not happy. We took the lot guy back to the dealership and bid Marc farewell with a big hug.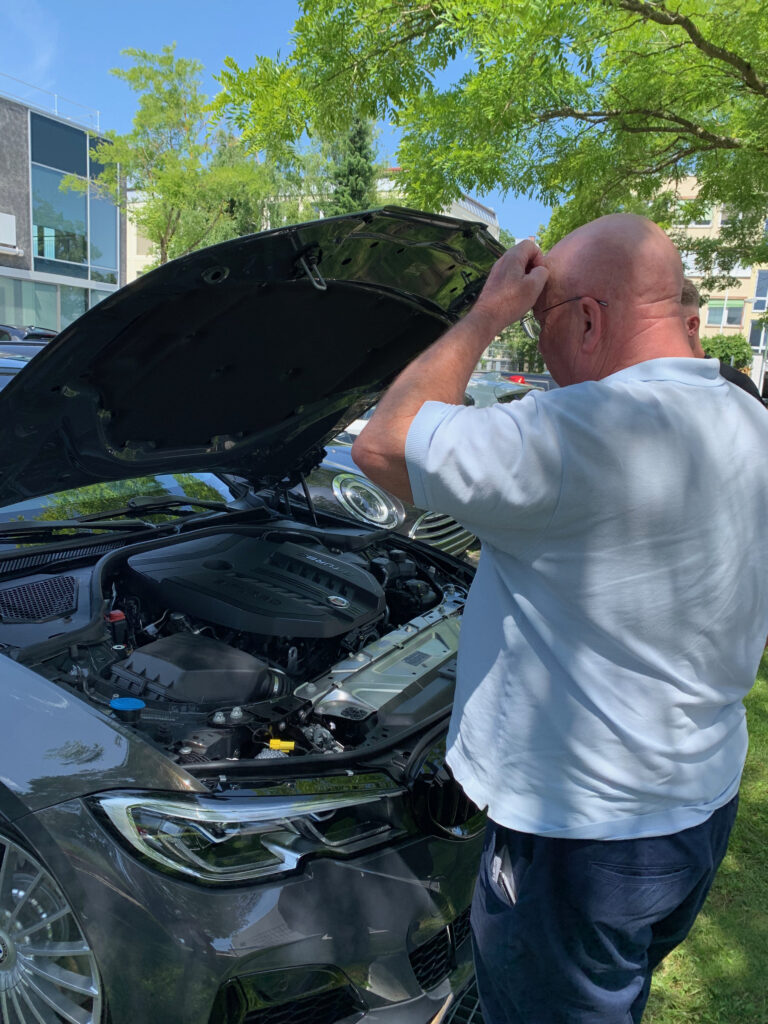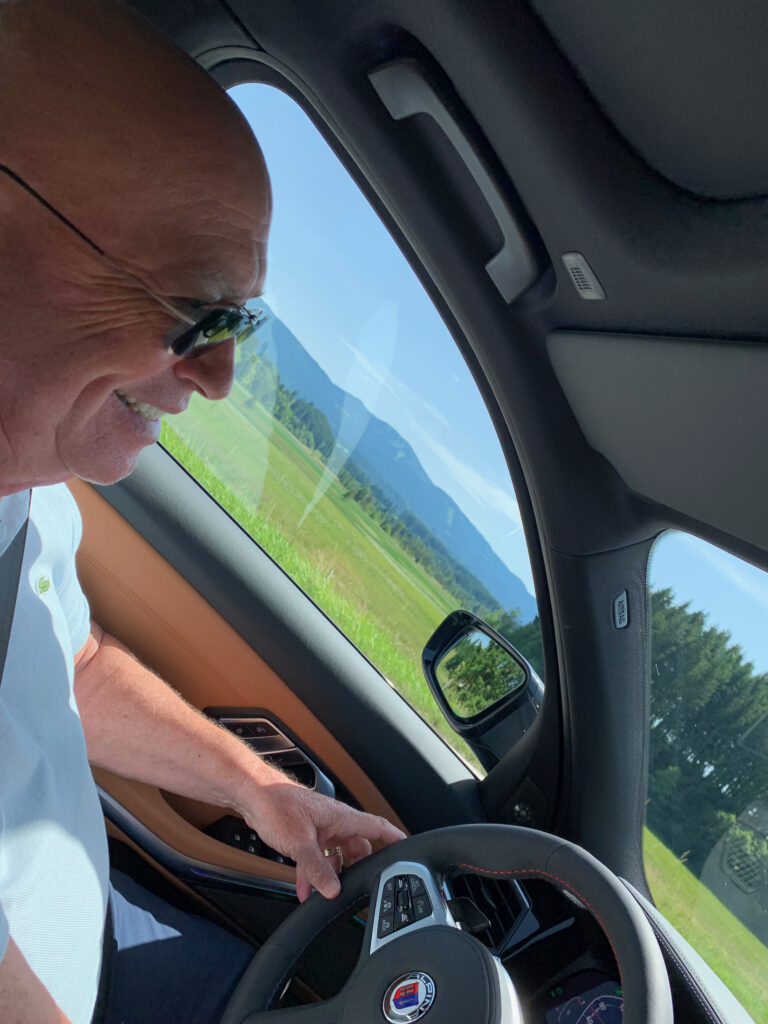 "Alice: What road do I take?

Cheshire Cat: Well where are you going?

Alice: I don't know.

Cheshire Cat: Then it doesn't matter. If you don't know where you are going, any road will get you there."

– Lewis Carroll, Alice in Wonderland
Dawn:
It was time. Steve had Rolland's fluffy wheel in hand we had a full tank of gas and we headed for Schwangau. After we had driven about 15 minutes the realisation that Steve was at the com of a very sophisticated rocketship crept over us. It sobers you a little. Especially when I needed to program the navigation.
Steve:
Dawn remembered enough about the NAV system to be able to chart a course for Schloss Neuschwanstein  (Schloss is German for Castle). We headed for the Autobahn. It was a beautiful day and the traffic was thankfully light. I stuck to the right hand lanes and stayed within the speed limits. I did not want to collect any speeding tickets that might endanger my new Italian driver's license. About a hundred kilometers in the NAV system sent us on a wild goose chase. It instructed us to exit the highway and then it led us through an industrial park for a couple kilometers only to put us right back where we exited the highway. All we could do was shake our heads and wonder WTF. This would be the first of more than one incidence of little "joy rides" we were taken on by the car. 
Up to now I have referred to the NAV system as "it" or "the car". The system earned its own name during our travels. But first a little background. This car is not imported or sold in the United States. It is however sold in Great Britain. Consequently when the English language is selected for the NAV voice directions, it is a woman's voice speaking in a British accent. In addition some of the directions are given using British colloquial terms. For instance: When the system wants you to keep right, it will tell you to "bear right". Sometimes "bearing right" is an actual turn. What fun! And so, within a short time, we named the NAV system "Rollwronga". It will send you the wrong way and you wonder why. We're not exactly sure why this happens. Dawn has her own ideas.
Dawn plugged in a promising route. It took us on two lane highways through some lush green scenery. The forests of Bavaria are something we will never forget. Despite our worries that the new route was going to send us wandering the back roads of south Germany for eternity, it appeared that we were headed in the right direction, thankfully.
Dawn:
*SMILE*
Germany is lovely. Gorgeous and green. Each small village we passed was even more quaint. Munich (the small bit we saw) was very streamlined and technical. Here was the real Germany.
The drive that day was only about two hours or so. 

The German countryside is ecstatically green. It's clear the Germans have been carving their towns out of the forest for a VERY long time.