What a ride. What a ride.
After a satisfying breakfast, we hopped in Rolland and took off. Our destination? Greifvogel und Eulenpark. Greifvogel is a bird sanctuary in the Black Forest and is home to many European birds of prey including eagles, hawks falcons, and owls.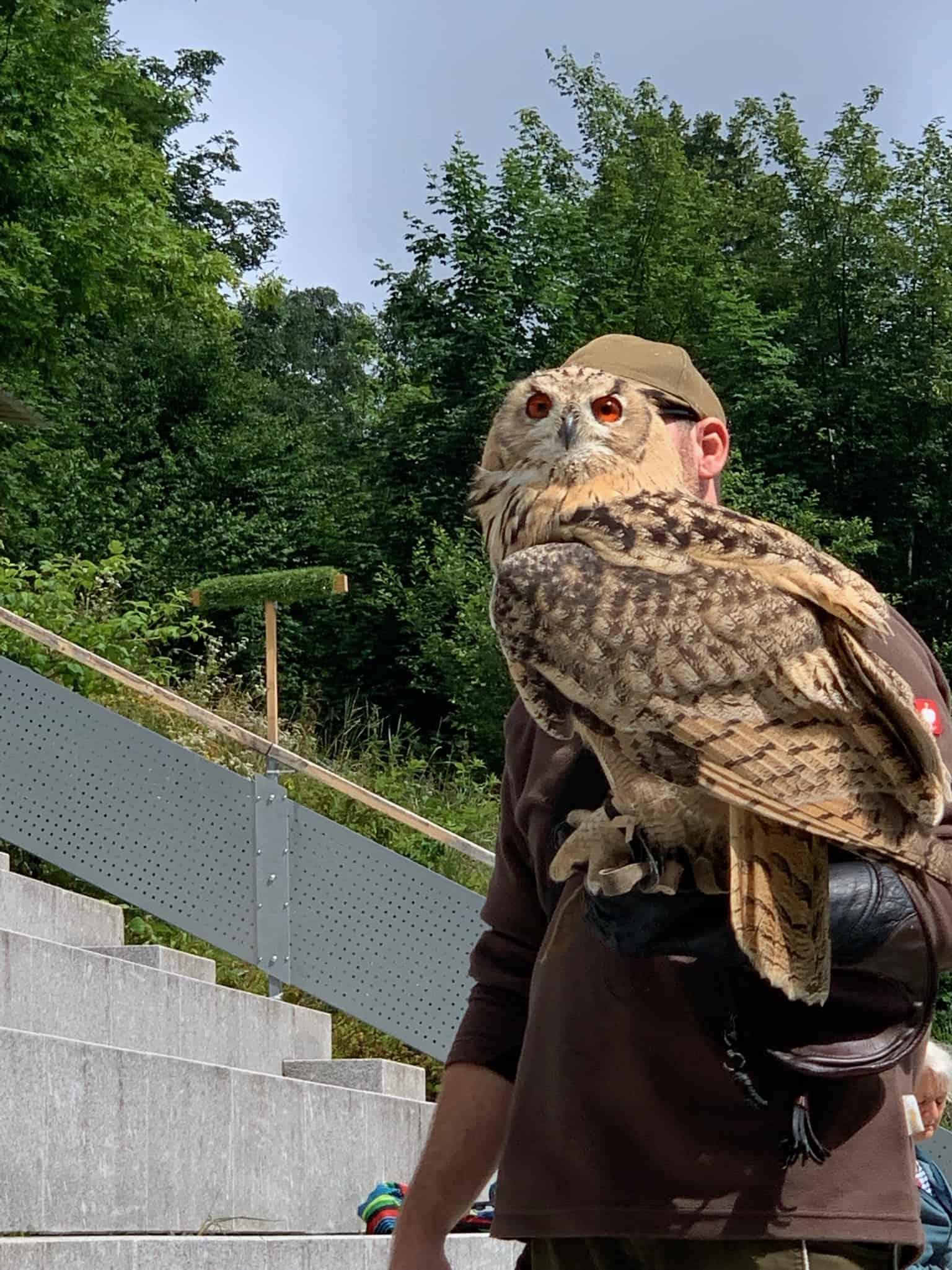 Dawn:
Both Steve and I grew up watching Mutual of Omaha's Wild Kingdom with Marlin Perkins, so we share a fascination with these exhaulted beings. How cool was this?
Steve:
We both love birds and we thought it would be a worthwhile trip. The sanctuary was maybe 50 kilometers away but the road to it passed over a minor mountain range.
Dawn:
The weather forecast had promised clouds and rain. Little did we know that this was also an indication of road conditions. We've driven many mountain roads in the rain, driving through and just above actual clouds was new.
Steve:
As we we climbed up the clouds above us soon became fog. It rained lightly on us but it didn't keep me from testing the car. I drove over the twisty pass using the paddle shifters and the suspension set to its firmest setting, Sport+. It really handles well. It always seemed to have more grip than I was willing to test. There was plenty of power to accelerate up and out of the corners. The huge brakes provided all the stopping power anyone would want.
We soon dropped into the valley where the village Triberg im Schwarzwald and the sanctuary were located. Rolling into town we began the search for a parking place. After a couple of fruitless passes on the main drag, we turned off onto what looked like a promising road. We were rewarded with a nice, but metered, spot. We never know how much time to buy so we guessed at 2 hours.
We set off toward the sanctuary. The lower entrance was a little confusing. There were quite a few people lining up and buying tickets. We didn't know at first and we thought that these people were going to the bird exhibit. After a few minutes we found out that those people were paying for access to a hiking trail up to the famous Triberg Falls. We imagined it would be a beautiful walk but we wanted to see the birds. We soon found the path leading up to the compound. After paying a modest entry fee we headed into the facility. We were expecting to see a raptor exhibition that their website advertised. We wandered around for a few minutes, examining various owls and hawks in cages. We did pass an outdoor auditorium but there was no one around.
Dawn:
We were there long enough to admire a falcon and an owl when they announced the start of the show. We bagged our walk and headed for the theater.
Steve:
Others were gathering and seating themselves on the spectator's benches in the auditorium. We followed suit. Soon a dashing young man appeared on the stage below and invited us all to move closer down to him. After everyone got settled another young man brought out the first bird…..a huge magnificent owl with big orange eyes. The young fellow kept the bird on his arm as he brought it near each of us. Close enough to touch it, which we were invited to do.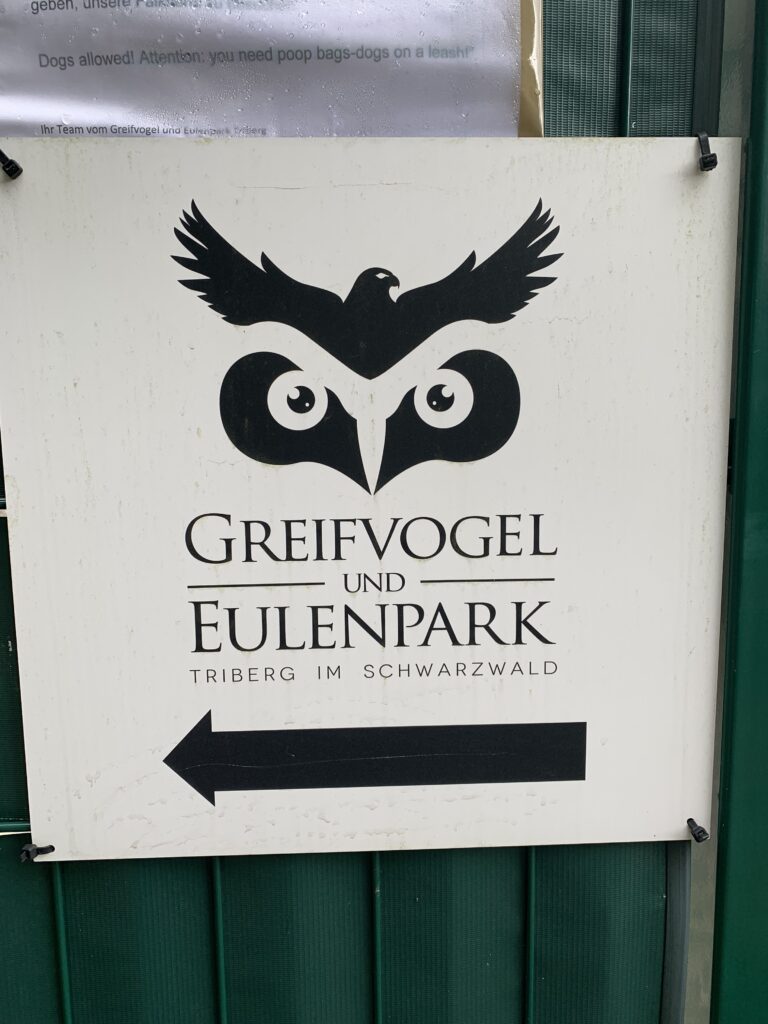 "The owl," he was saying, "is one of the most curious creatures. A bird that stays awake when the rest of the world sleeps. They can see in the dark. I find that so interesting, to be mired in reality when the rest of the world is dreaming. What does he see and what does he know that the rest of the world is missing?"

― M.J. Rose, Seduction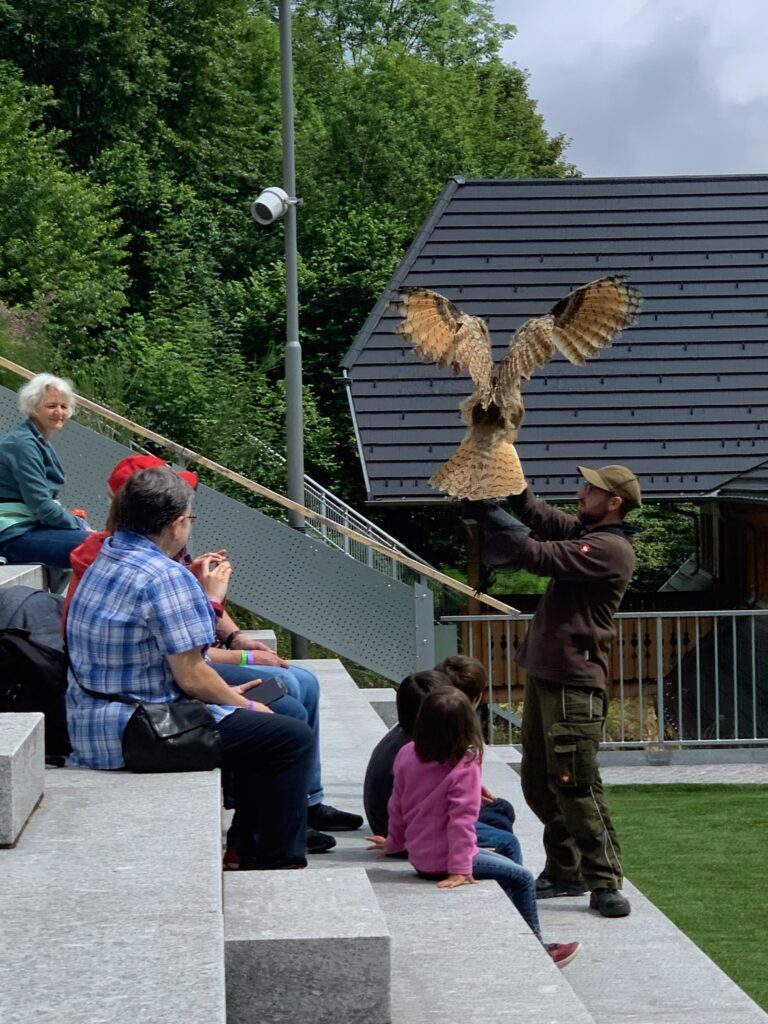 Taking flight. What a wingspan!
Dawn:
WOW! It is exciting to be so close and be able to touch as wonderous creature as an owl. I could imagine that seeing this fellow come swooping out of a dark forest would make anyone believe in Fairy Tales.
"In order to see birds it is necessary to become a part of the silence."
― Robert Lynd
"The European race of the eagle owl (Bubo bubo) is the world's largest owl with an average length of 66-71 cm (26-28 in), a weight of 1.6-4 kg (3 lb 8 oz – 8 lb 13 oz) and a wingspan of more than 1.5 m (5 ft). It has been known to abduct small cats and other animals".

– Guinness World Records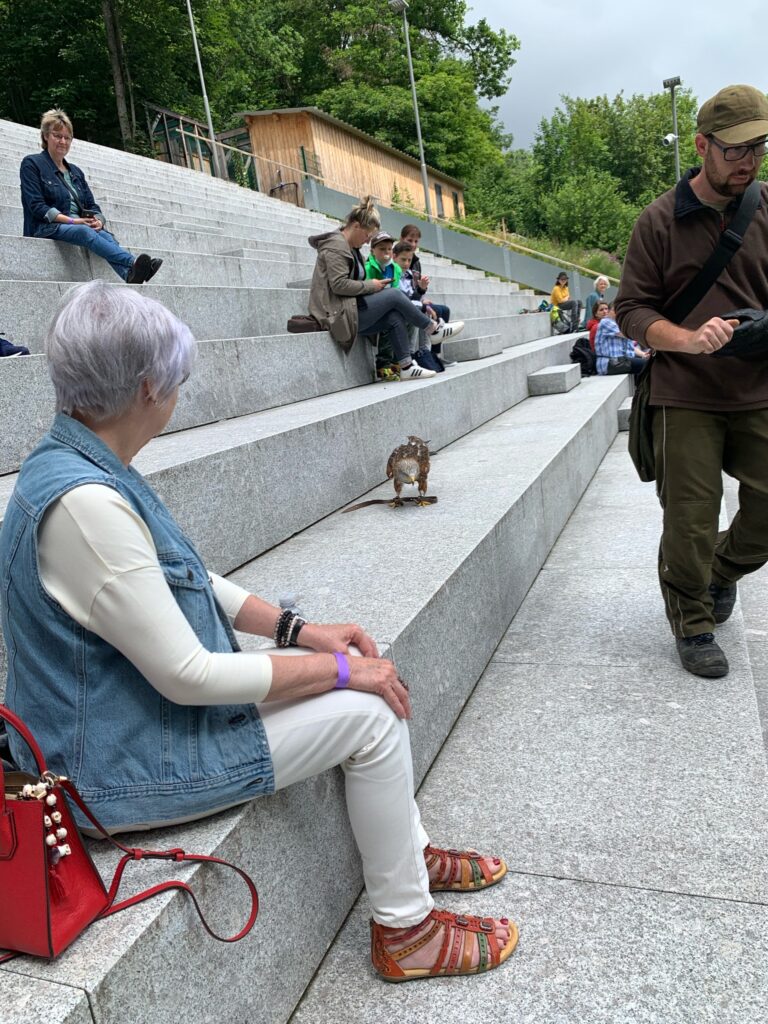 The Red Kite giving Dawn the eye.
Dawn:
Soon the owl was replaced by a Red Kite who seemed to like being near me. Keeping as still as I could, the bird became comfortable with me. I could see he really wanted his leashes off. When we were invited to handle the birds, I couldn't resist. What a marvelous thing to do!
Steve:
After some commentary delivered in the German language members of the audience were invited to the floor of the stage where they donned a protective glove. The presenter then placed the raptor on the gloved arms of all who wanted to participate. When the Eagle was brought out, I decided to get up close and personal with him. What a thrill it was to be able to interact with such a beautiful bird.
Steve:
Oh, to be able to speak German in those moments as the young keeper provided nearly continuous narratives regarding these birds. But being so close to them and to be able to participate in the show was more than good enough for us. This was an unforgettable adventure.
Dawn:
It was a bucket list event to be sure.
We couldn't resist. We both had to experience holding these incredible birds of prey. Dawn felt especially blessed when the Handler said that it looked like she would have to take the Red Kite home. She wished! – Greifvogel und Eulenpark, Triberg im Schwarzwald
Steve:
After the show we headed back down the hill towards the main drag where there were many shops lining the road. We window shopped for while and visited another big shop that advertised it contained over a thousand cuckoo clocks. It easily had a thousand.
Steve:
We decided we had a big day under our belts already and we headed back to the hotel for a snack and a little rest. The skies were much clearer and the road considerably drier than during the morning's drive. I was able to again put the car into a more sporty configuration and enjoy the tautness of the suspension and its paddle-operated manual shifting. I drove it this time with a bit more "brio", however, thanks to the conditions. I think Dawn was comfortable in the car and confident in my driving because I never heard one "slow down!" from her the whole time. It is a capable automobile in every respect. 
Dawn:
*SHRUG* I only holler when things get dicey.
Back at the hotel we were again treated like royalty by the attentive staff. The snacks and drinks were refreshing. Steve decided he needed a cigar, so …
Steve:
We headed upstairs to our room and out onto the amply-sized balcony to soak up what had become a beautiful afternoon. We talked about the day's events and discussed other potential Schwarzwald destinations. 
Dawn:
There were cuckoos everywhere. I don't think it had more than the shop we visited the day before however.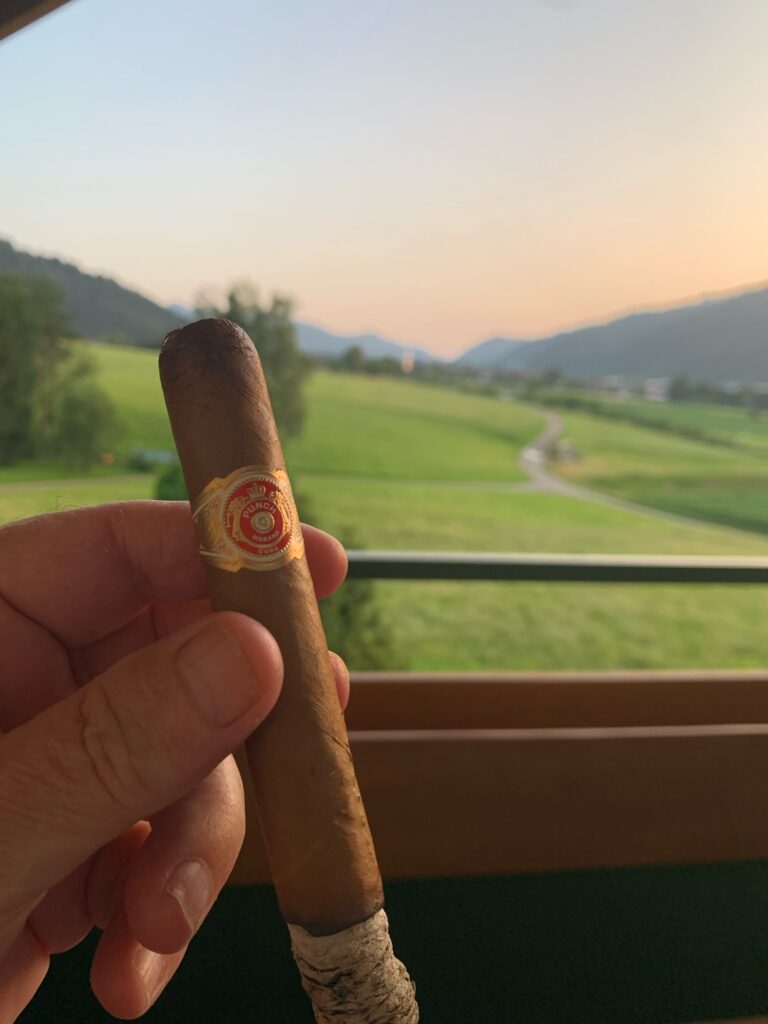 A great stogie and a fine view.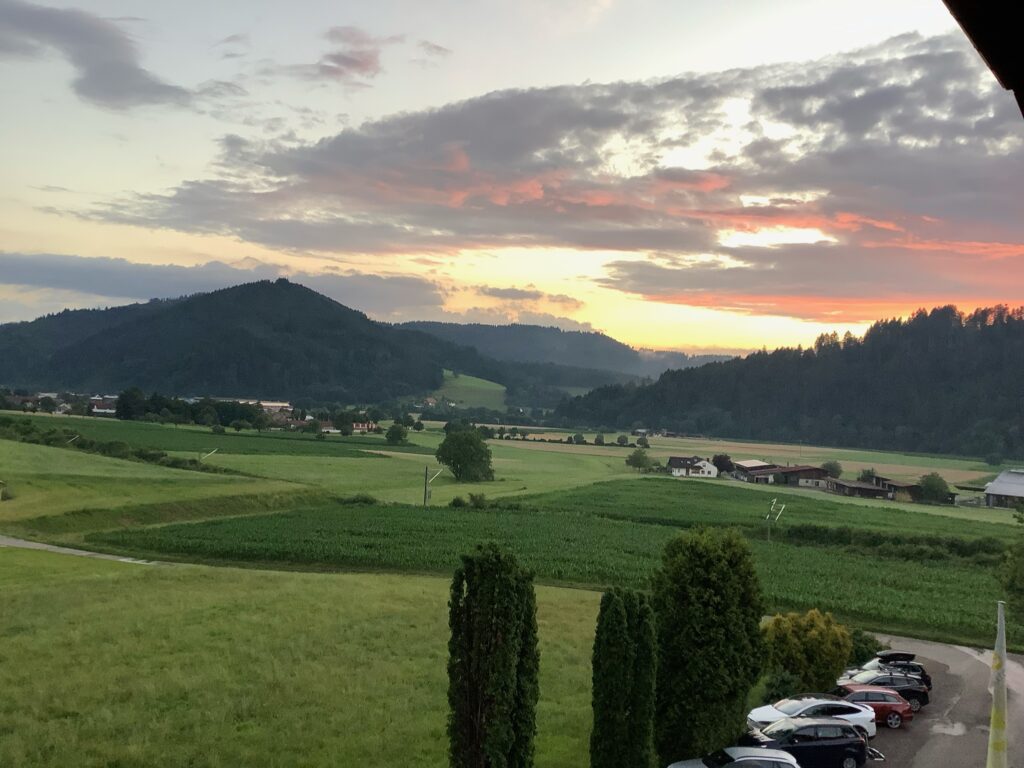 What a stunning vista. Those forests up there are enchanting.
Steve:
Dinner time was quickly approaching and we were looking forward to a special barbecue event the hotel restaurant had been promoting. We were presented with a delightful bill of fare which included smoked pork ribs and salmon along with all the expected trimmings. I had the ribs and Dawn chose her favorite smoked salmon. Both meals were perfectly cooked and fulfilled our every expectation. This was a meal that brought back fond memories of the wonderful smokehouse restaurants in the States. 
Dawn:
After a good night's rest we were treated to an extensive breakfast buffet that included a nice selection of cold cuts, cheeses, pastries and hot dishes of eggs, bacon and sausages. Our appointments for much needed massages were scheduled for midday so we hung around the hotel and talked some more about our next move.
Steve:
After a little nap we decided to head out and see if we could find a car wash. 
Dawn:
We passed a grocery store a couple of times during our ride then spotted a car wash in the parking lot. We were stymied by the German instructions so we bagged that and decided to go shop for some snacks. 
Steve:
Once inside we decided we'd also try to find something for dinner so that we could just stay in. There was a nice deli counter there and we bought some cheese, salami, beer and wine. We went back to the hotel and spent the rest of the afternoon and evening on the balcony enjoying our store-bought goodies and a nice cigar.
Dawn:
We felt we had seen what we wanted to in Schwarzwald, so it was time to look farther afield. Most of the castle and winery locations seemed to be in areas where the Covid restrictions were a nightmare.
Steve:
All of our discussions about where to go next led us to think about Amsterdam. We had wanted to visit there for years. This was going to be a good opportunity to go.
Steve:
Dawn had been doing her diligence and had found a nice hotel in the middle of town. A place where we could leave Rolland parked and walk around or take the public tram. We had no idea what the Covid situation was like there. We had given up trying to keep up with the ever-changing regulations in every place we wanted to go. Now we were simply finding a nice hotel and calling them to find out what current regulations were in place there. 
We looked at a map and wondered, what about Amsterdam?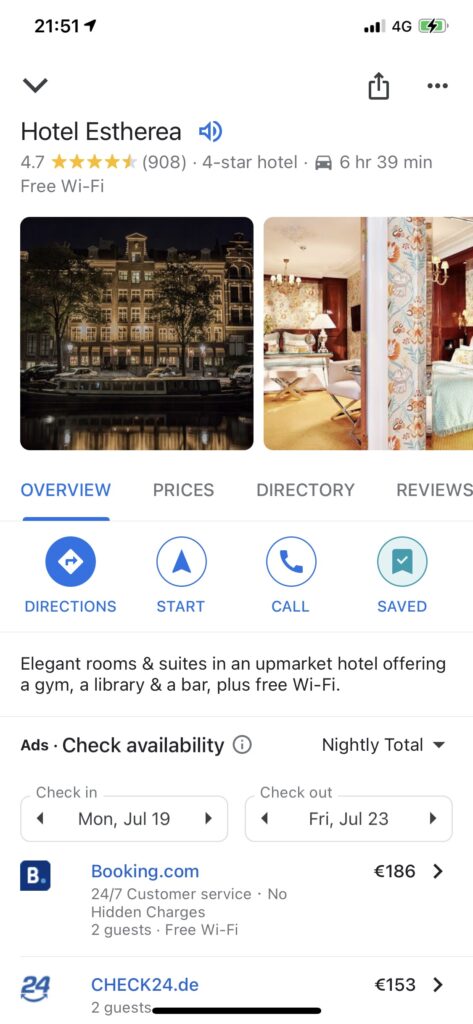 Dawn:
A quick search of hotels.com yielded an exciting location: Hotel Estherea. I could still use my cell phone to make calls, so I did.
Dawn:
In answer to my questions, the Front Desk Lady said there were no restrictions and no mask wearing anywhere (except for while aboard public transportation). My heart skipped a beat. Then she said, "We're all about having FUN in Amsterdam." I was sold. I told her I would call her back after I confirmed with Steve.
Steve:
???? ?? The desk lady said there were no restrictions in place. No shots, no swabs, and no masks. YAY! 
Dawn:
RING BUMP  We had a destination. We were headed to Paradise.
Dawn:
We still had one day in Schwarzwald. With our next destination flanged up, we could go on a Quest Trip. Steve loves visiting cigar shops. I was on the hunt for Spätburgunder. Rolland needed a wash. The nearest town with all three was Emmendingen, so down the road we went.
Steve:
Car washes are everywhere in Germany. Clearly they all take great care of their cars. They don't make finding the entrance to them easy, though. Car washes are often found stashed behind other stores in strip malls.
I pulled into the bay, found the coin changer, put in €10 and out popped a bunch of tokens and a slug. It took using my phone's translator to figure out how to use the wash selector. The thing wouldn't take the slug. I did get the wash turned on, finally.
Steve:
Then we headed back to the old center of Emmendingen. I parked Rolland in a nice lot, then took a short walk to Markgrafen Tabak. The wife's owner was very helpful and I walked away with a nice selection from their humidor. She even recommended that we walk toward the small square.
Dawn:
I struck out, though. The wine store is closed on Mondays. We decided to heed the tobacconist's advice and visited the small town square. Guess what I found instead of wine? A cafe that serves GYROS. One of my favorite foods. 
Sights around Emmendingen
Dawn:
It was a grand day. Although our walkabout for insulated bags at a local Lidl was a bust. (My cell phone took us to an apartment building.) The sun was shining and the day comfortable. We decided we would take the gyros back to the hotel no matter what. (Just for heaven's sake, don't spill anything on the Lavalina Leather!)
Dawn:
Our last evening in the Black Forest was spent repacking. We selected the clothing we would wear and added any laundry we had accumulated. We wanted to check in with only one bag (everything else would be left in a parked Rolland).
We thoroughly enjoyed our gyros, and drank in the beauty that is the Schwarzwald. We slept soundly that night.
Notice the owl in the tree in this Fairy Tale rendering? It looks like the big Owl we saw!
Dawn:
The next day, as per usual, we had a great breakfast then got rollin' in Rolland.