Takin' that ride to nowhere. We'll take that ride.
The next morning we had a great breakfast and checked out. We only half-jokingly asked if we could live at Hotel Müller for a month. The Front Desk Lady said they could certainly accommodate us. Smiles all around.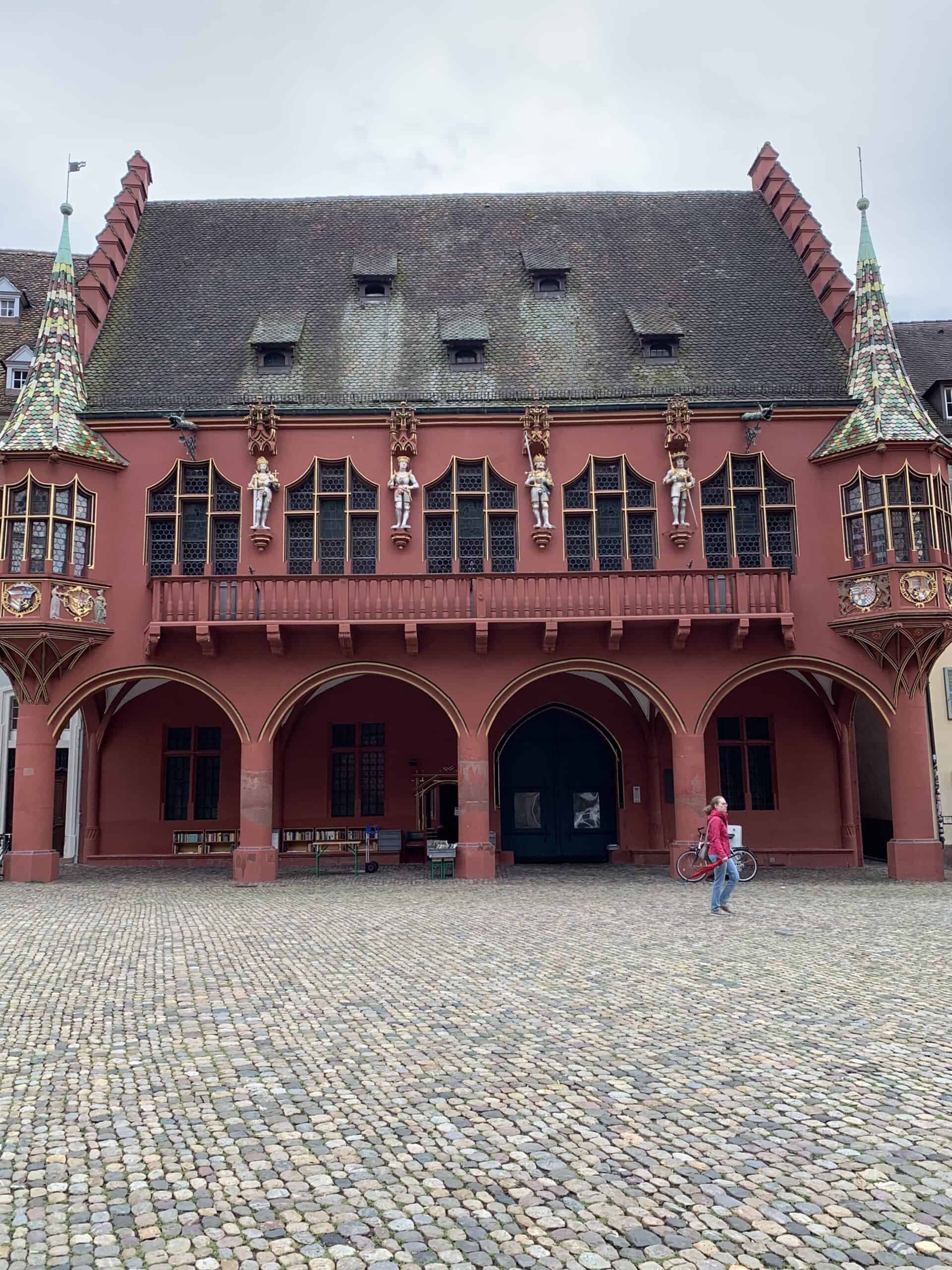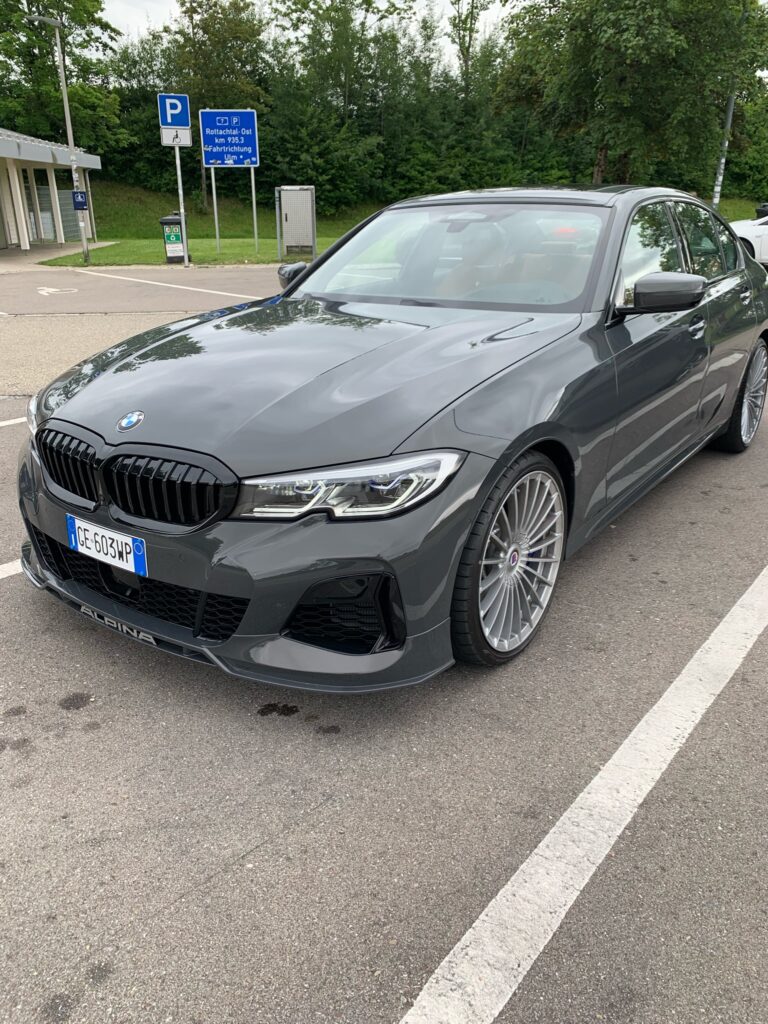 Rolland on the road again.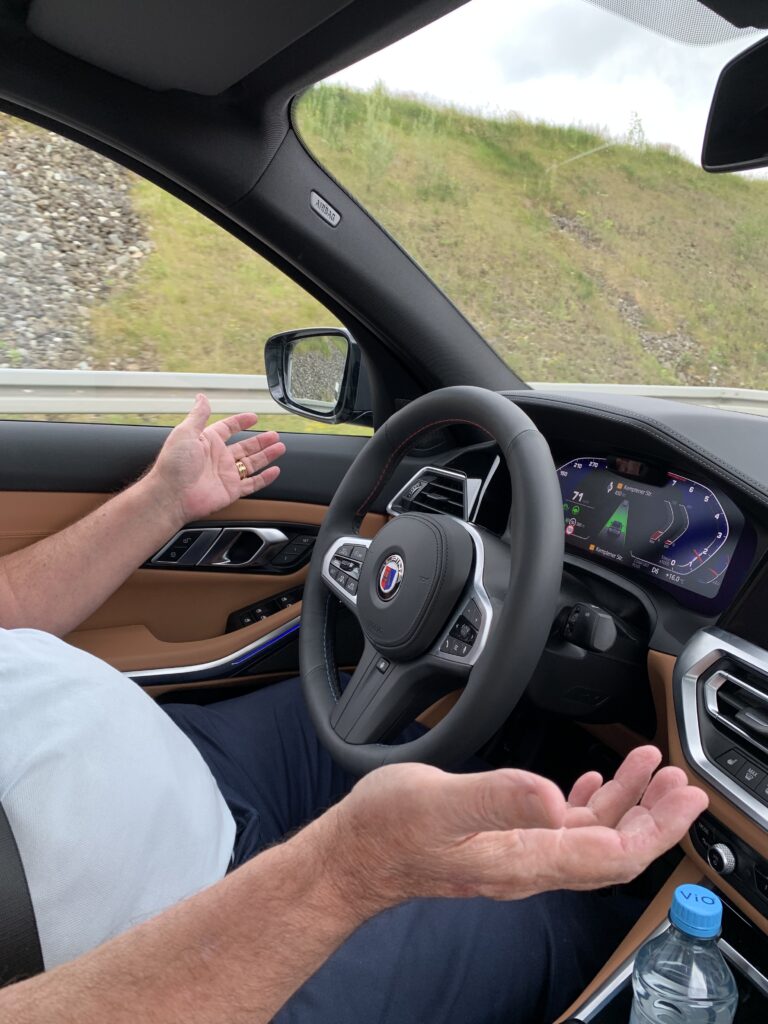 Steve discovered how to engage some of Rolland's self driving powers.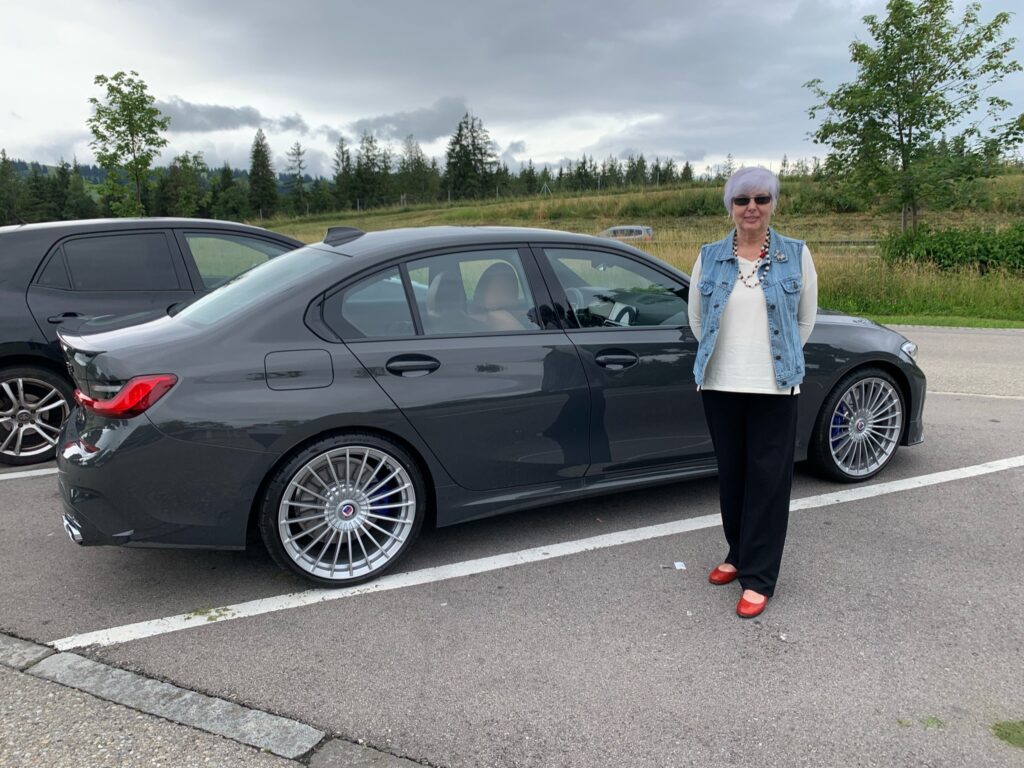 Rest break photo op. Did you know? In Germany you must pay to use toilets at rest stops. Always carry some change.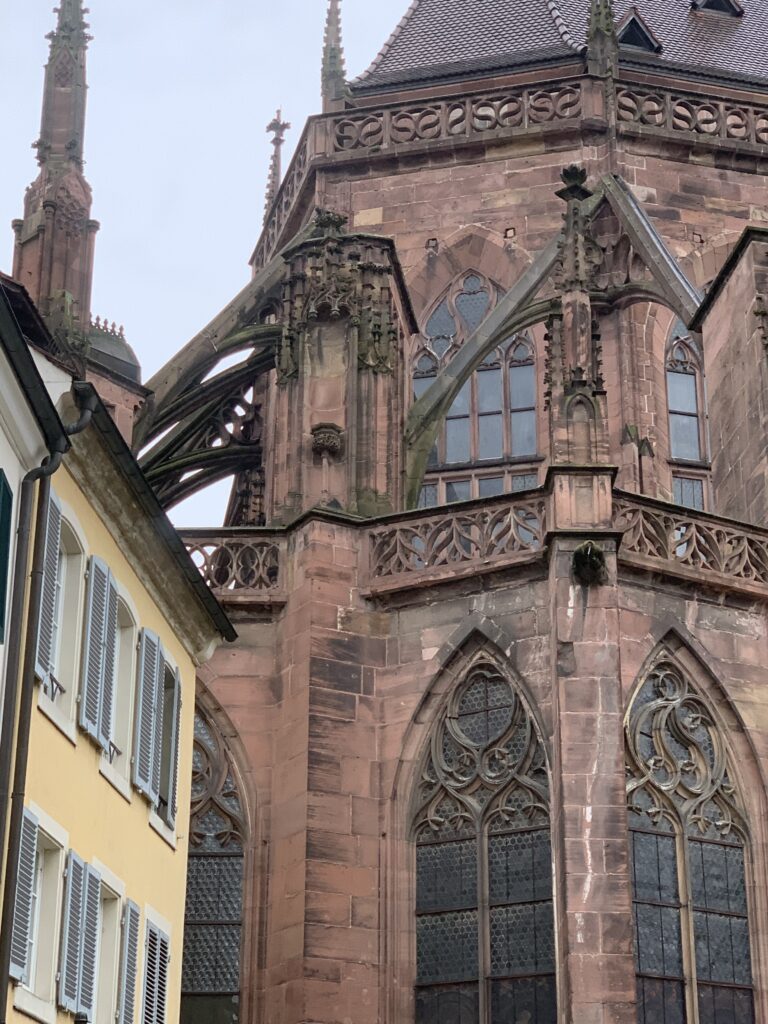 Dawn:
Choosing El Gallo also gave us a chance to make sure Rolland was comfortable and well-tucked in. He had plenty of room. He was happy. He's a good boy.
Steve:
We got our swabs and hit the road. Test results would be emailed to us. There were a couple of reasons for picking Freiburg: There is a fabulous gate and bridge over the Dreisam River. Scenic setting and it was not a long drive. We try to keep our drive times down.
Dawn:
Freiburg im Breisgau, to me is the southern gateway to the Black Forest, or "Schwarzwald." Definately a place to explore.
And I must interject. Yes, we like to keep the drive times down, that being said, sitting in traffic would become a recurring theme for this trip. We had planned to take a route that would afford a scenic view of a lake that from the German side, we would also see Austria and Switzerland. Rollwronga reported that there were major construction slowdowns ahead. She suggested an alternate route. OK.
The next thing we knew, we were on 2-lane roads, traveling slowly from one quaint little town on small winding roads to more quaint little towns. We didn't have a schedule, and the German countryside is mesmerizing, one of those good/bad RING BUMPs.
The kicker was ending up about 10 kilometers out of Freiburg stuck in a tunnel in a very slow moving traffic jam. All that notwithstanding, Steve is correct. We did arrive in Freiburg. It may have been rush hour.
Steve:
After getting into town we made a couple wrong turns. Trying to find the parking lot was a big challenge. The old parts of European cities are ….er…..challenging. The haul on foot from the "nearby parking" was grueling. We decided to take both our bags into the hotel and do some rearranging of their contents. Imagine us pulling our two bags and a couple carryons across acres of the cobblestone Platz surrounding the Freiburg Minster Cathedral. The noise was deafening. The ceaseless staccato of jolts numbing your arms. Once across the rocky hell, we saw what we thought was our hotel. Nope. It was the restaurant of the hotel with no passage to the inn. We had to go down a nearby alley and hook a right, then several doors down. 
Check in at the Oberkirch am Münsterplatz went well. They didn't ask for proof of a clean swab. I think we had to sign some papers about Covid. This also happened in various restaurants and bars. You had to give your names, phone numbers and addresses on a form or in a log book. 
Dawn:
BUT no swabs! This opened up our trip. Now we truly had somewhere we could go.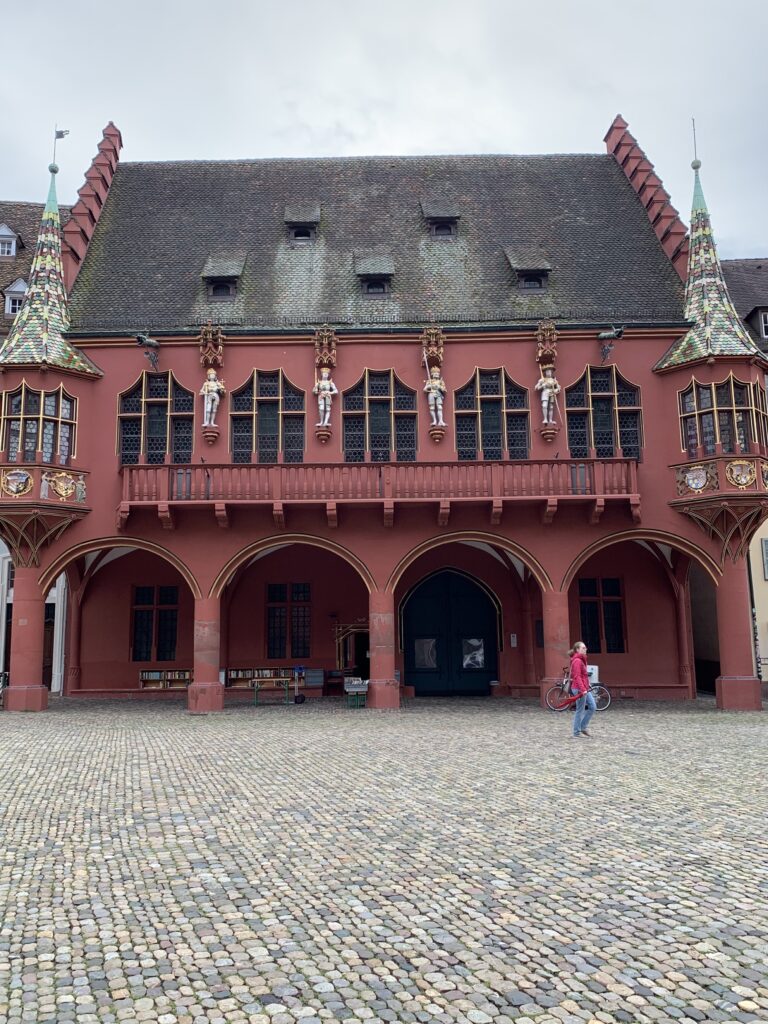 Not the hotel, but next door to its restaurant.
Steve:
Anyway, with the (mostly) shorter drive we had some time in the afternoon to relax and explore. We went back to the hotel restaurant for a refreshment and try to decide about dinner. We noticed a Mexican restaurant, El Gallo, on our trek across the Platz. We haven't had any Mexican food in a long time. We thought "what the hell?" We went over there but the place was booked up except for a couple stools at a big high top. We don't like eating on stools much, but we were hungry. We took our seats and the menu looked decent. We had some nachos that were OK. The steak fajitas were big and tasty. There were the usual trimmings. Sour cream and salsa. Roasted peppers. And decent guacamole. Sadly the margaritas lacked "punch". You cannot find these things in Italy. We left full and satisfied. 
We love travel eating. We have a knack for picking good restaurants.
Steve:
That evening we plotted our next move. We decided a nice spa-oriented hotel was what we needed.
Dawn:
We typically decide on spa days when we are exhausted from being long on the road. This time, we were exhausted from trying to navigate the unknown requirements needed for checking into hotels and such.
Hotels.com is one of my favorite travel apps. It is especially useful on the fly because you can sort by amenities which are crucial to the European traveler on an extended trip. Breakfast, parking, and a restaurant are key, spa services and laundry are welcome luxuries on the road.
With no swabs needed in Baden Württemberg we could stay as long as we wanted. With the weekend coming up we could have a day off with a massage and nowhere to be.
Once we had lined up our upcoming destination, we could sleep soundly and freely explore Freiburg the following day.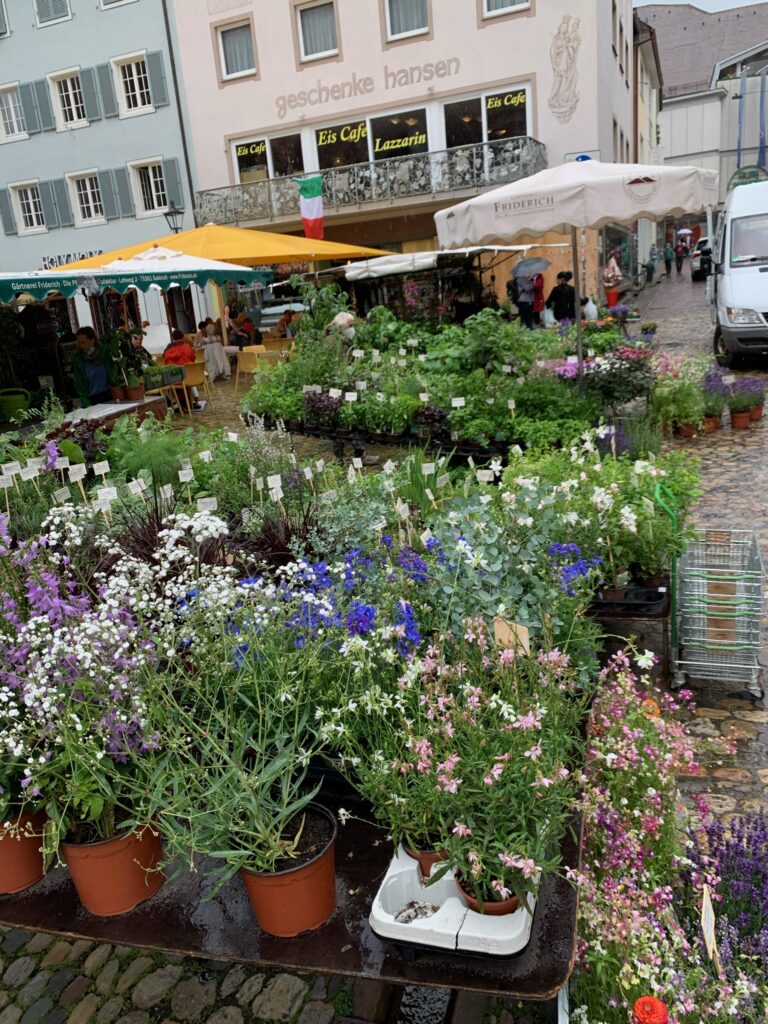 In many of the stalls on the Platz they sell flowers, herbs, and other plants.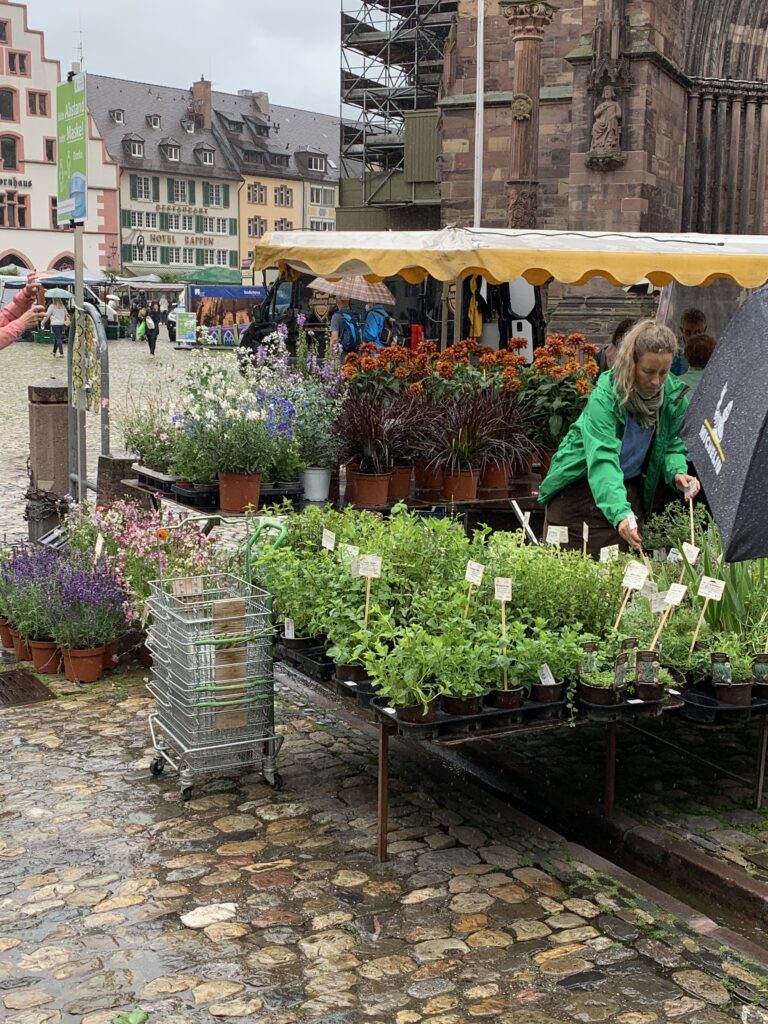 Everything is so lush. We should share that this the end of July.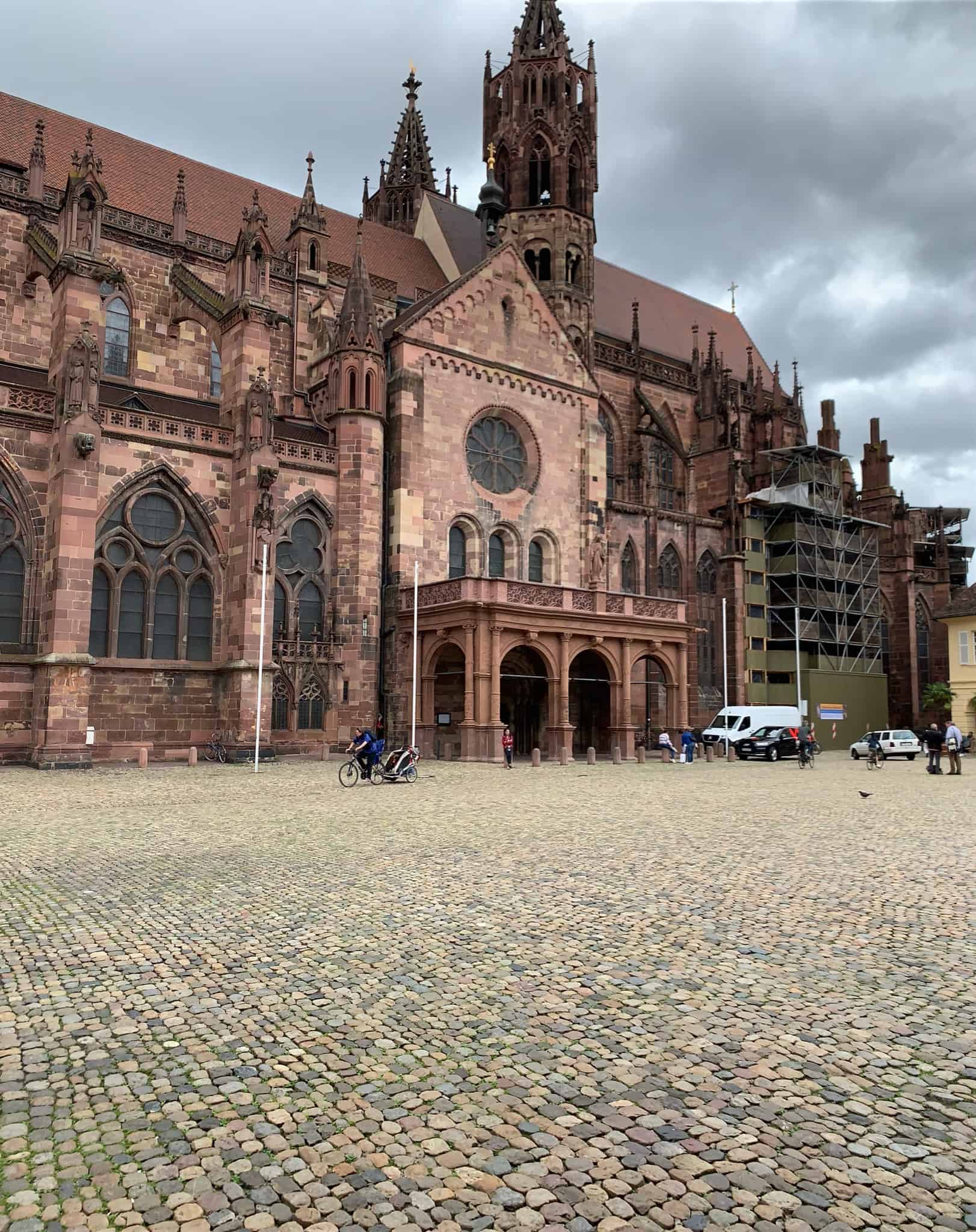 The Münsterplatz just as the day is getting started.
Steve:
The next day in Freiburg we found the Freiburger Münsterplatz full of tents housing vendors of all sorts. Cookies, cakes, pretzels, flowers, and souvenirs. We looked around a bit then decided to go into the cathedral. 
The Freiburger Münster cathedral started off at around 1200 being built in the Romanesque style. In 1230 it was changed to Gothic style. The exterior is impressive with it's Gothic spires: complex and reaching high. We were treated to music from the pipe organ upon entering the building. It added a solemn atmosphere to the austere interior. The pipe organ and altar being the decorative stand outs. 
Sample a snippet of that organ music in the video below.
Dawn:
The Freiburger Münster is majestic.
The slide show below, gives a brief glimpse of this stately cathedral.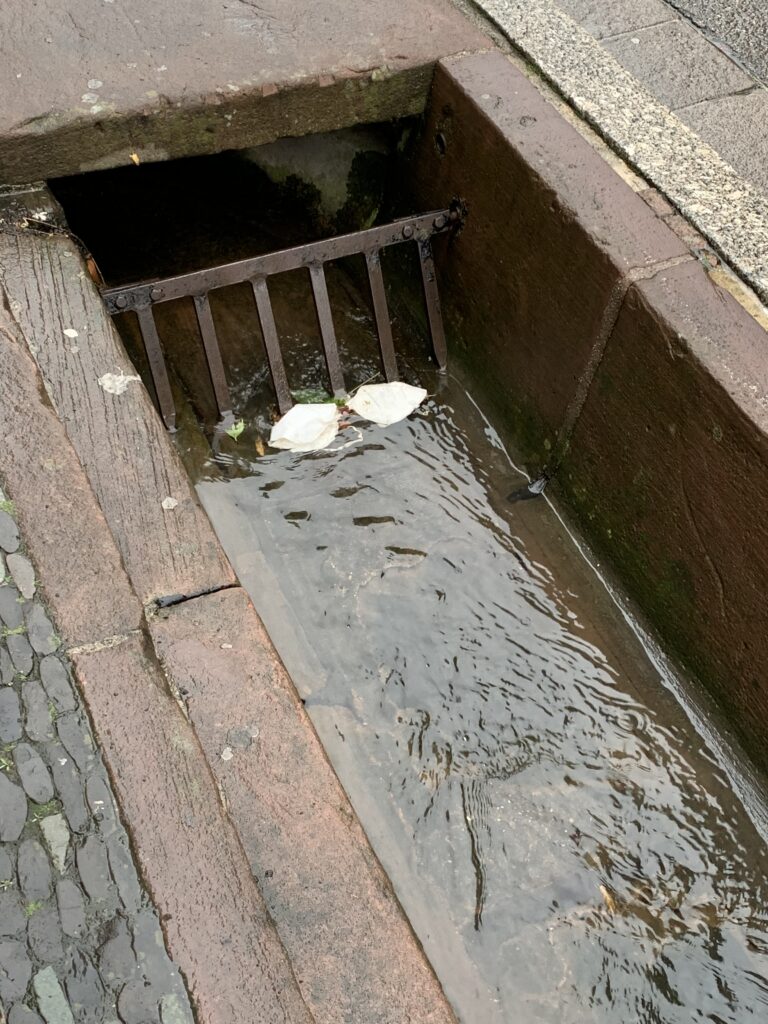 Kids float boats in the bächle. Apparently masks float, too.
Dawn:
We also did a little shopping. We are always on the hunt for sharp forks, a good potato peeler, and other odds and ends
Steve:
She means jewels and shoes.
Steve:
We wandered around town some, taking care not to accidentally step into these little canals running all through town called "Bächle". The name is derived from the German word bach, meaning brook. The Bächle date back to the 13th century and were used as water sources for irrigation as well as firefighting. The Bächle are fed by water from the Dreisam river, the banks on which Freiburg was built.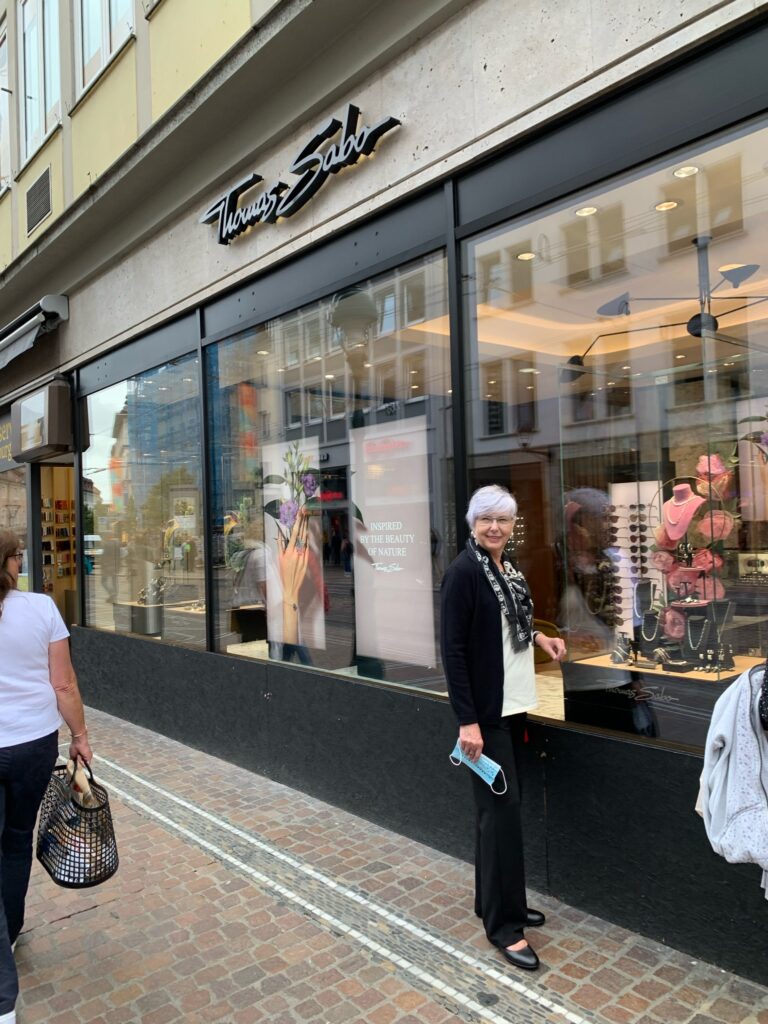 Thomas Sabo is one of my favorite places, but this time I didn't get anything. We did buy a jewel of a potato peeler, though.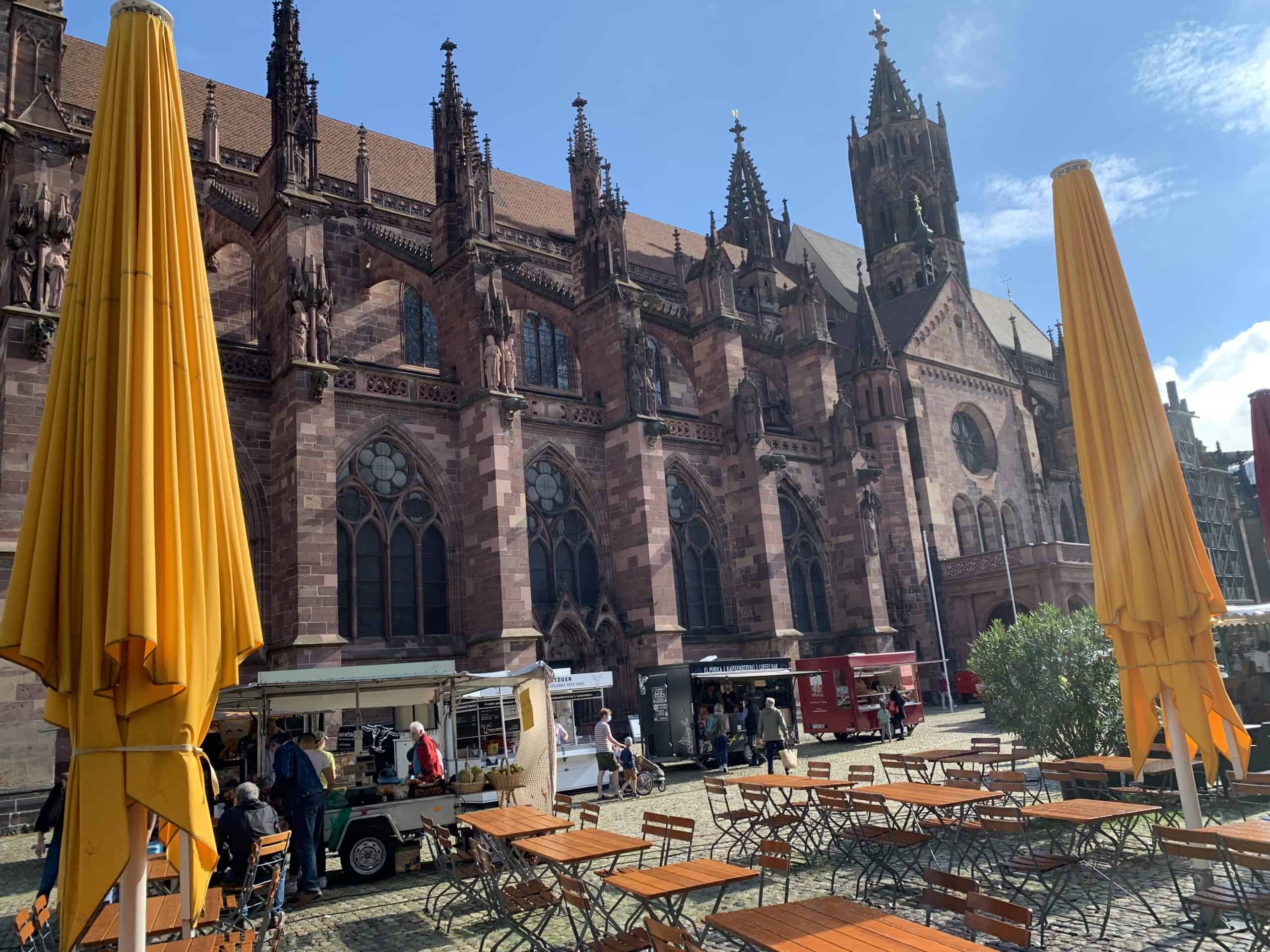 The Freiburger Münster in the morning light. Add the smell of coffee brewing and you're there.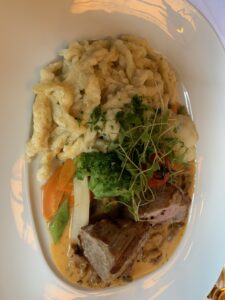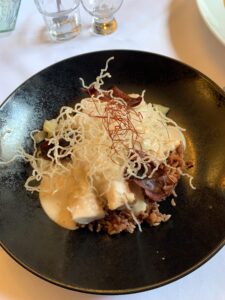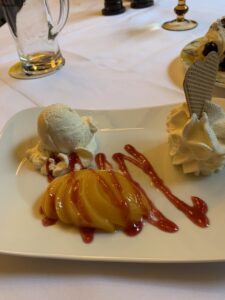 Steve:
We booked a four course dinner at the hotel restaurant for that evening. It was decent although neither of us remember what we had. Maybe Dawn's phone has pics?
Dawn:
Actually, I did find some. Now that I look at them, dinner was pretty good.
Steve:
We got our suitcases reconfigured knowing where our next destination was and made ourselves ready to head out in the morning after breakfast.
Dawn:
Throughout Baden-Württemberg and the Black Forest the water is delicious. At the Hotel Oberkirch am Münsterplatz provided some polished quartz to energize the water in the room. Yes. I have some stones now myself!
Steve:
We enjoyed breakfast in Germany. You could get fried eggs and decent bacon with orange juice and coffee. This is something nearly impossible to find in Pescara. We miss it.
'When you think things are bad, when you feel sour and blue, when you start to get mad … you should do what I do! Just tell yoursef, Duckie, you're really quite lucky!"

― Dr. Seuss