You never bark alone in Barc-e-lona
Mom and Dad settled in for a nap. They had been gone for a long time. I snuggled with them straight away. Naps are the best!
When they woke up they talked about going out for food. *sigh* I hope I get to go …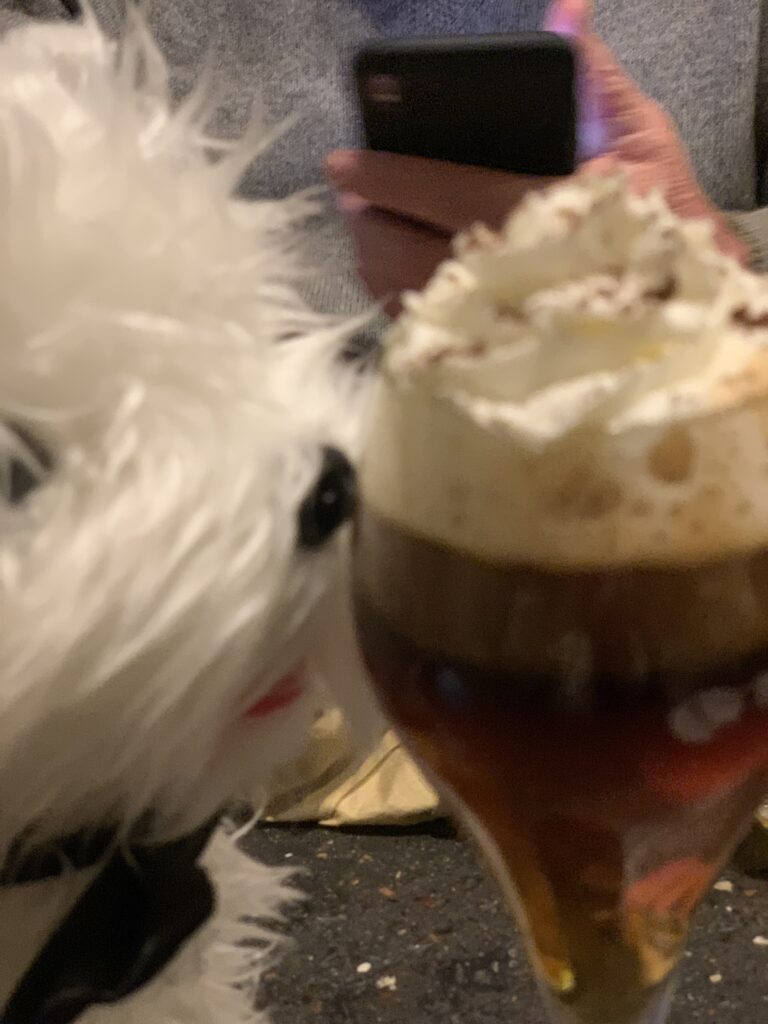 Are you hungry?
I could eat.
Dad:
Where do you want to go?
Mom:
​​Let's go to Bar Mono. We can stop by the Christmas store over there.
Arfy:
Then I heard a wonderful thing.
Mom:
​​Let's take Arfy with us.
Arfy:
ARF ARf Arf arf arf
Dad:
OK, but you have to carry him.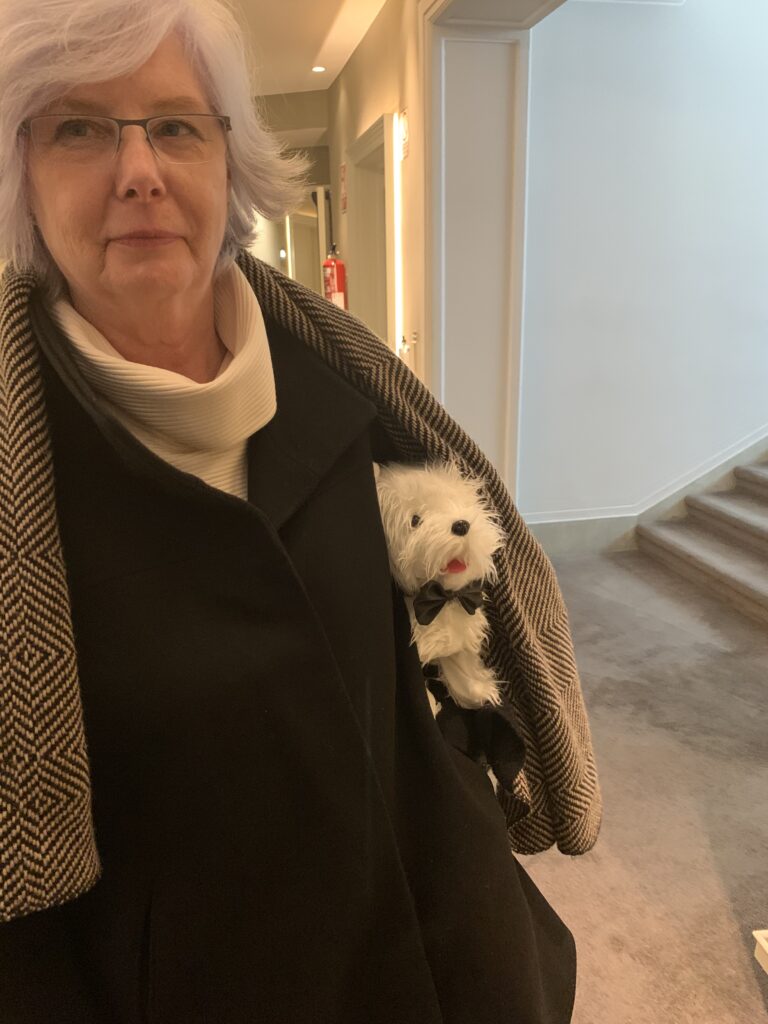 My favorite place is in my Mom's arms. It means we are going OUT!
"The more you focus on fun, the more fun you have." 

― A.D. Posey
Arfy:
Barcelona is busy! The streets are so narrow that everyone squeezes together.
Arfy:
Hey there's a kid! He has a puzzled look.
Mom:
​​He's not sure if you are real or not.
Arfy:
WHAT? I'm real. Bark me, Mom! I'll show him.
ARF ARF 
ARF
Now he looks startled.
Arfy:
Wait a minute. Now he's smiling! He's laughing! His whole family is smiling! Mom and Dad are smiling, too. 
Arfy:
People in Barcelona are so friendly. *sigh*
It feels so good to be out and free again!
It wasn't long before we found the Christmas store. The Gothic quarter is tight and narrow, still you can get anywhere on foot within minutes.
Arfy:
A Christmas Store? I remember Christmas. I know who Santa is.
Arfy:
*whine* It's tight in here. I want to see Christmas. I like Santa!
Dad took a box Mom had then got in line at the pay kiosk. Mom was still looking around. Then she squeeled!
Mom:
​​Here Handsome. One more thing.
Dad looked at what Mom had in her hand and laughed. 
Dad:
All set – let's go. Next stop Bar Mono.
Around the corner and we were there!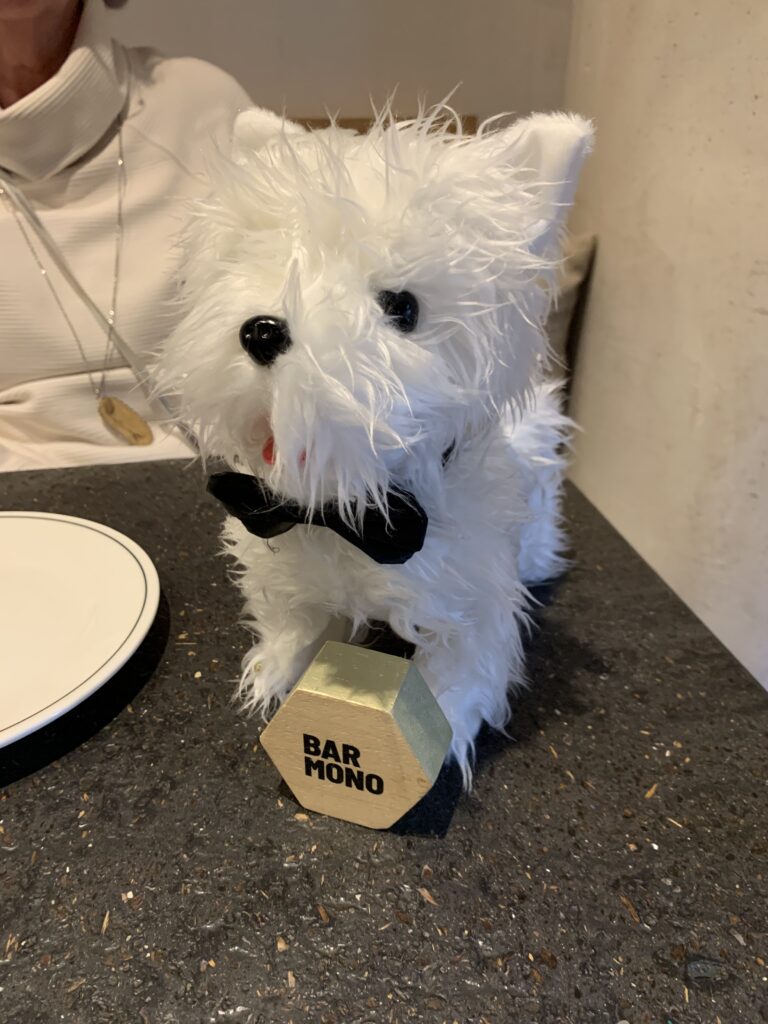 Arfy:
*sniff*!
I'm at Mom and Dad's favorite place, Bar Mono. WOW
Dad:
Here. Let me take Arfy while you take your coat off.
Arfy:
A tree! Let me sniff it up … Please!?!?!?
Dad:
Quit wriggling!
Okay. OK. Get down if you want.
Dad:
He's okay. He just wants to look around.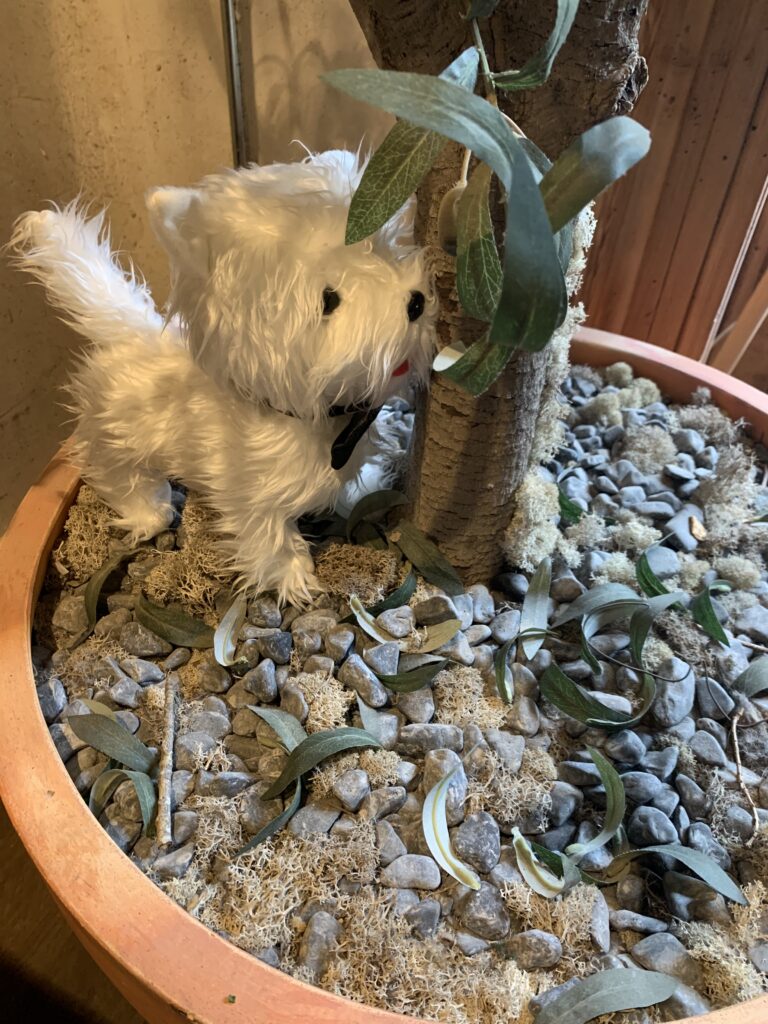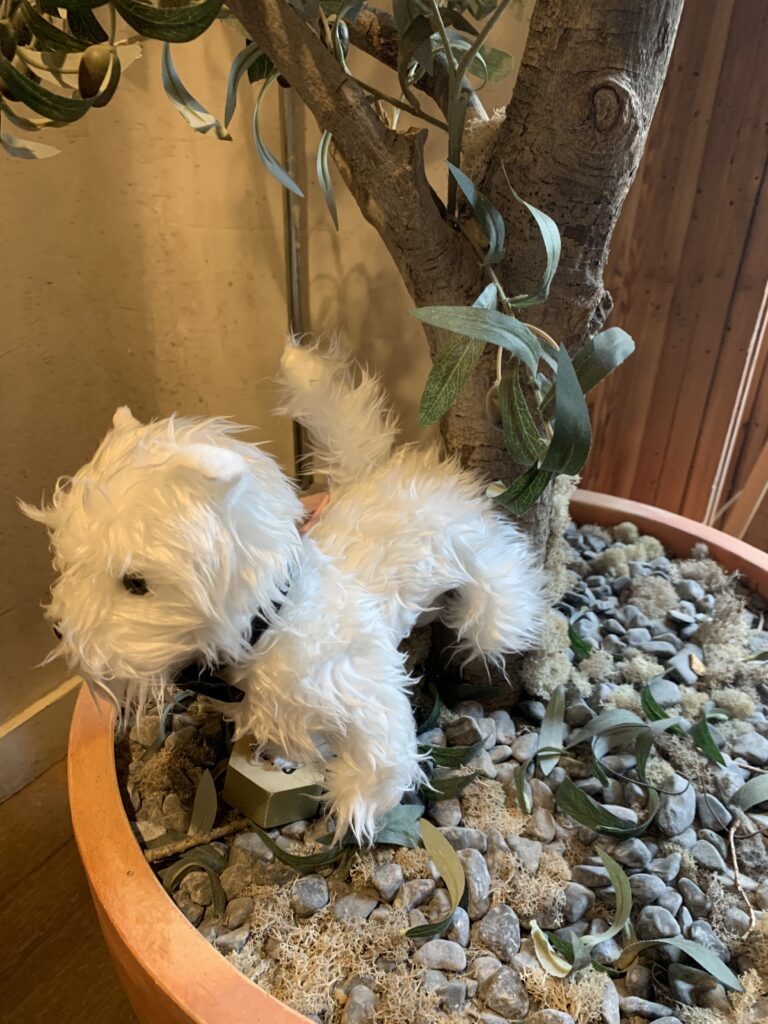 Arfy:
What?!?!? It's a tree. *shrug*
"I can explain it in Dog, but you only listen in Human."

– Gaspode the wonder dog, Terry Pratchett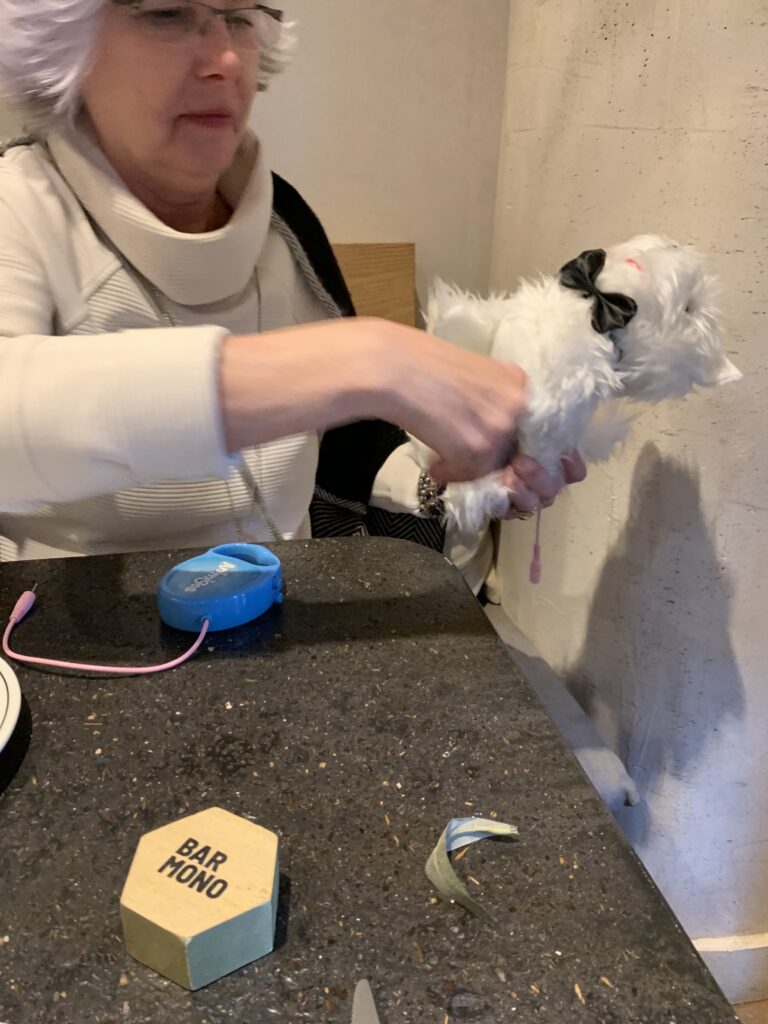 Arfy:
Am I in trouble, Mom?
But … but… Dad said I could!
Mom:
​​Oh, Arfy. It'll just take a minute. Settle down.
Arfy:
*doh* I don't like being de-leafed
*SNUFF*
Dad:
Here comes the waiter. 
Arfy:
Dad really likes this guy.
Hey. They are smiling and chatting. I love my Dad. He is everyone's Best Friend like me!
Drinks came quickly. Even so Bar Mono was BUSY so the food would take awhile. We settled in. That's when the shenanigans started.
The Pop Straw Incident in 3-Acts
Act 1
Dad gets a straw with his drink.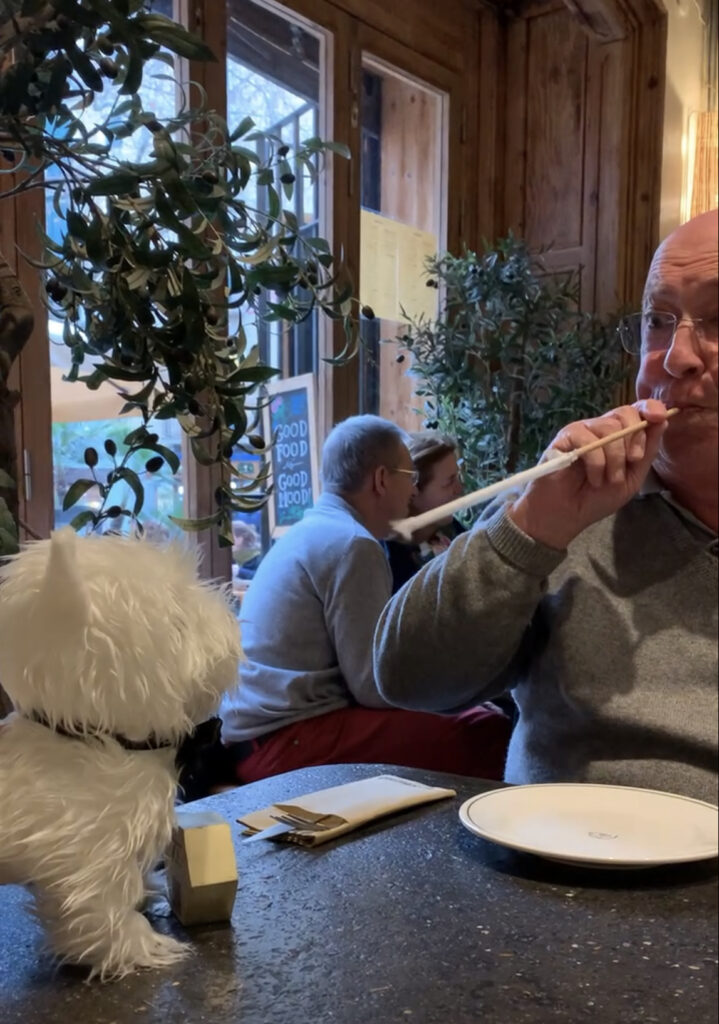 Arfy:
Dad. Dad! DAD! What are you doing?
Act 2
Oh yes he did! Watch.
Act 3
Not sorry. Not one bit.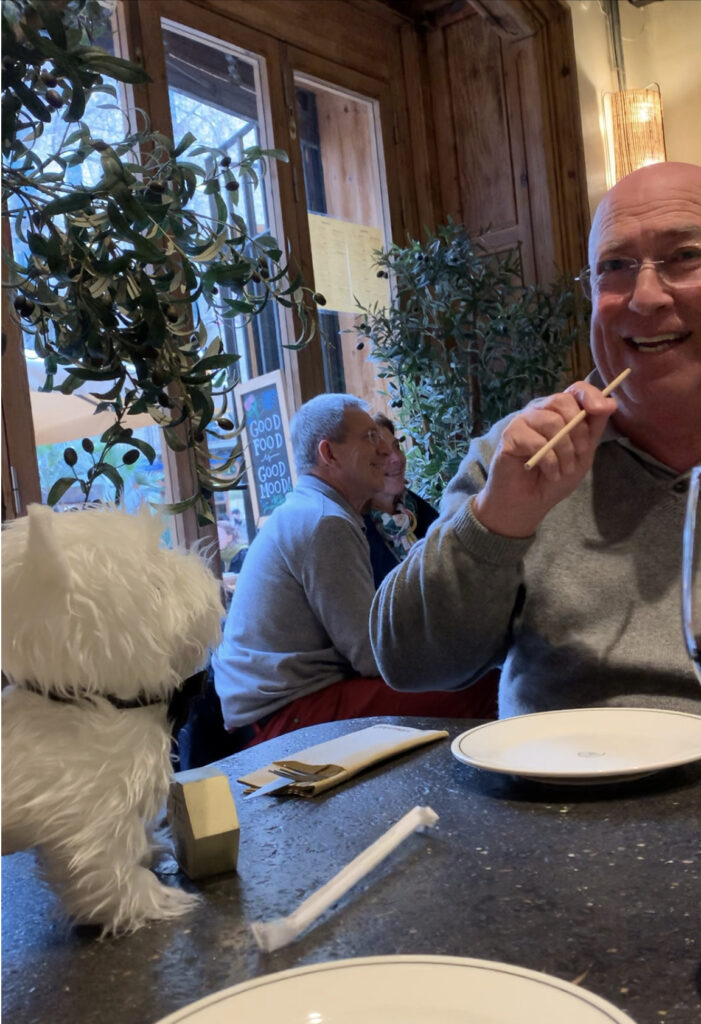 Arfy:
*ear flap* That's my Dad … Mom calls him an Imbroglione. It's his nature.
Our first paella in Spain. The grin and the drooling say it all.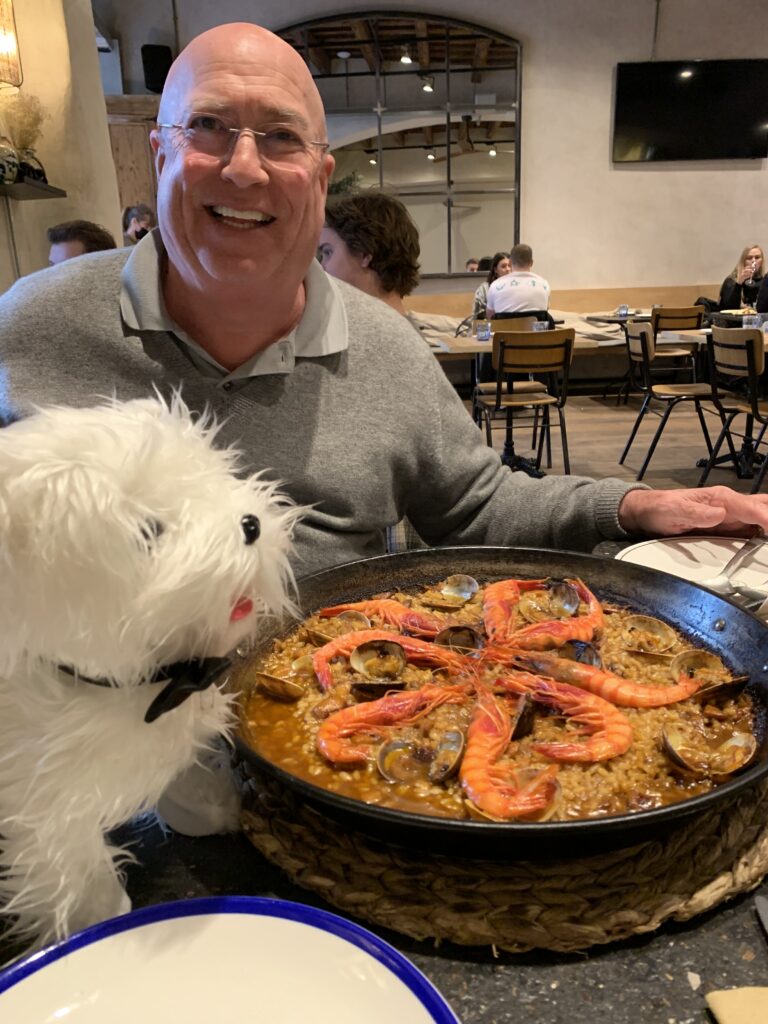 Arfy:
ARooo! That smells good.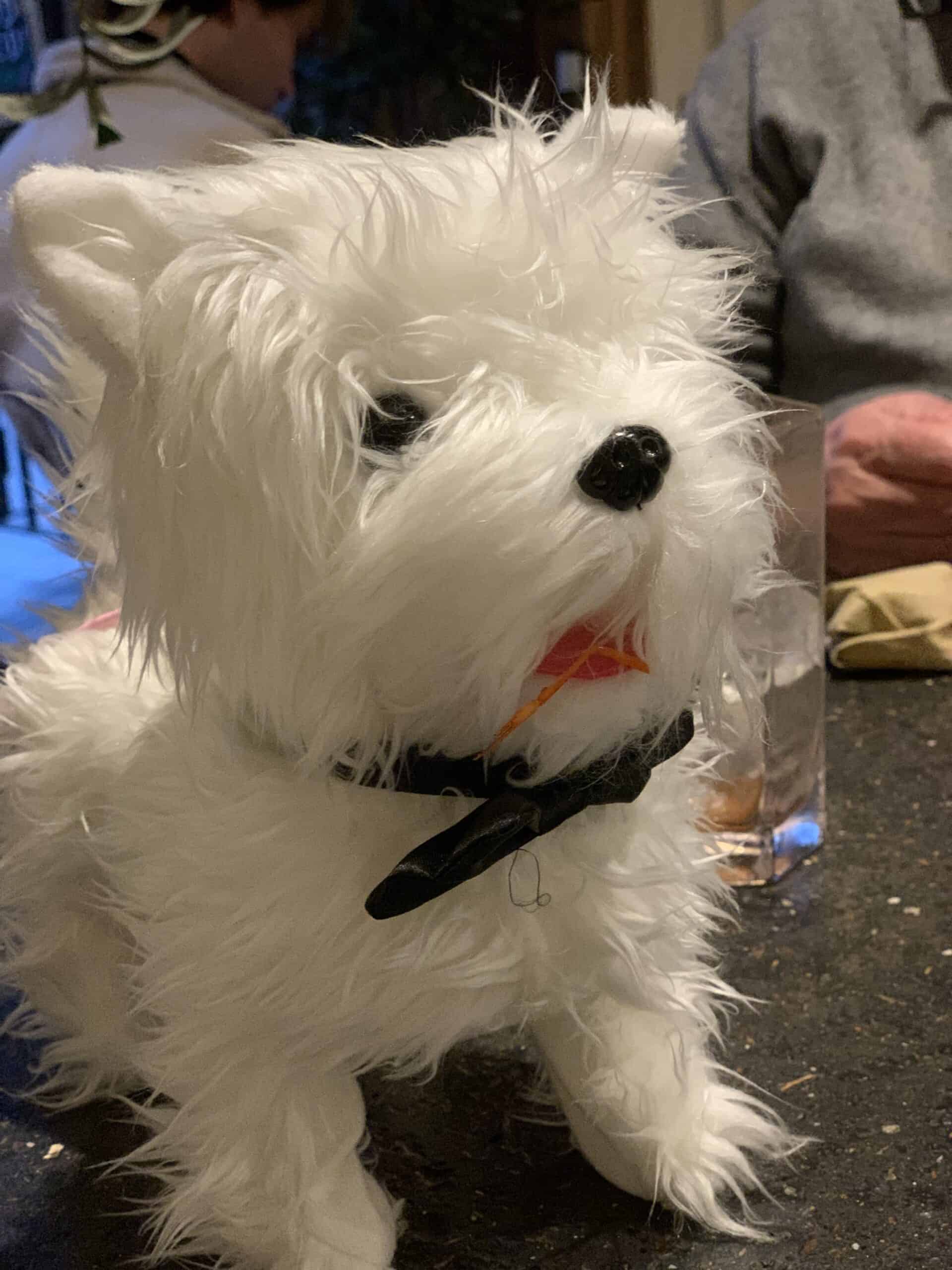 Arfy:
I won't get too close. I promise.
Mom:
​​There's already a shrimp feeler in your beard young Pup.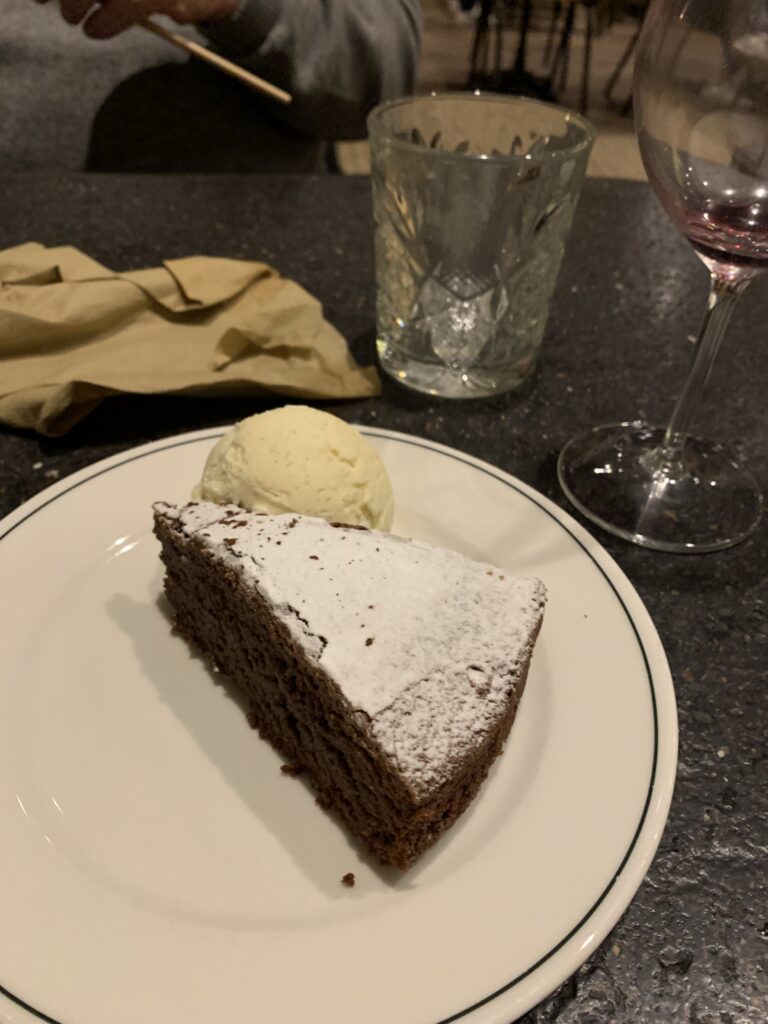 The BEST brownie in Europe. The quest is now won.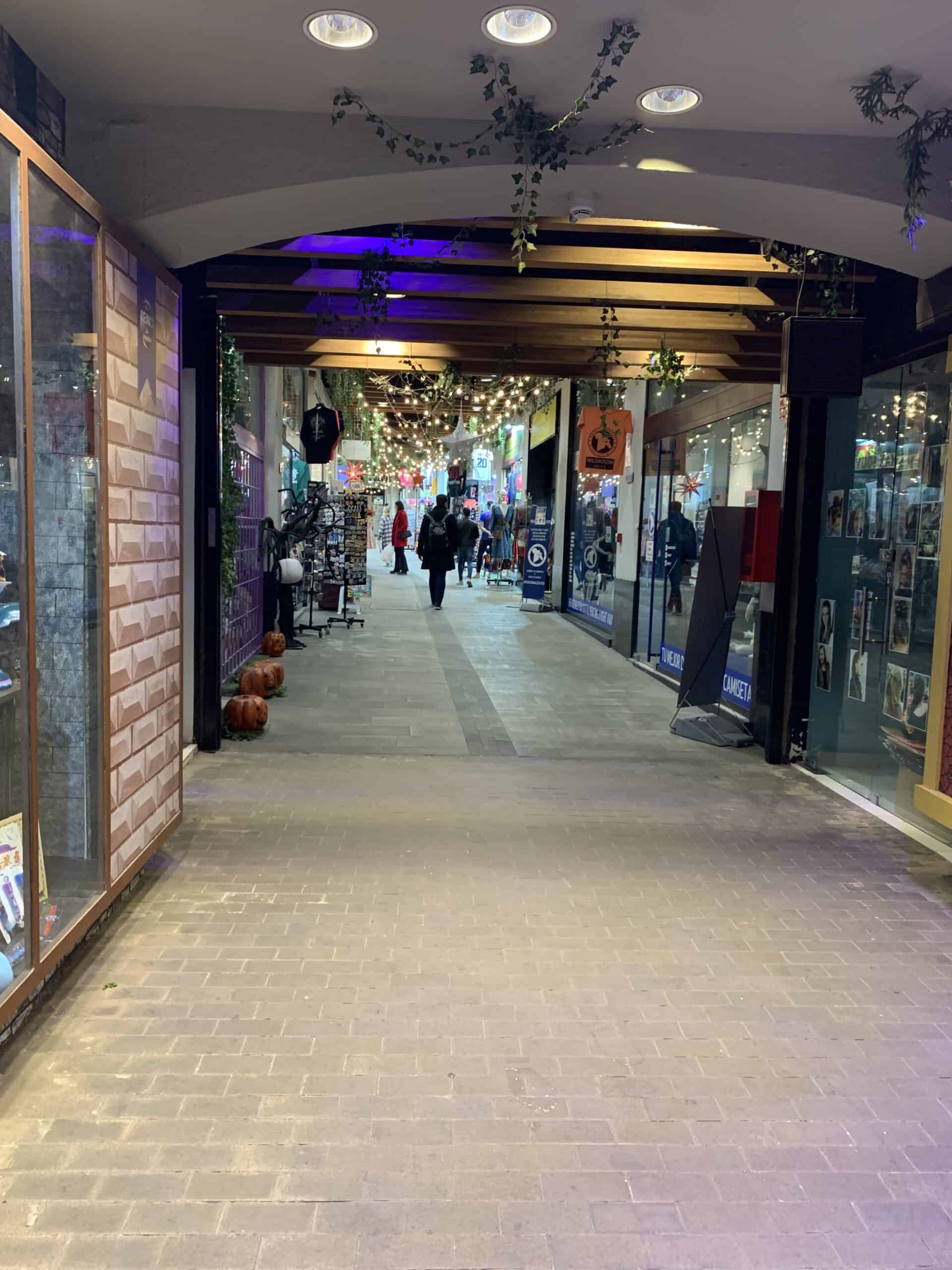 On the way back, everyone was up for more fun. This place beckoned …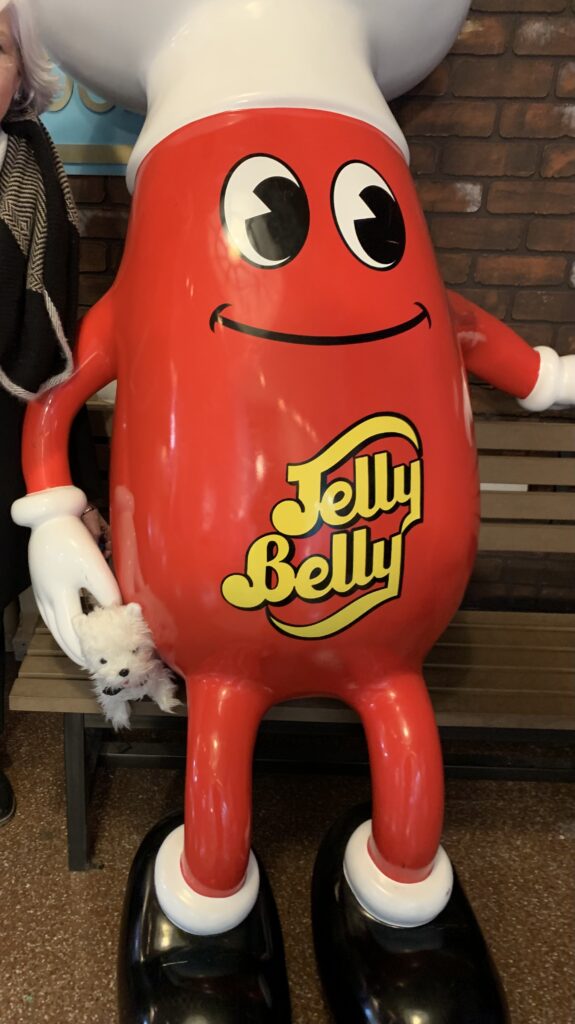 Arfy:
Jelly Belly grabbed me!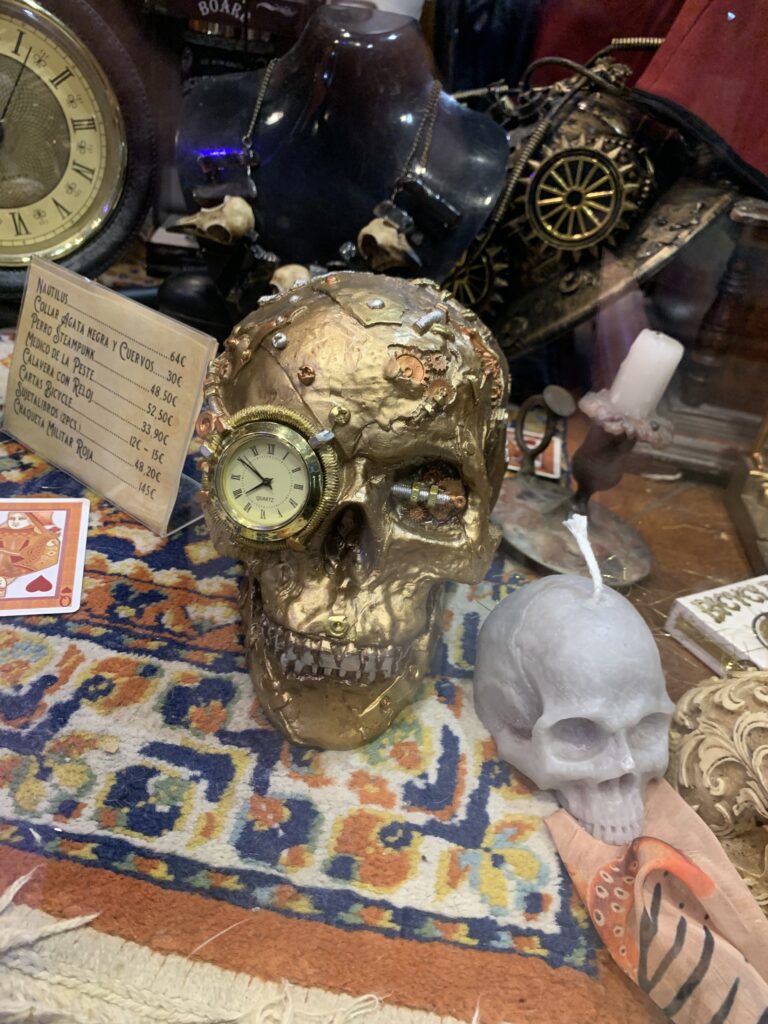 Mom:
​​OOOOO. Cool skull.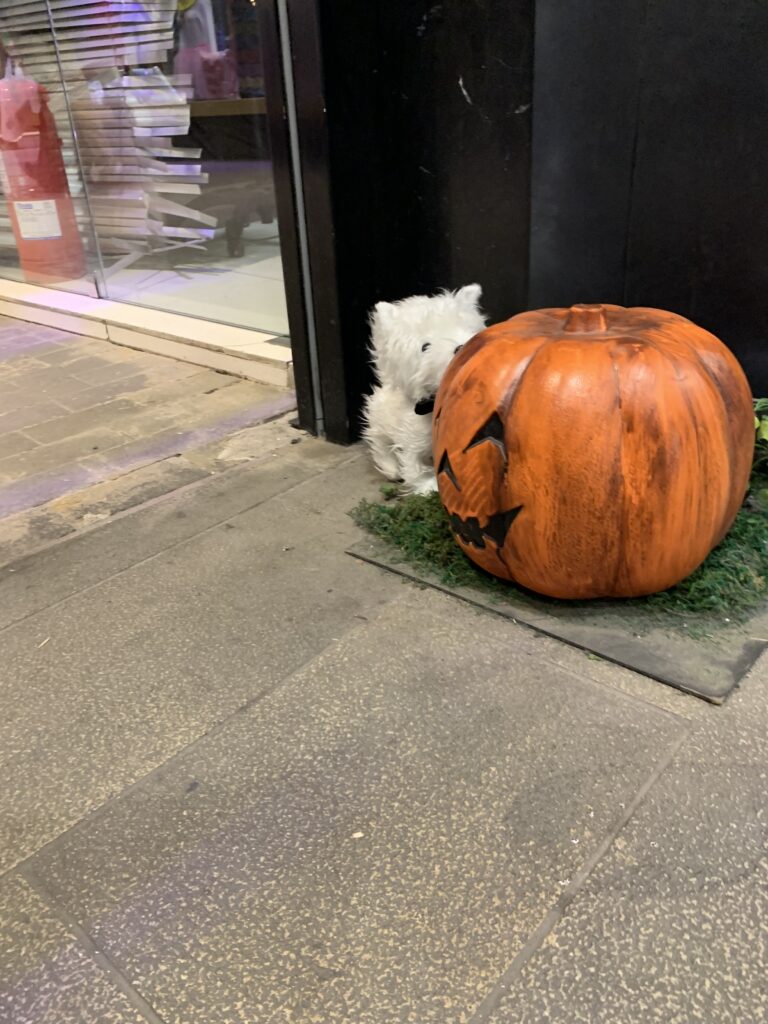 Arfy:
What's a Jack-o-Lantern doing here?
*sniff* It smells weird.
"Woof bloody woof."

– Gaspode the Wonder Dog, Terry Pratchett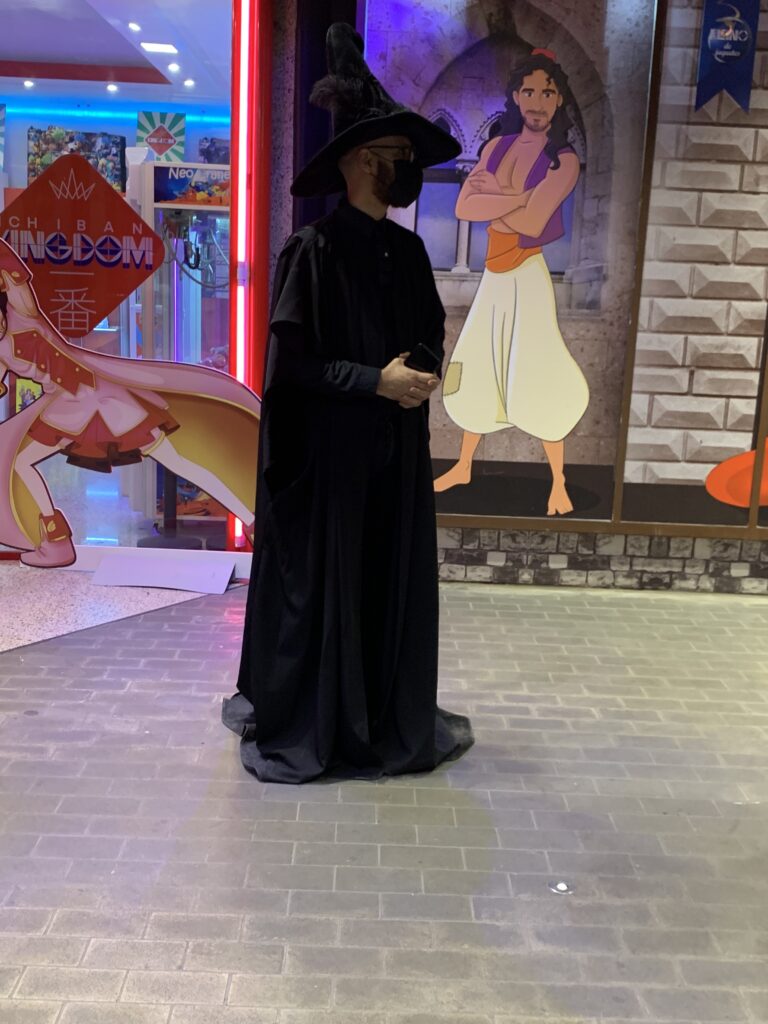 Mom:
​​I don't think so. A real Wizzard wouldn't be wearing a mask.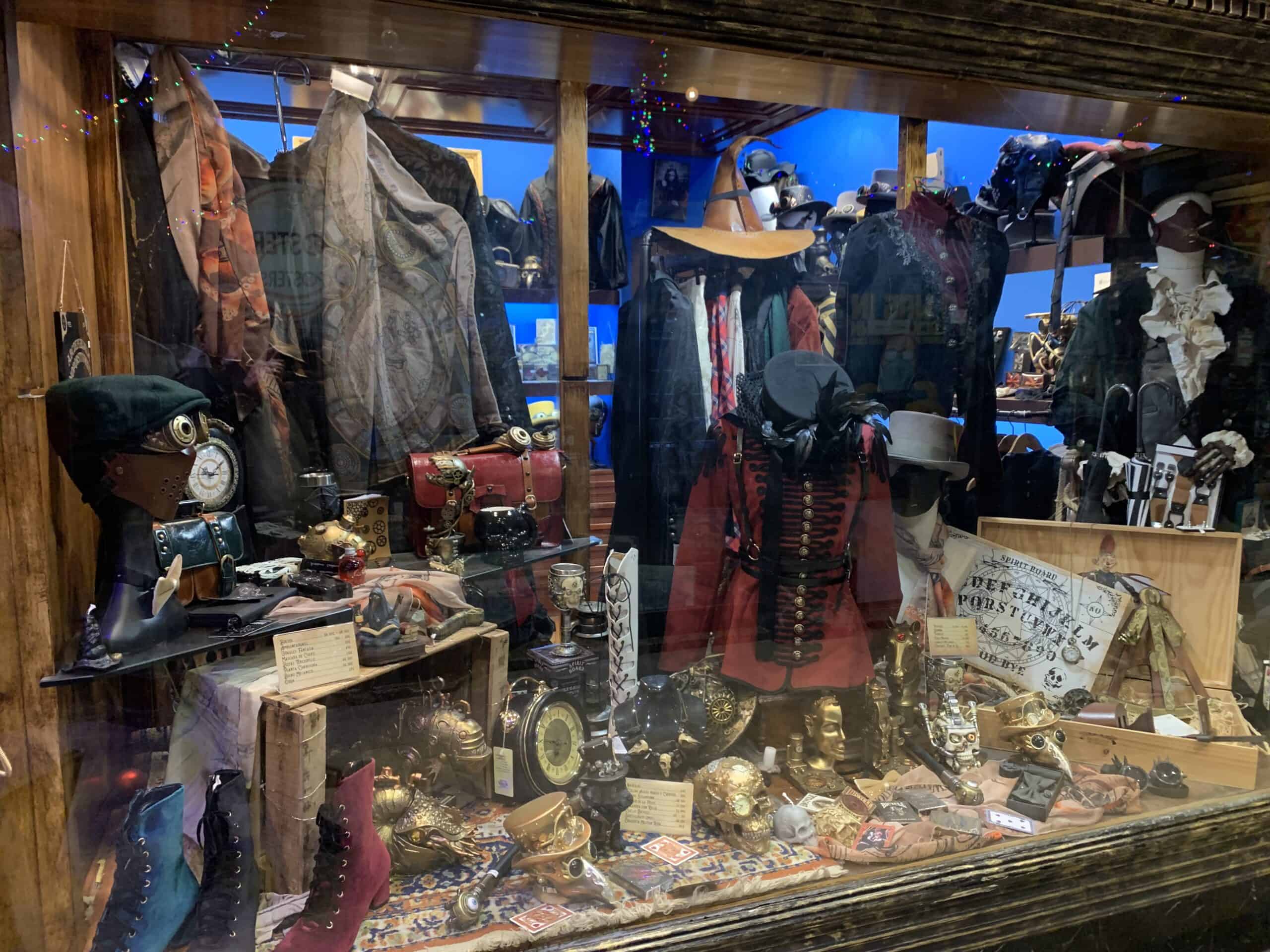 Dad:
Look at those Steampunk clothes and accessories.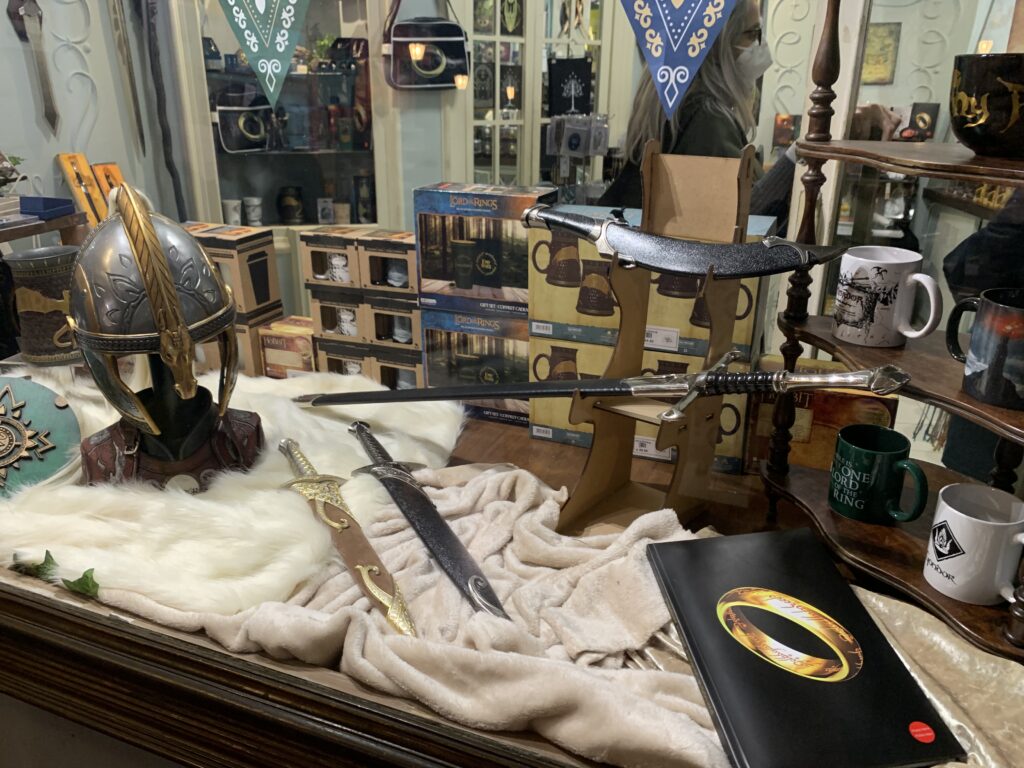 Dad:
Those swords are very cool.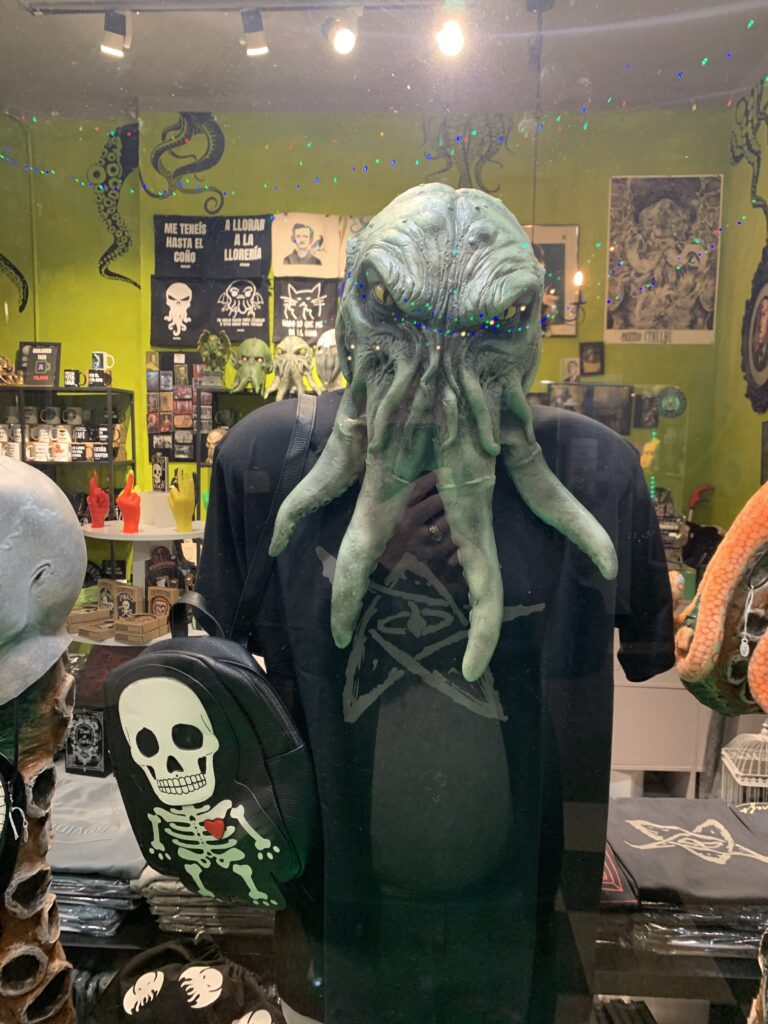 Arfy:
ARF ARF ARF ARF
Look out! It's Cthulhu, Mom!
Dad! Go back and buy a sword. We'll get him.
We passed a lot of people on the way back to the hotel. All of them laughed and went on with big smiles when Arfy barked them up. In no time we crossed the piazza and we were home.
Arfy:
Mom was excited to open her treasures. She pulled out this log-looking thing that had a face and was wearing a bow tie. And then she pulled out this other little  guy with a red hat. It looks like … It looks like he's taking a DUMP!
Mom:
​​Arfy, come meet some new friends. This little log-looking guy is Caga Tió. He is also known as the poop log.
Arfy:
What?!? Mom has LOST IT. *whimper whimper*
Mom:
​​You see, at Christmas time, Santa skips Barcelona and the entire Spanish province of Catalonia.
Arfy:
What?!? Are all the kids around here THAT BAD?!?!?!?!?
Mom:
​Oh, Arfy. Come sit on my lap and I'll tell you more.
Arfy:
I love sitting on Mom's lap. She gives me good pets.
Mom:
​The kids here are very good, they simply have a different tradition. At the beginning of the holiday season, the family goes out and selects a magic log. They bring Caga Tió home and cover it with with a blanket. They all feed it fruit, nuts, turrón – a Catalan candy​, stale bread, and cookies​. They treat Caga Tió like a family pet. They take good care of the poop log throughout the days leading up to Christmas.
Mom:
On Christmas the parents send their kids to their rooms to prepare their beating sticks.
Arfy:
Beating sticks?
*looks at Caga Tio and looks back at Mom*
Mom:
Yes. Then the parents call the children to come into the living room. The family sings the poop log song as the first child hits the poop log with their stick. At the end of the song, the father looks under the blanket covering Caga Tió and retrieves the pooped out present for the lucky boy or girl. Everyone takes turns beating the log.
Mom:
Yes. All the children in the family.
Arfy:
*sad eyes at Caga Tió*
Mom:
After awhile Caga Tió finally poops out a tin of herring.
Arfy:
*more sad eyes* *WHINE* Poor little log.
Mom:
After the tin of herring comes out, the poop log lays there exhausted and the family knows it's time.
Arfy:
Time? Time for what?
Mom:
Time to ceremoniously throw him in the fire.
Arfy:
Caga Tió gives them presents and then they burn him in the fireplace?!?!?!
Mom:
He poops out the presents for them, but in essence yes.
Arfy:
*AROOOOOOOO!* I canna take it.
Dad:
You know the old saying, "It's all over once the poop log shits the herring tin."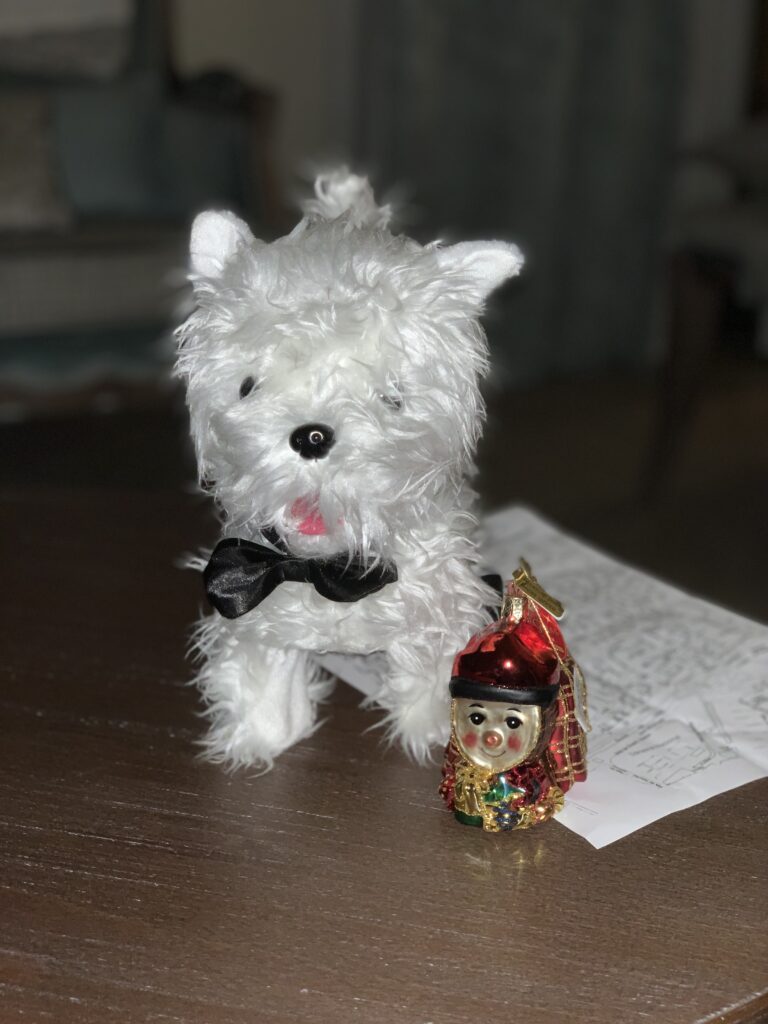 Shit log,
Shit nougats,
Hazelnuts and mató cheese,
If you don't shit well,
I'll hit you with a stick,
Shit log!

― Catalonan Poop Log Song
Arfy:
I'll protect you, Caga Tió. I'll be your friend!
Arfy:
*SIDE EYE* 
So who's THIS guy?
Mom:
That's Duftil. He is a caganer. Caganer means pooper. Do you remember the big Nativity Scene we saw in Orsogna?
Arfy:
You mean the one with the baby and donkeys?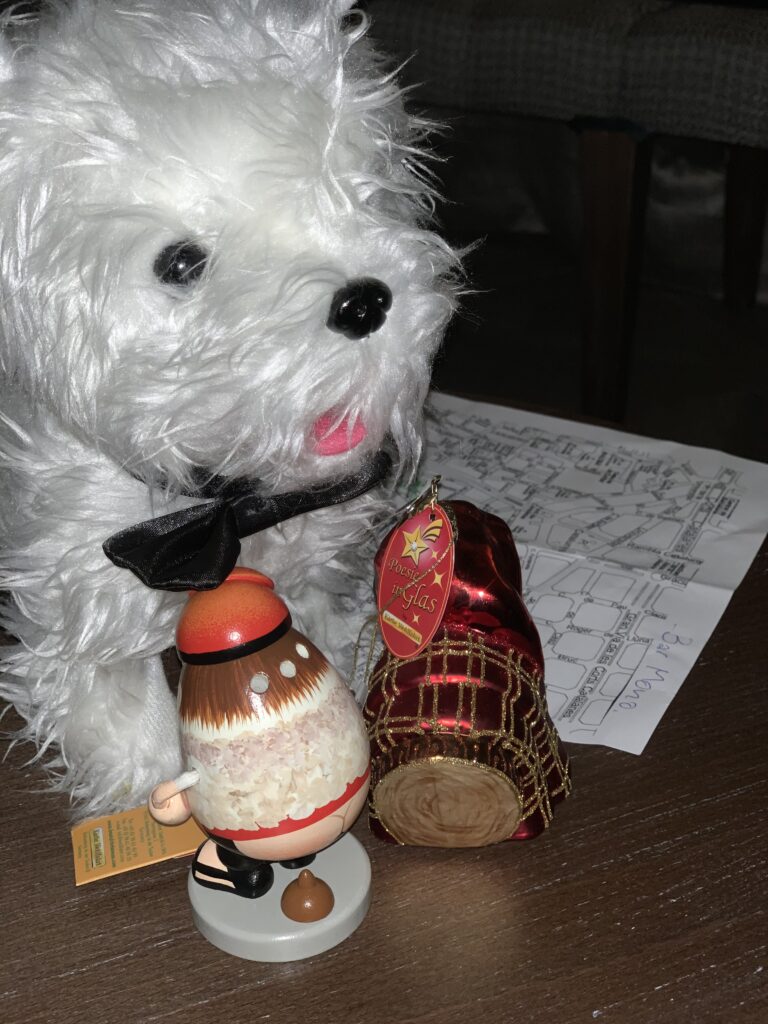 Mom:
Yes. Here in Catalonia, they hide this guy in their home Nativity scene somewhere. As is customary, he wears the traditional Catalan outfit of a red cap, white shirt, and black trousers. While Jesus, Mary, and Joseph are at the heart of the nativity scene this little guy is usually hiding somewhere on the outskirts. In a fanciful game of hide and seek, someone moves him around each day for a lucky person to find.
The caganer brings good luck by fertilizing  the land. Symbolically he also brings good luck to the family who owns the presepe.
The caganer teaches us that everyone is truly equal because everyone poops.
Mom and ​​Arfy together:
We know, Dad!
Arfy:
I am so happy to make some new friends. Now I'll never bark alone in Barcelona!