Trees, trees, and more trees, and now we were in some mountains. Suddenly you look up and there it is. We see the castle above us on top of the mountain. Bright White. Beautiful. Majestic.
Neuschwanstein Castle lies nestled on the edge of the Ammergebirge nature reserve. We found the perfect place to stop and take some pictures of the castle and Rolland of course.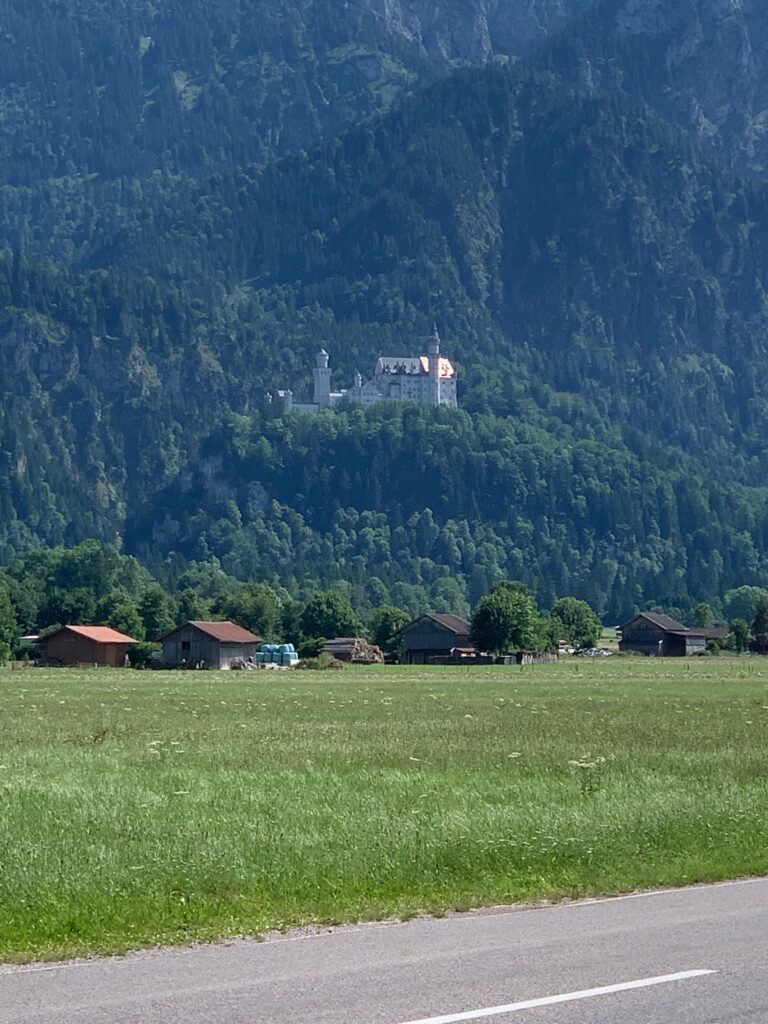 What a sight! The Castle draws the eye, doesn't it? We can't believe we're here. It's a dream come true.
According to the historical records:
Maximilian II considered this location one of the most beautiful. In order to best enjoy the scenery, the King had paths and lookout points constructed in the area around Hohenschwangau. Then in the 1840s, he had the bridge, the "Marienbrücke", built high above the Pöllat Gorge as a birthday present for his consort Marie, who enjoyed mountain-climbing.
From the narrow mountain ridge known as the "Jugend" to the left of the Pöllat is a magnificent view of the mountains and lakes. Maximilian II loved this spot and intended to build a viewing pavilion there. Crown Prince Ludwig was often on the "Jugend' with his father. The ruins of two small castles: Vorder- and Hinterhohenschwangau were there. They inspired young Ludwig to recreate a castle in the style of the old German knights when he became King. Only Ludwig II wanted it to be better than Hohenschwagen, it would be more romantic, and made perfect with all the modern amenities.  It would be his "New Hohenschwangau Castle." The schloss only acquired the name of "Neuschwanstein" after KingLudwig's death.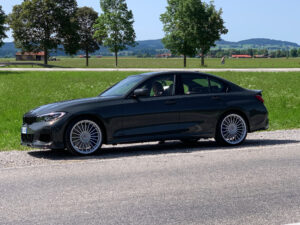 Captions
Above: At long last we have Rolland and now we can drive anywhere. We are so blessed! Another RING BUMP.
Middle Photo: A small church set across the road.
Far right: It had only been a few hours since we got Rolland. We still had a hard time believing our luck.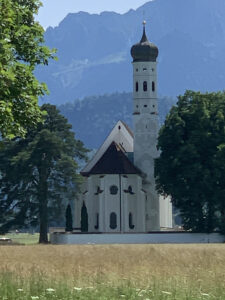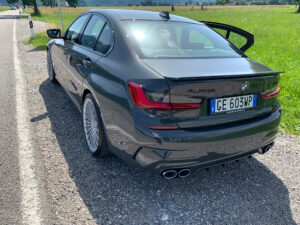 "Nothing in life will ever attract good people and good fortune to us better than our good attitude."

– Unknown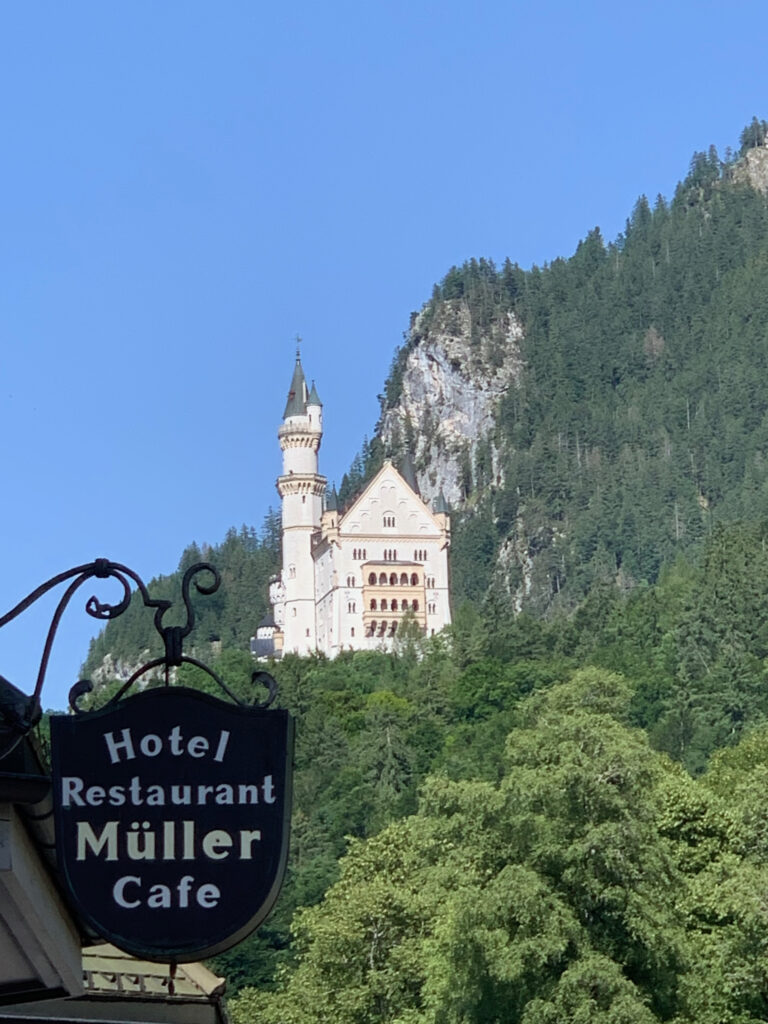 We rolled into Schwangau
Spotting a parking space, we pulled in. We're European-savy now, we've learned that parking spots are to be swooped on and taken on sight. Plus, it was a perfect fit for Rolland.
Looking up, right in front of us was a  Farmacia that issues 20-minute swab tests, there was no line, and for not much money. And right around the corner? The Hotel Müller. A year or more ago, Dawn had researched some hotels in the vicinity of the castle Schloss Neuschwanstein. Hotel Müller is quaint hotel that had its own restaurant and parking. It had been our top pick. Here it was. And we were already parked in its parking lot. We could stay the night and see a little of the castle. 
The luck of the RING BUMP.

 
We soon checked in for one night with one of our bags. (Car Travel Tip: pack one bag with what you want to wear at a location and your DOP kits. It saves luggage lugging.) The Front Desk Lady was so welcoming and answered all of our questions about the castle.
We headed upstairs to find that the room was OK, but Steve didn't like the layout. It was a small room even by European standards. Back down the stairs we went. Suitcase in tow for the what? The fourth time that day?
When she listened to our concerns, the Front Desk Lady said she had a suite available for one night. We took the elevator and were led to a most wonderful room! Spacious, nicely appointed, it also had a big balcony … with a view of the castle!
We were giddy with joy. Too bad we had to leave. Then we looked at each other. The farmacia can be used more than once. We could stay at least two nights. We dropped our bags, changed into walking shoes.Yes. We are going up to the castle now.
But first … We asked if the suite was available for two nights.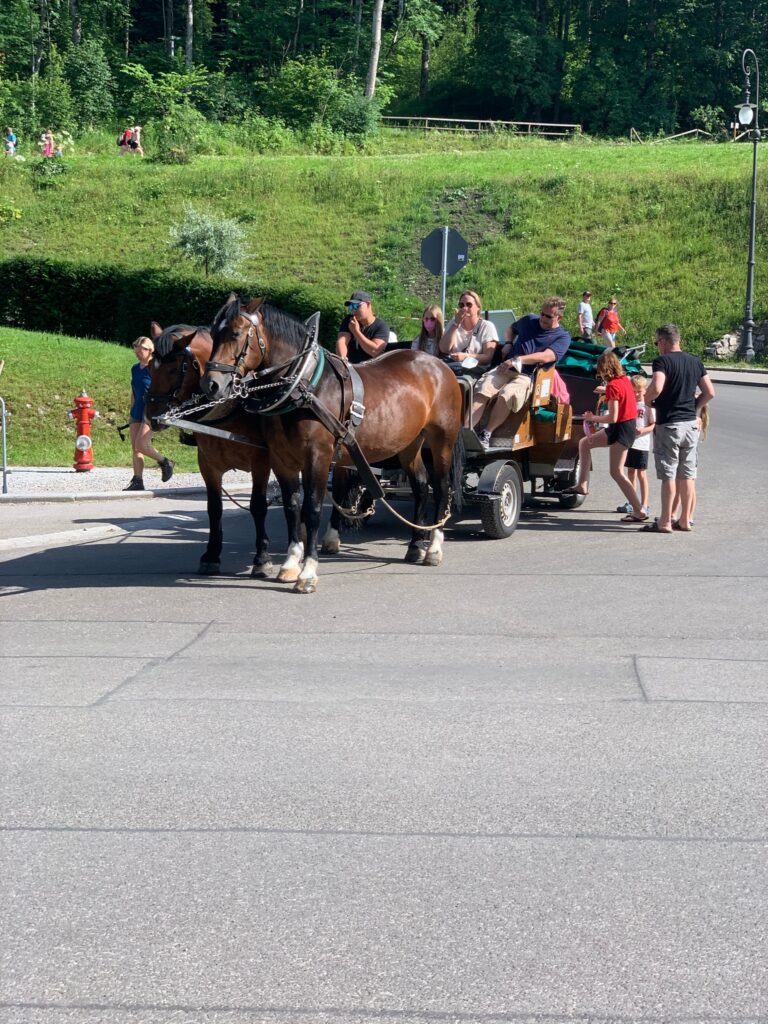 One of many horse drawn carriages that take visitors up and down the mountain every day. Yosko told us that the carriages actually have electric motors so the horses don't have to work so hard.
Dreams can come true … we could stay!
Dawn:
With hearts considerably lifted we headed across the street to talk to the horse carriage drivers. 
Steve:
We needed to get out on foot and explore. In this case "on foot" meant walking across the street to get on a horse drawn carriage that took us up the mountain and dropped us off at the base of the castle. It would be another  fifteen minute uphill walk from the carriage drop-off point.
Steve:
In the short video below, we share a bit of that carriage ride up.
The road to Schloss Neuschwanstein
"Scarred only in my psyche."

― Steve
Steve:
We waited a few moments, then heard the clopping of a returning carriage. The carriage came to a stop and the passengers disembarked. The Driver came around the corner, parked the carriage and got down. Soon we were chatting. I asked him how much and the negotiations began. He said this would be the last ride up, as it was soon quitting time. He said the wait might be 20 minutes or more. You never know when or if enough people will show up to fill a carriage. Then the Driver  mentioned there was a special price. We could rent the carriage to ourselves. He named a price and we shook hands. Because we were the only ones, we got to sit up front. Dawn got in next to the Driver. As I was reaching for the handle to mount the carriage a horse tail swished and I got whacked on the inside of my arm! That stung a bit.
Steve:
We spent several hours up there wandering around the exterior and grounds. We enjoyed the beautiful weather but stayed too long to catch the last carriage ride down. The walk down was easy and it gave us a chance to stop and smell some roses along the way.
Dawn:
Take a look at the slideshow to my left.
Germany is incredible! The clean air. The wonderful scenery. The gorgeous, thriving plant life. This is truly a special place. 
Check out the good eats slides above.
"… food is not simply organic fuel to keep body and soul together, it is a perishable art that must be savoured at the peak of perfection."
― E.A. Bucchianeri, Brushstrokes of a Gadfly
Steve:
After our meal we enjoyed a relaxing evening out on our patio still in full view of the castle. It's well lit at night and quite romantic to see. While I smoked a great Cuban, Dawn was planning the next segment of our trip. Since Dawn was unable to have this trip fully sorted and hotels booked, this would be a recurring theme for this trip. It ain't easy traveling this way not knowing where you're going the day after tomorrow but due to the virus it had to be this way. It nearly drove Dawn nuts.
Why not stay longer?
Dawn:
After a RING BUMP kind-of-day, we went up to our room to freshen up and then we had one of the most delicious meals we've ever eaten. Now we knew why we had been stymied in Munich. We needed to get to Schwangau in time to meet Yosko and find the suite available!
Steve:
The al fresco dinner at the hotel was wonderful. 
Dawn:
At dinner we asked ourselves why not stay two or three days? Then we realised again that we could swab, drive west, and stay in the Black Forest for 2 nights. That way we could see a bit more of Germany. We would hug the southern border of Germany and it would be an easy job to get back to more freedom in Italy.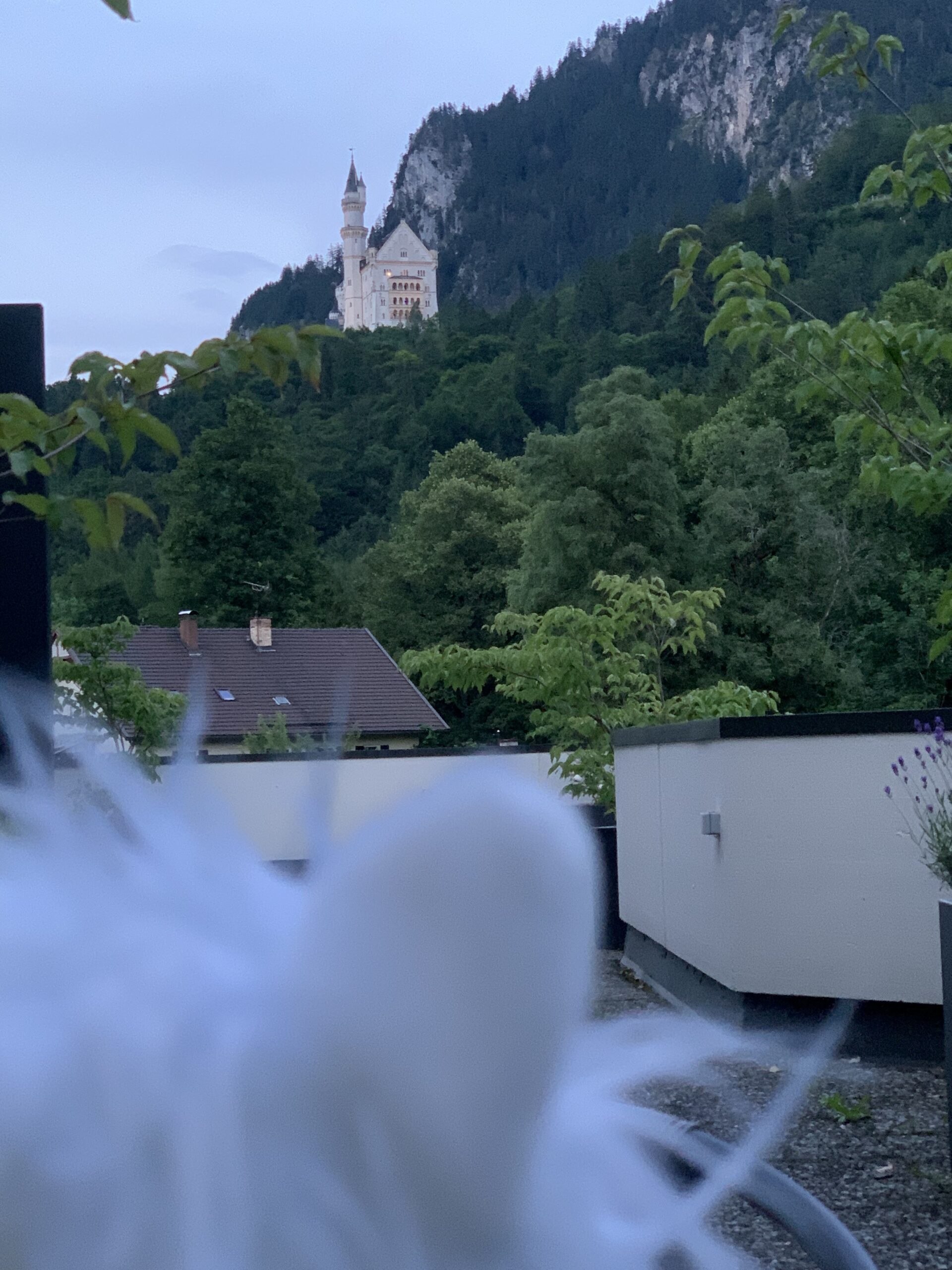 Even Arfy couldn't take his eyes off the Castle.