We're on the road to paradise
Here we go! We packed up Rolland and set our sights for a modern day city of Oz. We never know what we'll see, but we've got some good driving tunes on the stereo and a navigational course set.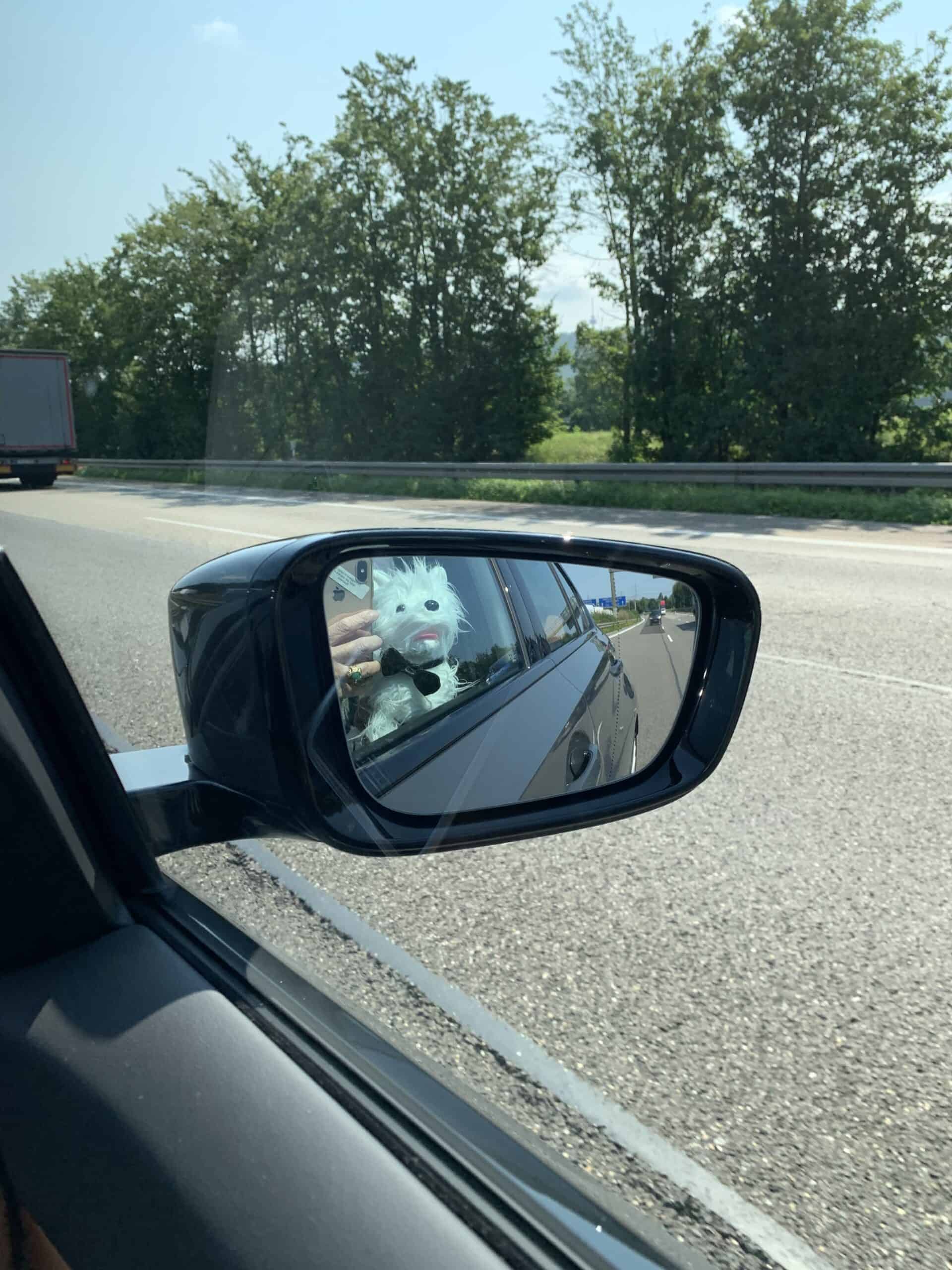 Steve:
Dawn plotted our course. There were not going to be any back roads for this leg. It was going to be a longer drive but the Autobahn allowed us to cover countryside quickly and comfortably. We did run into a couple of construction sites along the way but the delays were minor compared to what we were witnessing on the southbound side of the highway. We passed queues of cars and trucks that were 10s of kilometers long many times on our drive up. We were grateful that we were not headed back home and we noted the Autobahns with the worst problems in order to try and avoid those roads on the return trip.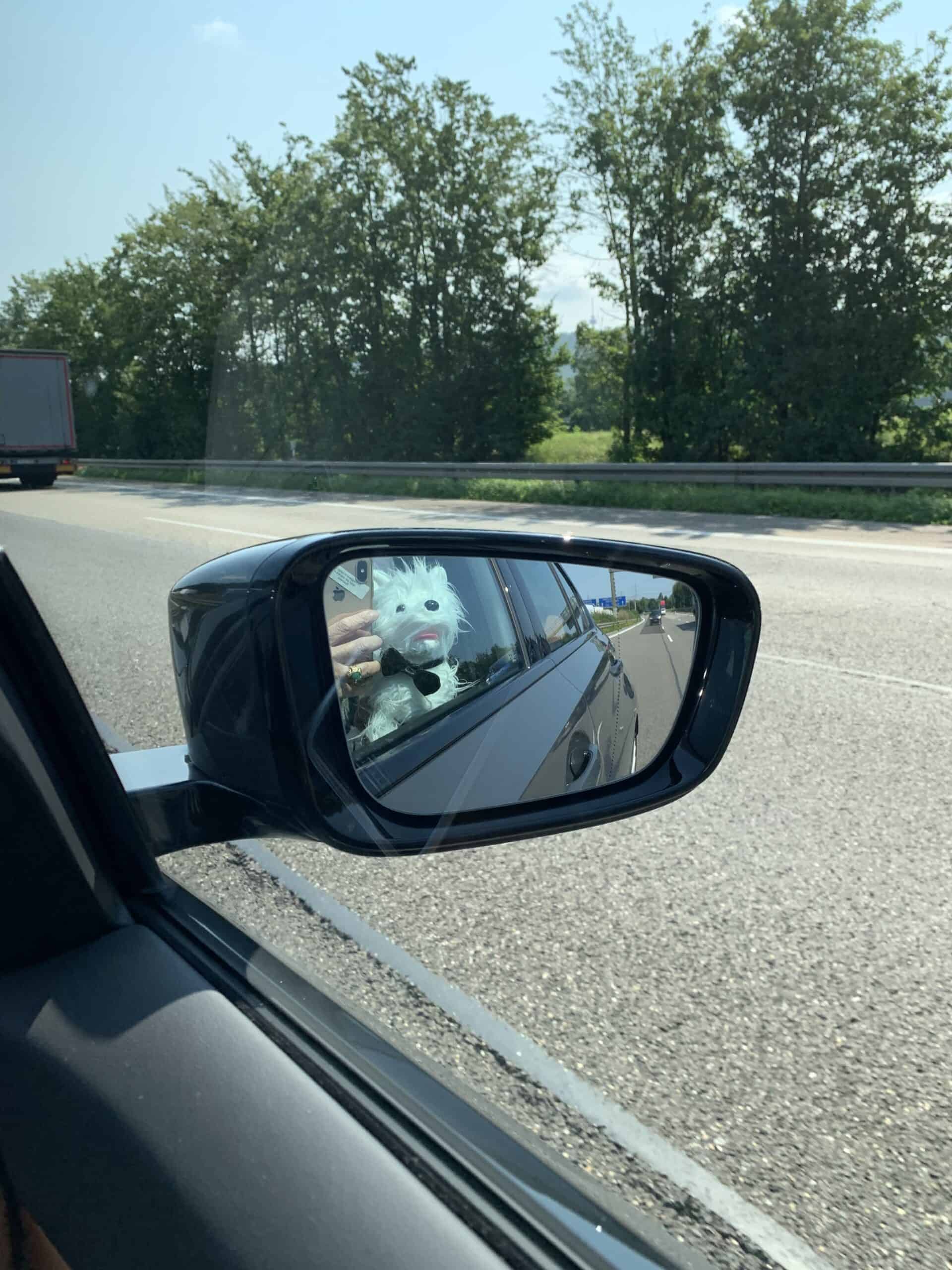 Arfy enjoys the open road. We learned that he is a true Roy Orbison fan. He can hit the high notes just like Roy!
Dawn:
This was our longest car trip yet, long yet comfortable. 692 kilometers which the navigation system estimated would take 7 hours and 23 minutes, not counting a pit stop and those construction slowdowns Steve mentioned. We were mostly on one Autobahn through Germany – the A3. Every now and then we might catch a glimpse of a castle or a charming village or two. The A3 is meant for getting somewhere, not for sightseeing.
Steve:
I should add more about driving on the Autobahn. There is a common misperception that there are no speed limits on the German Autobahns. This is not true. There are only certain sections of the highway that allow unlimited speeds. On the way to Amsterdam there were quite a few. However, on some of these sections there was so much traffic that I was unable to get much above 130 kph (about 81 mph). 130 kph is generally the speed limit on all European super highways. Some of the unlimited sections had construction zones where highway work and the resulting traffic jams didn't even allow 60 kph. Some sections were short amounting to only a few kilometers long. Those were a bit frustrating because by the time you got comfortable rolling along at a good clip the speed limit changed back to 130 kph. But when traffic conditions and the road allowed I was able to drive well over 185 kph or about 115 mph for a satisfying distance. A couple of times I was able to to touch 210 kph (130 mph) for a good distance. With Dawn along side I didn't want to push things too much. 
Steve:
Things happen quickly at those speeds. You never know when you're going to roll up on a gaggle of slower traffic. It is generally believed that European, and especially German drivers, are better and more alert on the highways. Sometimes this is not the case. There were several times when slower traffic was not ….er….as courteous to those (me) who were driving at elevated speeds. The car felt planted at higher speeds and it instilled confidence in me that it could be driven much faster safely. We'll get back up that way, hopefully soon. After all this Covid BS is over. I will definitely push the car a bit more. It is capable of over 300 kph or about 186 mph. 
Dawn:
Ah. Yes. Unlimited speed zones. In Rolland's early days, Steve declared that he wouldn't be using Rolland's super powers except for in cases of emergency. It turned out that "emergency situations" are any time he has an unlimited speed zone and a clear highway. I hear him holler Jeez… at the exact moment my head is G-forcing into the head rest. It is even more excitingly G-forcey when another super car joins in the thrill of unlimited speed.
This isn't life in the fast lane, it's life in the oncoming traffic.

– Terry Pratchett
Steve:
Driving into the center of Amsterdam was daunting. The streets are narrow and packed with bicyclists and pedestrians. Bicyclists have the right of way over any other vehicle everywhere in Amsterdam. I am not kidding. 
Added to this the directions to our hotel led us drive to down what appeared to us to be sidewalks or pedestrian plazas. We didn't follow some of the directions because of this. Consequently we spent quite a bit of time in downtown Amsterdam in "recalculating" mode all the while feeling like motorized interlopers in a muscle-powered land. It was during this time that we learned that the extremely narrow paths we were supposed to take to the hotel were indeed streets, not sidewalks. I must mention here that all of the streets are lined with 5 centimeter high "curbs" that are sometimes difficult to discern. Especially when you are trying to stay out of the way of packs of the legally superior bicyclists who didn't seem to have to obey traffic signals or other commonly accepted rules of the road. 
Steve:
During one of the many bicycle avoidance maneuvers I was forced to make I unfortunately became aware that those low curbs can easily remove a chunk from your low profile alloy wheels. 
Around 6:30pm we finally arrived at the front of our hotel only to find there was no place to park. Blocking the street while we went inside to check in was not an option. We quickly decided that Dawn should go in while I tried to find a place to park. I located a spot a few blocks further on and headed back to the hotel. 
Dawn:
It had been a long travel day, luckily The Front Desk Lady was very kind. She listened to our plight and soon gave me great instructions in fluent English. She even repeated them to me.
Outside, I felt frazzeled, as I worriedly looked for Steve. He considers his cell phone a camera so he probably didn't have it on him. I was relieved when I saw him coming around the corner.
Steve:
I met her on the street and we went back and got into the car. Dawn had been given directions to the parking garage by the front desk lady. These turned out to be somewhat….erm…. imprecise. After a bit more bike (and curb) dodging we were able to find the street behind the hotel that lead to the garage. The desk lady told Dawn that there was a big green door into the garage. Creeping up the street we located the door and pulled onto the sidewalk in front of it. Dawn said we were supposed to wait there while they sent an attendant to open the door.
Steve:
Several minutes passed while we again felt like interlopers blocking the sidewalk with our motorized beast.
Dawn:
We were blocking part of a sidewalk, a section of the road, and a Coffee Shop which was perched just next to the garage.
Steve:
The door finally opened to reveal what looked like the entrance to a big freight elevator. I was instructed to drive into the space while maintaining a precise alignment on two steel tracks on the floor. This proved to be challenge as there was a large mirror at the end of the tracks. It was evidently there to help one see where the car was positioned on the tracks, but all it did was blind me as my headlights were on. After one failed attempt I was able to get the car on the tracks straight enough to light a green lamp which indicated acceptable positioning. After we unloaded our luggage the attendant briefly explained that the car would be lowered on the platform and mechanically stored below ground on that same platform. We would have loved to see this in operation and asked if we could observe it but we were informed that safety requirements would not allow it. We were instructed on how to get into the hotel from there and that the attendant would see to our luggage.
Then we walked straight in to a paradisical hotel in paradise. We fell in love immediately.
We checked in, found our luggage settled into the room, and decided to get a feel for this remarkable place by setting our boots on the cobblestones.
Dawn:
The big Green Door was the entrance to the hotel parking garage was a perfect landmark. We had been around the corner, up the alley and at the canal had turned right to get to the hotel.
Steve:
Next to The Green Door was one of Amsterdam's legendary "coffee shops". A visit to the shop. You know….just to see what it was all about. Upon our approach the musky sweet smell of burning marijuana took our attention.
Dawn:
Well, remember? We could smell marijuana in the elevator. And let's be honest. We were excited! We miss living in Denver, Colorado.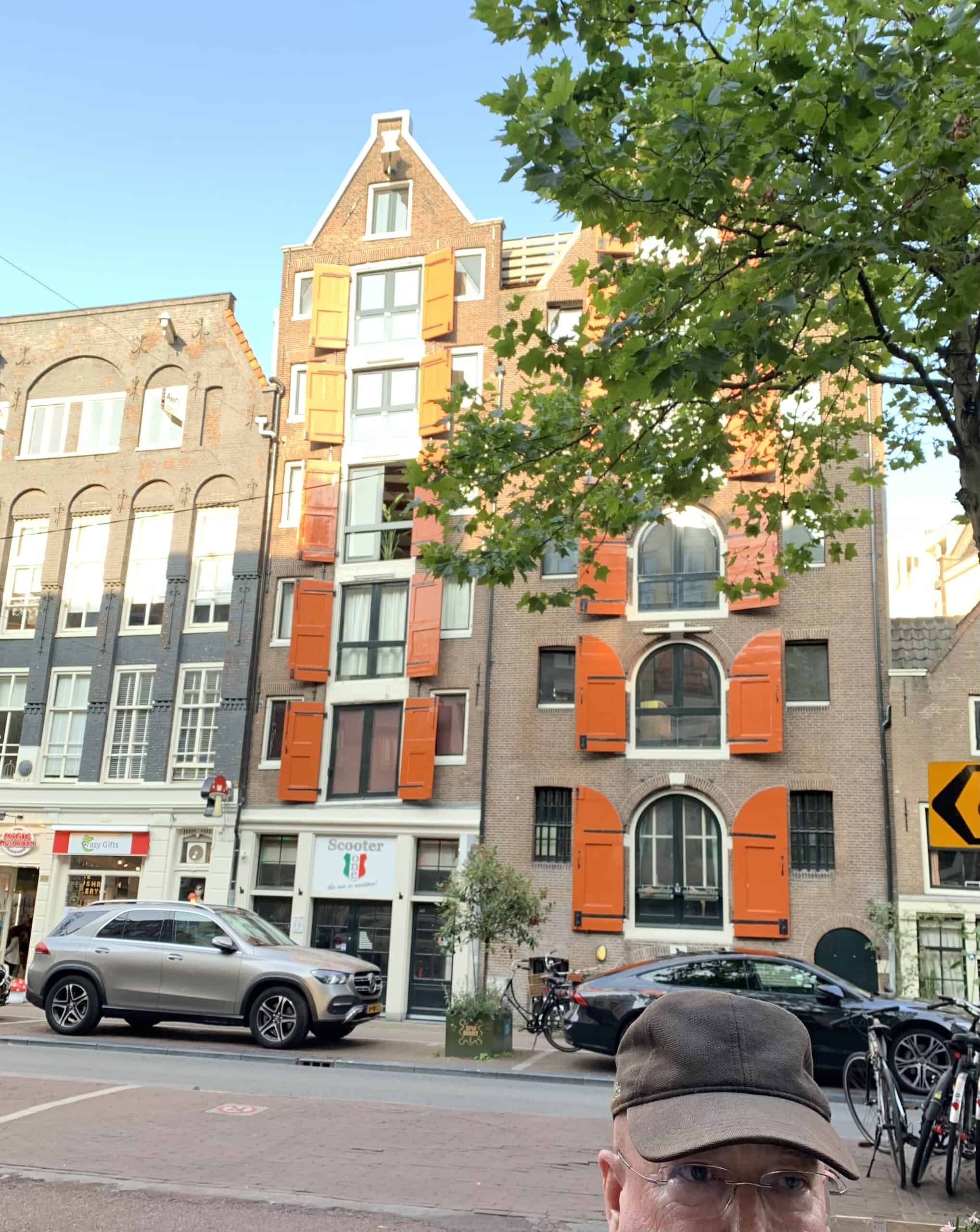 Steve:
People were seated out in front at cafe-style tables smoking pot. Pausing for a moment we pondered our next move. OK. Inside we went. There were more tables and a glass topped bar. Behind the bar was a large blackboard with the day's specials listed. The friendly bartender asked us if he could help. "We're just looking" was my reply. After some study and hushed conversation we decided to buy two rolled joints from under the glass. We paid, stepped outside, and seated ourselves at a table. On the second hit Dawn coughed. I laughed and told her that the coughing hits were the worst. She had a third hit anyway. We were shortly immobilized and spent the next hour and a half watching Amsterdam go by. 
Dawn:
*DEEP SIGH*
A perfect way to release the day's grueling drive.
RING BUMP
Now let's go for a walk!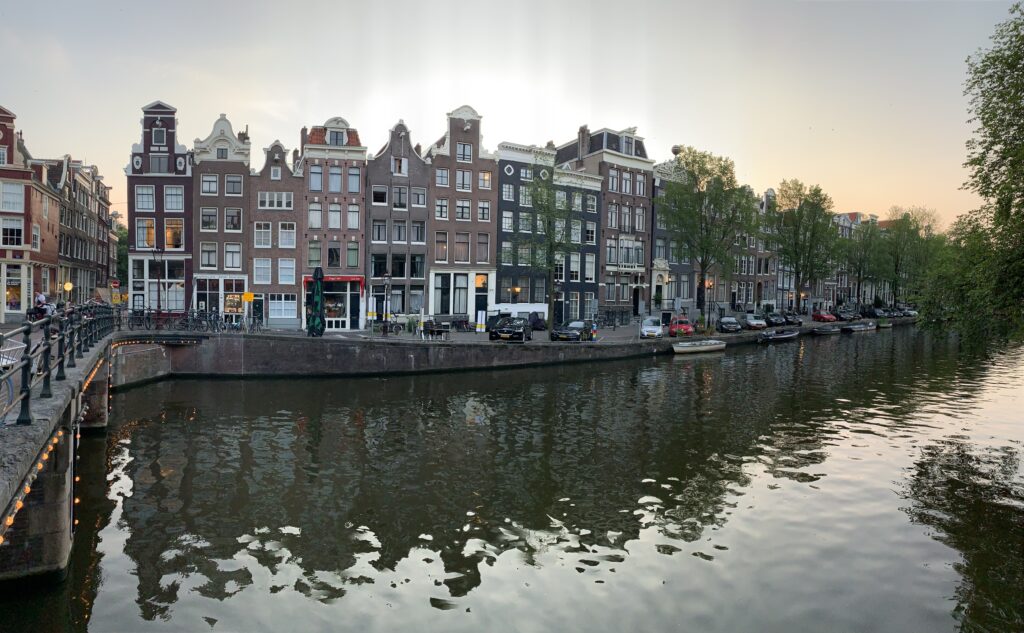 This city had called us for so long. We had to do a walkabout.
As alluring as the city was, Steve first had to visit the site of the incident.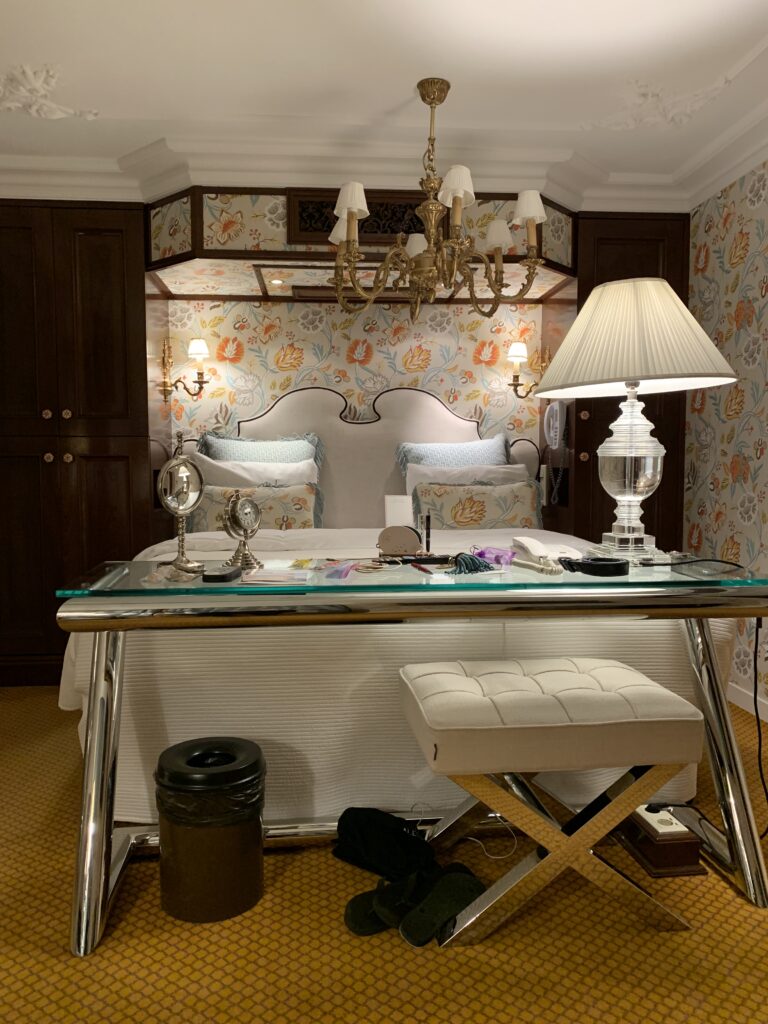 "The moon shows me that one can shine in the darkness. So if you feel upset just relax and sleep. Tomorrow will be a great day for you."

– Unknown