We're on the Road to Nowhere. Now we lost our guide.
We thought we were rolling smooth. We got out early, negotiated the cobble rocks with less fuss, and the parking lot was a breeze to exit. Dawn programed Rollwronga to get us out to the highway to give me time to plot a course for adventure. No wrong turns! We were on our way.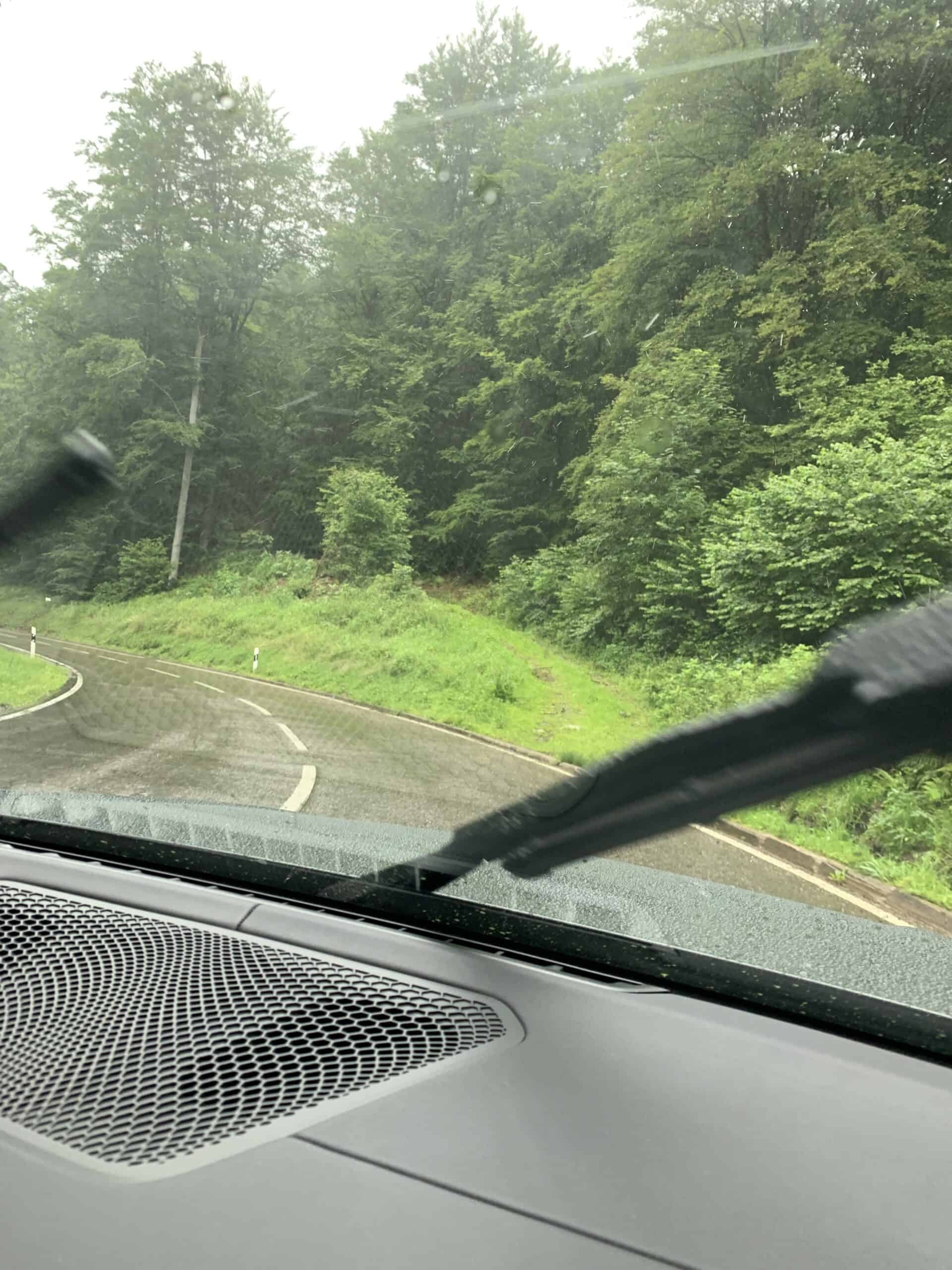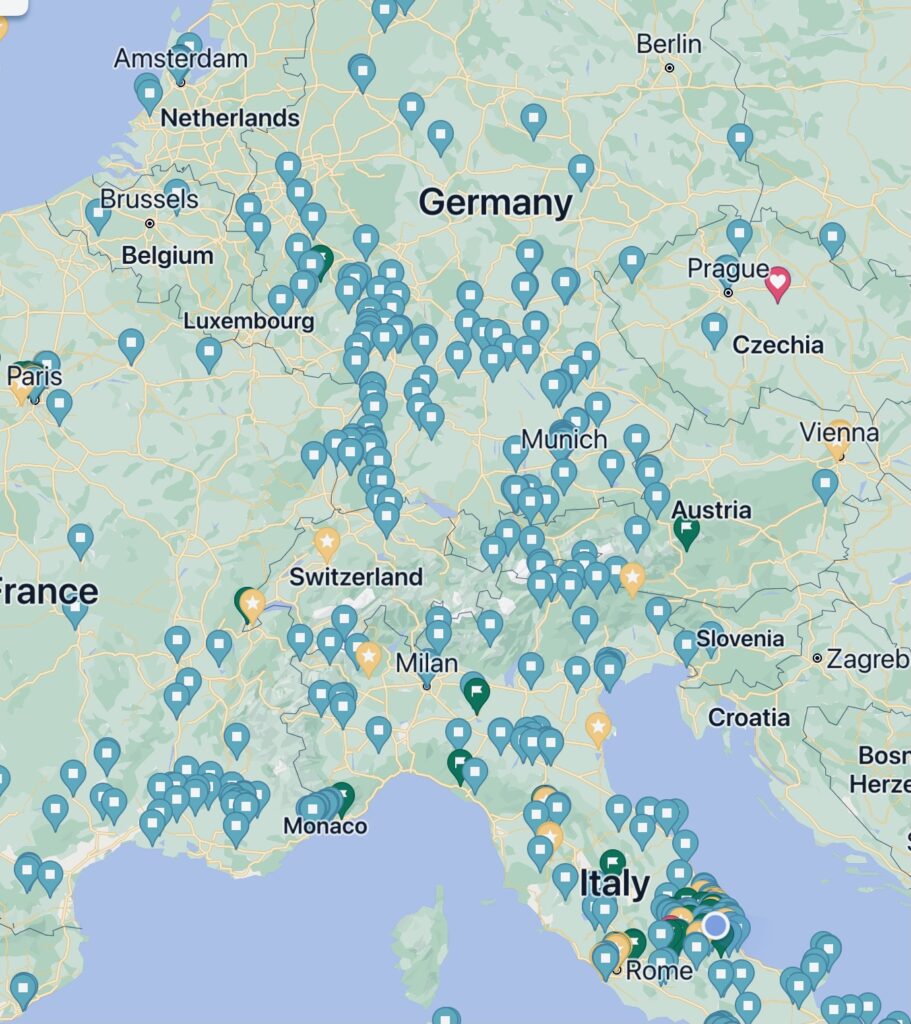 When all systems are operating, my Dots can always suggest something or somewhere we would like to see.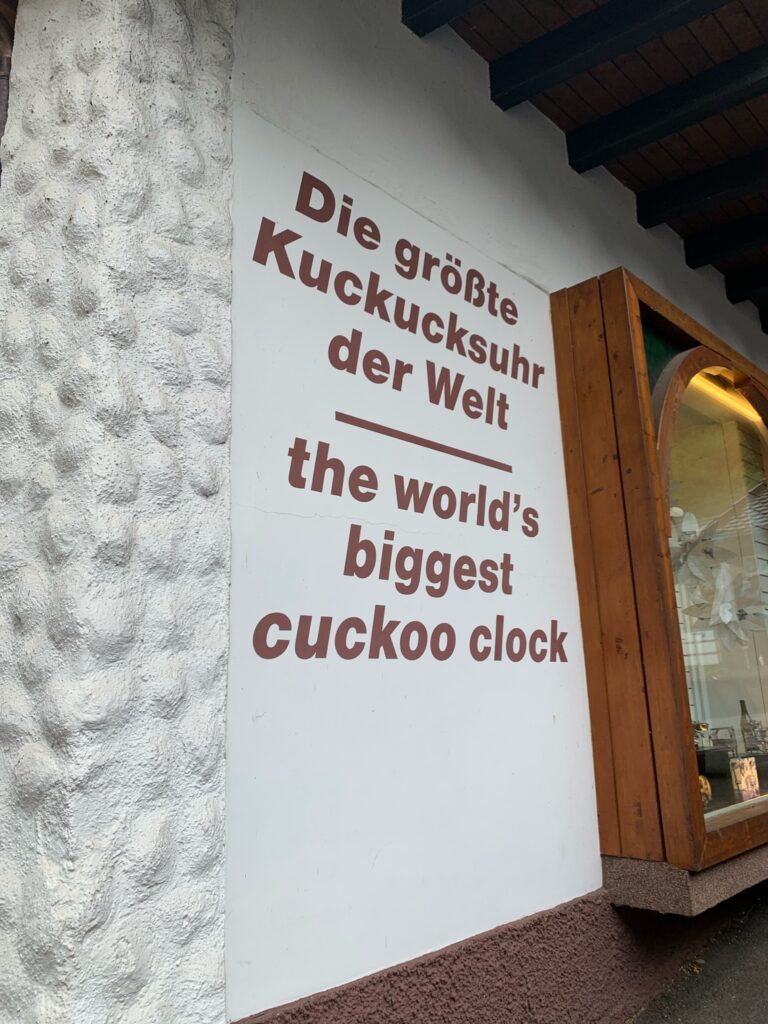 The Sign is right. It is the World's Largest Cuckoo Clock, the biggest we've seen.
Steve:
We headed out of Freiburg on a course plotted by my intrepid navigator, Dawn. The roads to the World's Largest Cuckoo Clock were necessarily going to be of the two lane variety. While driving around Europe I have learned to expect heavy traffic and gaggles of bicyclists riding three and four abreast on the secondary roads. I was blessed that day with relatively light traffic and no gaggles. There were opportunities, however, to test Rolland's incredible passing power by overtaking semi tractor/trailers and long lines of cars with ease. Dawn was a little nervous during the first couple of maneuvers, thinking there was not room enough to complete the passes. But she soon became confident in my and Rolland's ability to overtake slower traffic quickly and safely. It is a treat to drive such a responsive automobile. 
Dawn:
Steve has always been a driving master. I feel very safe with him at the wheel. Mostly.
Thank heavens for that because just as we made it to the main road, things started to go cockeyed and wrong. Drastically wrong – in a hurry. This was truly worrisome as we relied on my phone nav as a safety net for Rollwronga's side trips. I had selected several attractions for us to visit in the quarantine times, but without my map o'Dots, I was hard put to recall the numerous locations we had found intriguing. 15 minutes later STILL with no dots. What would we do?
The Silberkönig Schwarzwald Hotel was not far from Freiburg; we knew we could take our time to get there. When I told Steve my nav system was offline, he shrugged and said, let's go see The Biggest Cuckoo Clock. There was even a sign up the road five minutes later.
Dawn:
Surprisingly, Rollwronga, had the location in her attraction's list. She took us right into the parking lot, right in front of the CLOCK. We arrived just in time for the cuckoo to strike 12. Synchronicity!
Steve:
We arrived at the Cuckoo just before noon. There was even a parking place right in front. We had time to ready our phones and position ourselves for the best view of the Cuckoo. Being the World's Biggest Cuckoo Clock the first appearance of the bird was, well, leisurely.
The World's Largest Cuckoo Clock
The rain continued as we eagerly awaited the Cuckoo Bird. A lovely waterfall next to the building entertained us with its rushing roar. –Eble Uhren Park, Schonach im Swarzwald, Germany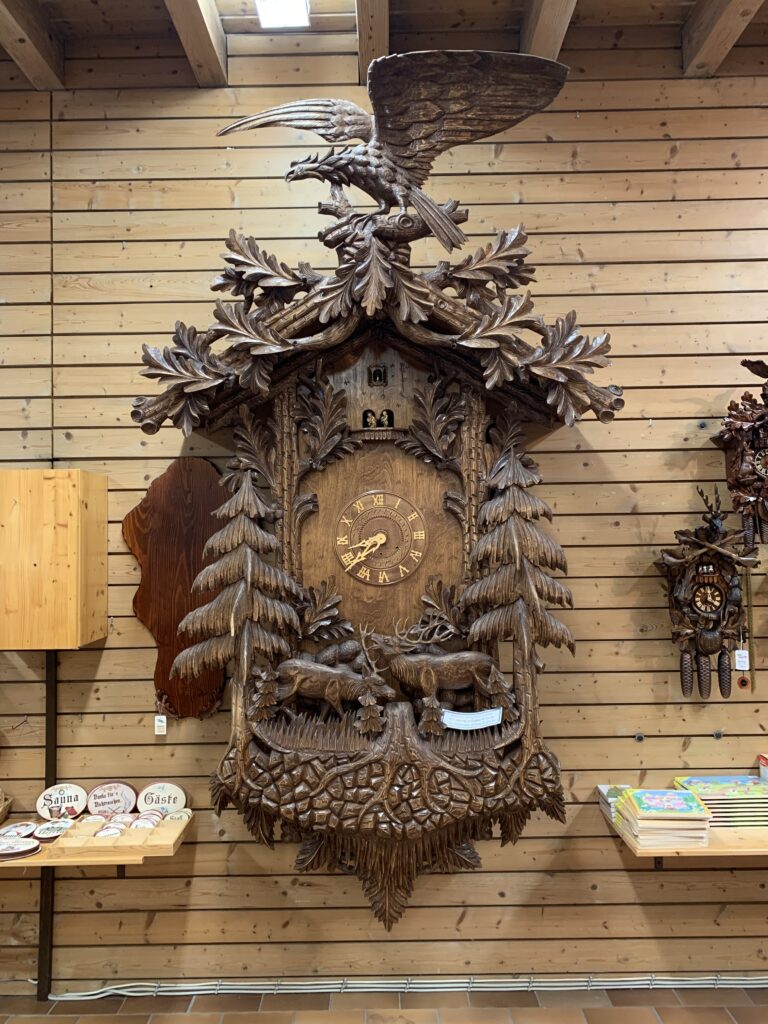 Steve:
The Worlds Biggest Cuckoo Clock is housed by what has to be one of the world's largest cuckoo clock stores in Eble Uhren-Park. Stepping inside we were overwhelmed by the size of the shop and the huge variety of clocks inside. The craftsmanship on every one of the hundreds of them was remarkable. There were intricate scenes of mechanized children playing outside of a forest cabin while dad chopped wood. There were old-timers drinking and playing cards while dogs romped in the yard. Each clock had its own personality. We spent more than an hour in there. I had to remind Dawn that we did not have a place for a new cuckoo clock in our apartment.
Dawn:
Well, and Steve is correct. The clocks would make wonderful souvenirs. We tend to collect memories, more than things at this stage.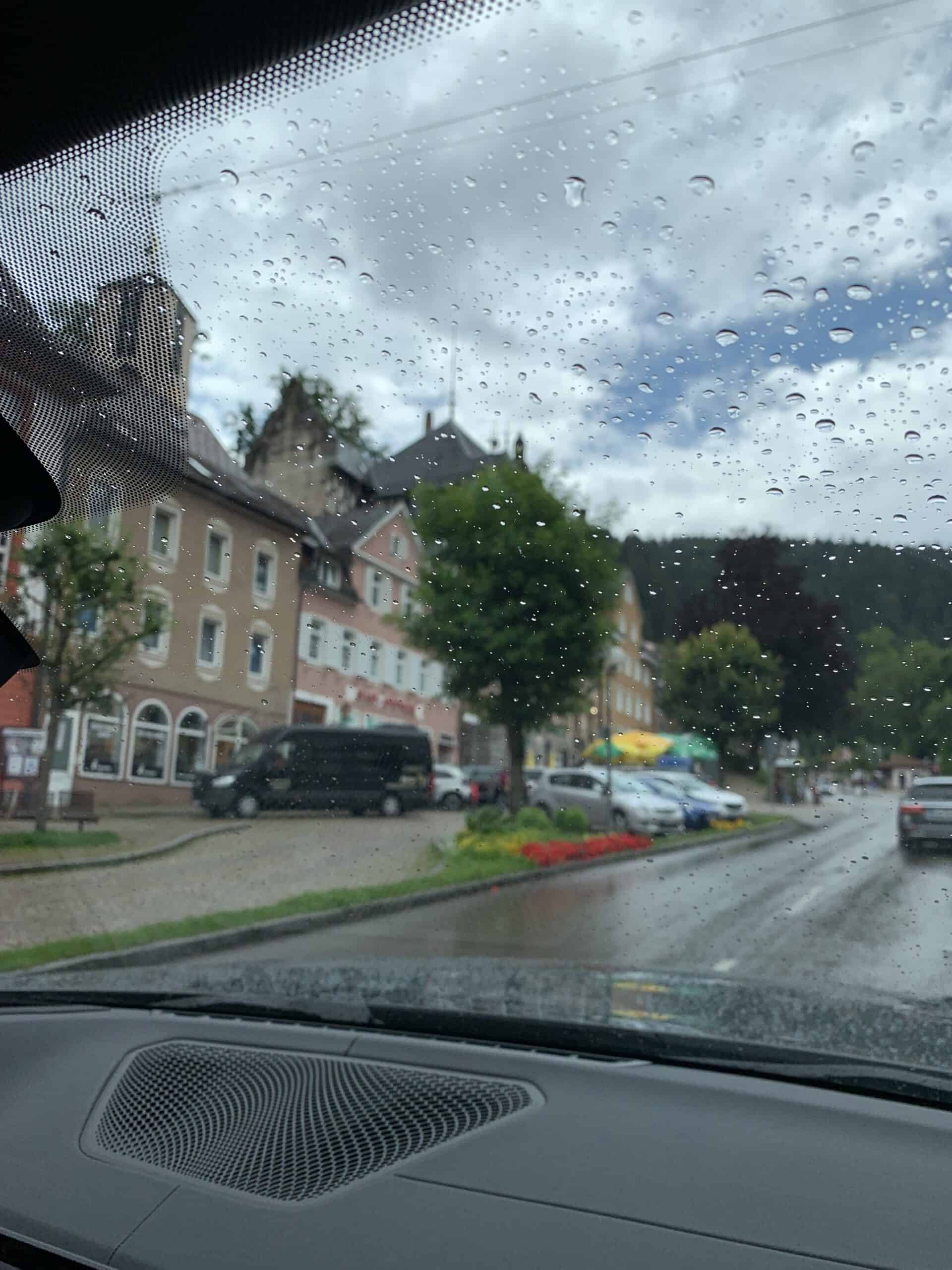 Rain and more rain. Still, every little city is so charming.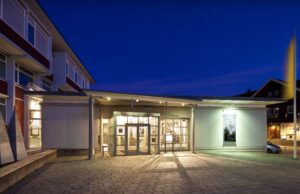 The Front of the German Clock Museum
 PHOTO CREDIT: Deutsches Uhrenmuseum
Steve:
Back in the car we headed for Furtwangen im Schwarzwald to visit the German Clock Museum. 
The drive there was uneventful. Until we got into town. We had some difficulty locating the museum. After a couple of dry runs passing the place where Rollwronga said it was, we figured out that Rollwronga wanted us to pull into an area that was blocked to traffic.
Dawn:
Clearly, Rollwronga did not know one couldn't drive on their platz. Finally, after our third time round the tiny back streets of Furtwangen with Rollwronga telling us we had arrived at our destination, I saw it.
There! There's the building. Plan B find parking and walk. Experienced European-parking finders can tell you that it's more about luck than anything.
Steve:
There was a small admission fee and we had the place almost to ourselves. Every exhibit was well displayed with English and German descriptions. The collection is quite extensive. There was an interesting variety of clocks and time pieces from the early history of timekeeping to Rolexes. There was everything from an antique time clock to a sort-of big cuckoo clock. This cuckoo, while big, looked like the baby brother of the Worlds Biggest Cuckoo. The family resemblance was remarkable. 
Dawn:
After spending around 45 minutes looking at the displays, we headed down to the basement where there was an atomic clock and an interesting display of mechanical musical instruments. We found some places to sit, and I said that I wish we could see some of these work.
Two or three minutes later there was an announcement that there would be a demonstration of some of their antique mechanical orchestras on the lower level. Marveling at the timing, we stayed put.
Steve:
Due to the small audience there were enough places to sit while maintaining that ever-important social distance. This amazing demonstration lasted about 45 minutes and was highly entertaining.
Mezmerizing Mechanical Music
We were captivated by the Mechanical Orchestras. They were a popular form of entertainment since the 1500s. The sampling here are more sophisticated versions.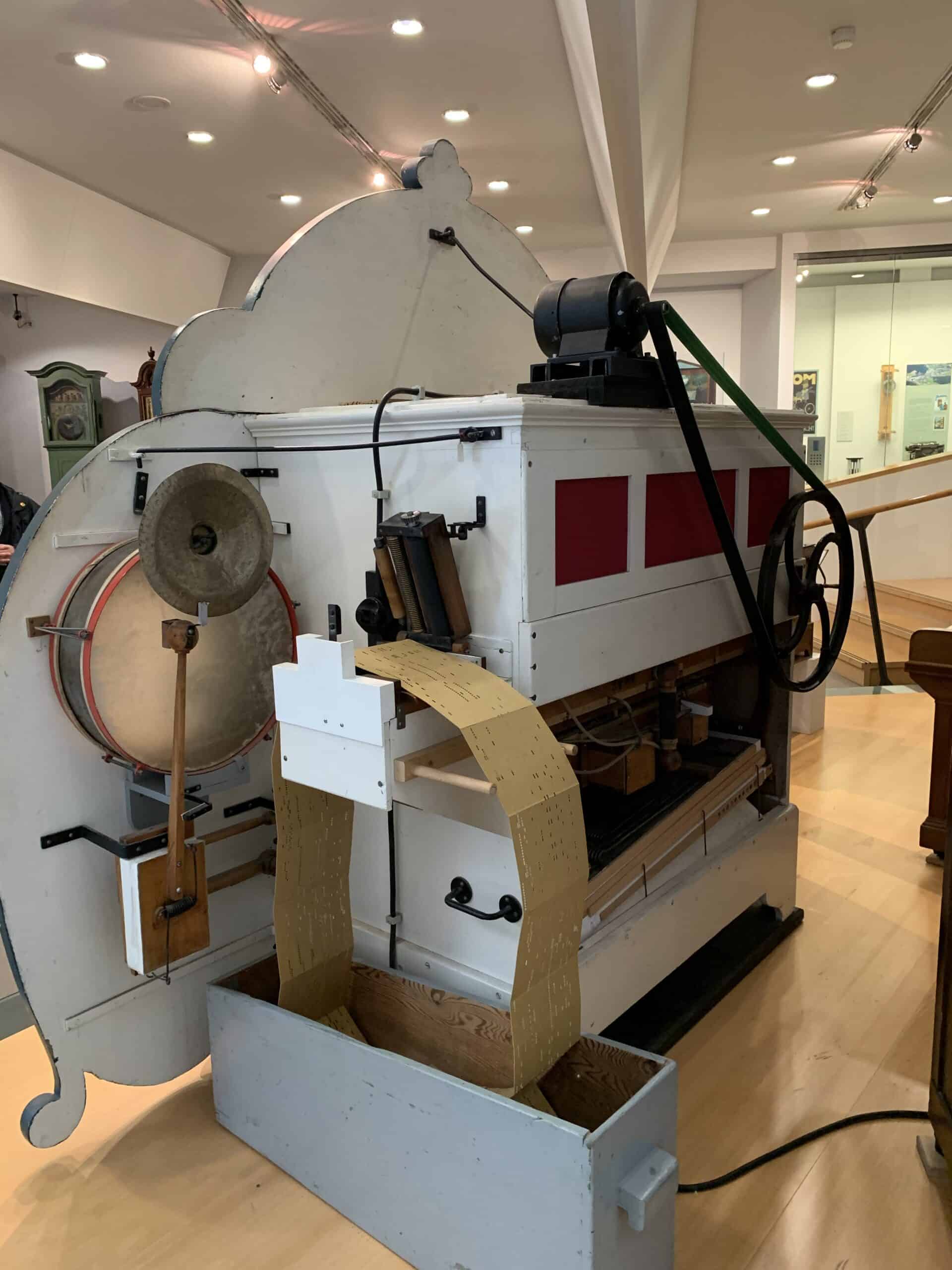 Behind the scenes glimpse of the inner workings. This device could play multiple songs with a change of a music roll.
Steve:
We decided it was time to end our day. Having had a big breakfast in Frieberg, we didn't look for lunch in Furtwangen im Schwarzwald and decided to head to our next hotel instead. Then my intrepid navigator was unable to enter the address of the  Silberkönig Schwarzwald Hotel.
Dawn:
It was difficult trying to type the address into Rollwronga because I didn't see a German keyboard with which to enter some of the "odd" (ö and ß) German characters used in their written language. This nav system was still new and unfortunately I couldn't open the owner's manual while Steve was driving.
Steve:
"Frustrated" is too kind of a word to describe the state of her mental attitude regarding this situation. Frankly I don't think there is one word to describe it. Nor do I think any of the additional words would be acceptable to use here.
Dawn:
Well, Steve got that right. I got fed up with trying to find our hotel under the hotel category because the search always started with "A" and it was a very long list. Out of desperation I tried my phone again and was surprisingly able to pull up the correct hotel and set a course from there.
Steve:
After feeling our way through the little village below the hotel we were finally able to find the lane leading to our destination. The Silberkönig Schwarzwald was quite impressive driving toward it. It sits entirely by itself on a little hill in the middle of some impossibly green German countryside. We started to be much more relaxed and satisfied with the choice we made for this stop in our journey. There was ample parking in front. We went inside to check in with the Front Desk Lady. She spoke English very well and we were able to make reservations for dinner and appointments for some much-needed spa treatments.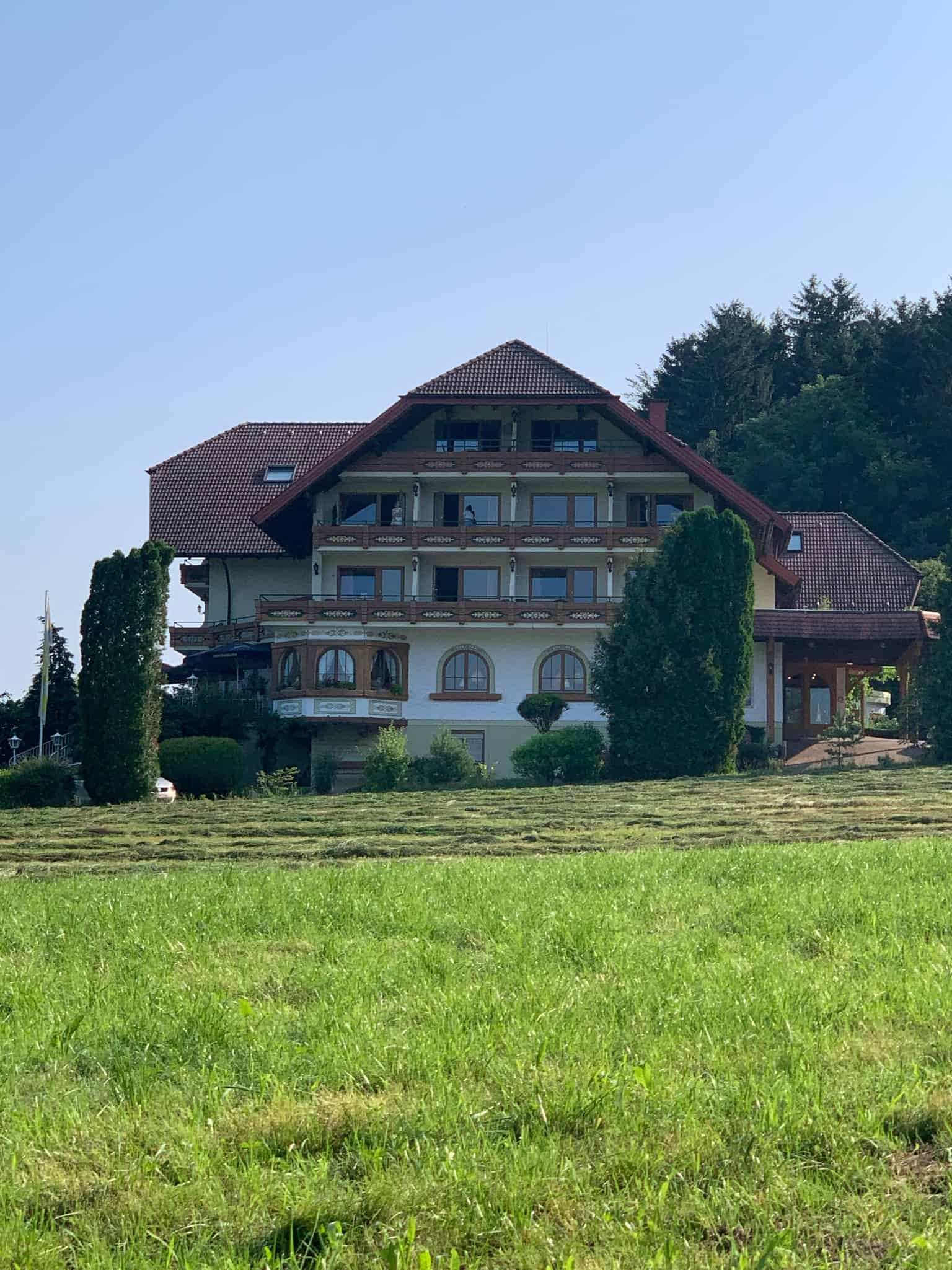 The Silberkönig Schwarzwald Hotel exudes an ambiance as one drives up. Breath taking.
Dawn:
The room was very nice and the balcony overlooking the expansive greenspace surrounding the hotel was a nice place to sit and unwind.
We elected to enjoy some adult beverages first, so we headed back downstairs.
Steve:
We soon made friends with the waitstaff, who were happy to recommend a nice German red. I think Dawn fell in love.
Dawn:
I did! I took a picture of the label and have been trying to find that wine ever since. But that's another story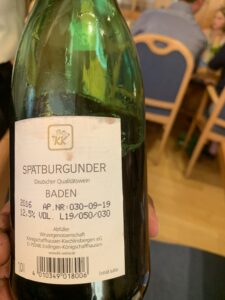 We will keep trying to find this. Maybe we'll get lucky on another adventure.
Steve:
The staff also had some insight into the menu and made a few recommendations which we heeded. Dinner was fantastic.