Dad was outside smoking a stogie. I was snoozing on the couch. Then I heard a crash and rattle. I almost got back to sleep, but the noise didn't stop.
It sounded like Mom was up to something. This could be fun.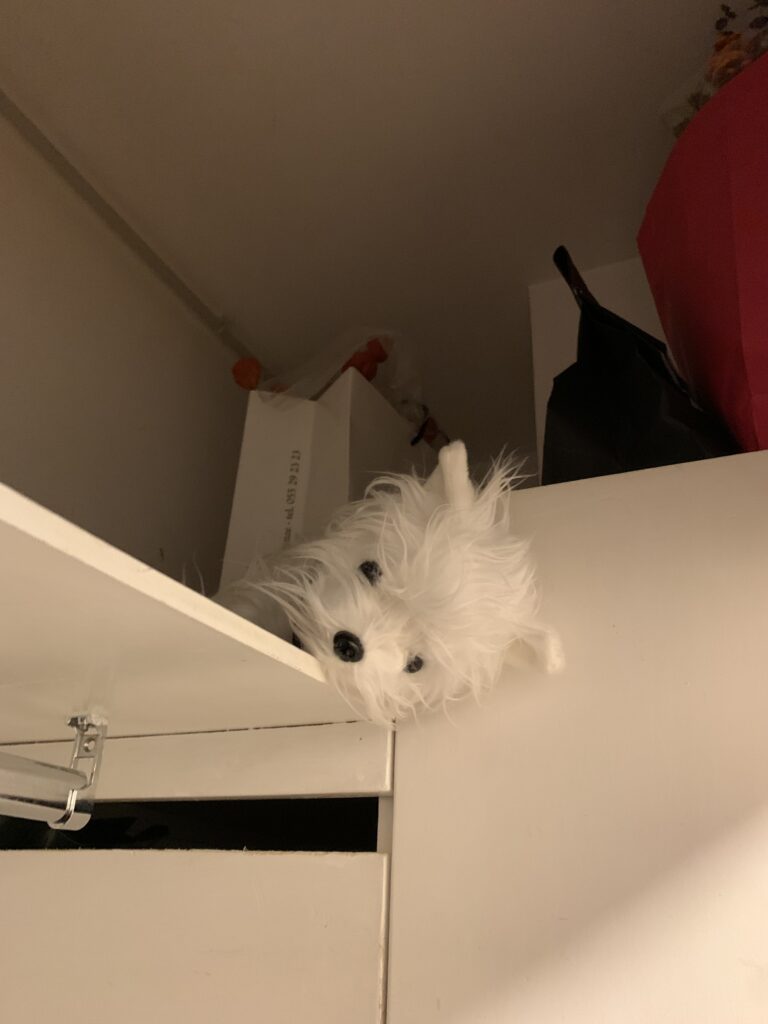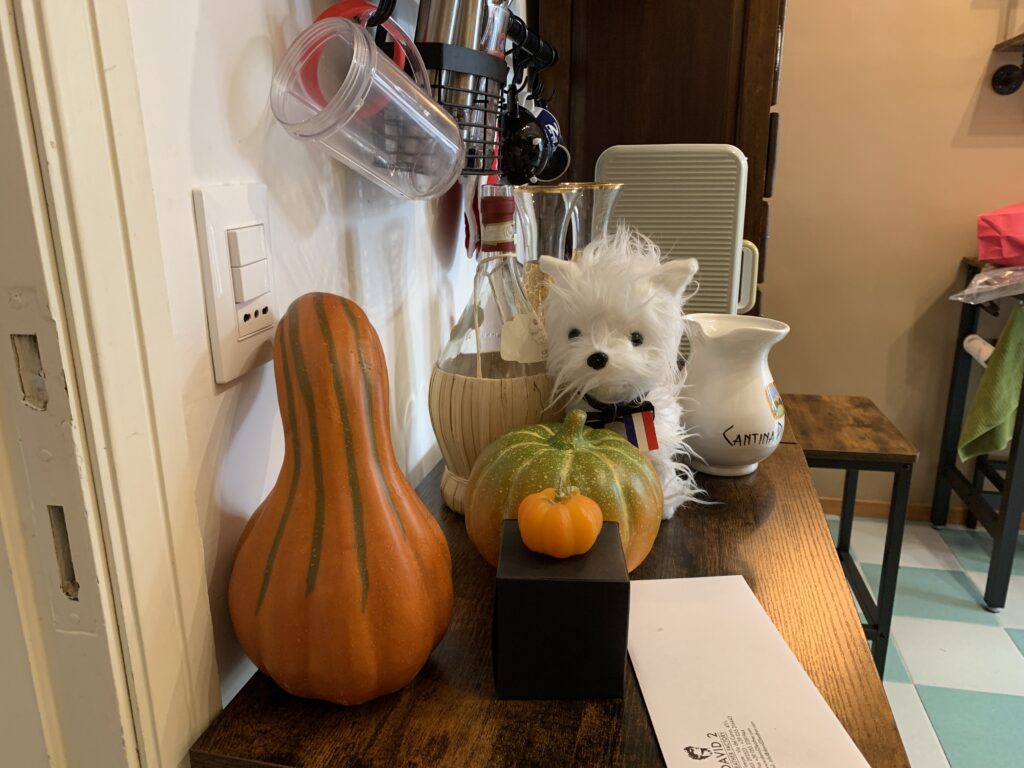 Arfy:
There was a lot of hulabaloo around here the other day. Mom was running around gathering things up and taking them into the kitchen. She was stuffing things into bags. Shifting stuff into and out of the hall closet. I didn't smell cooking, so something new was up. I'll investigate.
Arfy:
Whatcha' doing, Mom?
Mom:
Arfy, it's time to celebrate the change of the Wheel Year. Winter Solstice is around the corner. It's the holidays! Right now, we are putting away the harvest season to make way for Yule decorations. This polka dot box has wishes in it. Well, wishes and … other things.
Mom:
You're a big boy now. Guard this box. It's contents are precious.
Arfy:
Like Oak Island treasure?
Mom:
Even more precious. In this polka dot box are wishes that came true, warm memories, and so many Blessings to Count.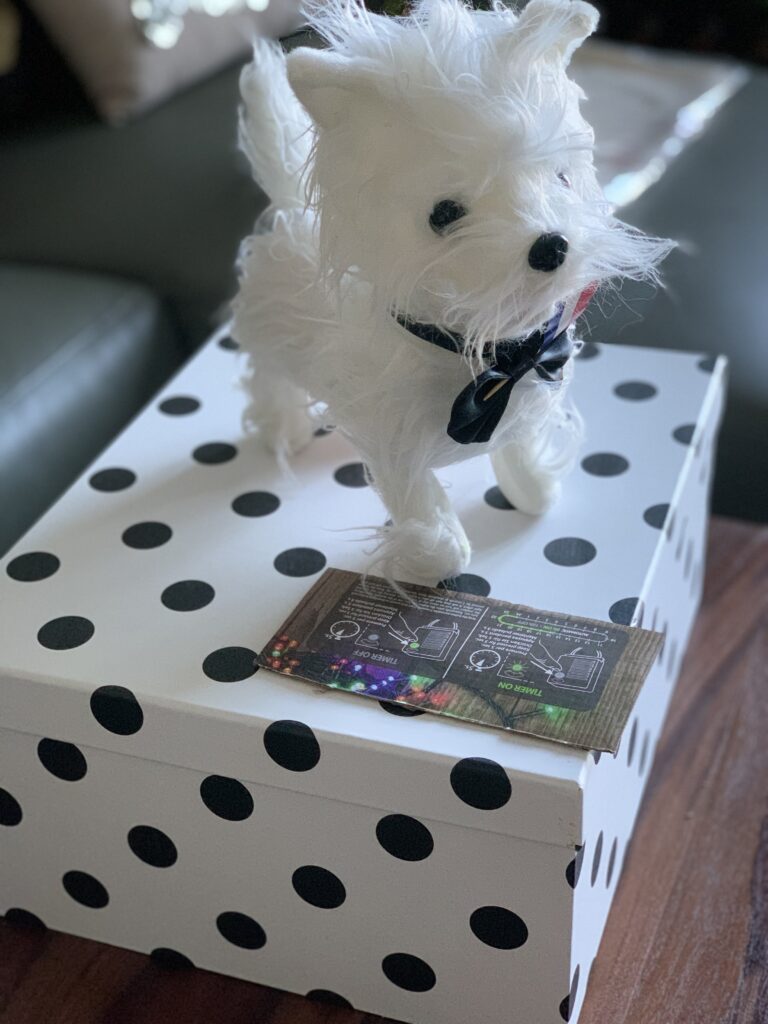 Mom:
Remember! Be a good boy and guard the instructions for the outside lights. You can stand on the polka dot box if you want.
Arfy:
ARF! ARF! ARF Arf arf
Arfy:
I can do it, Mom! I'll get Rana to help.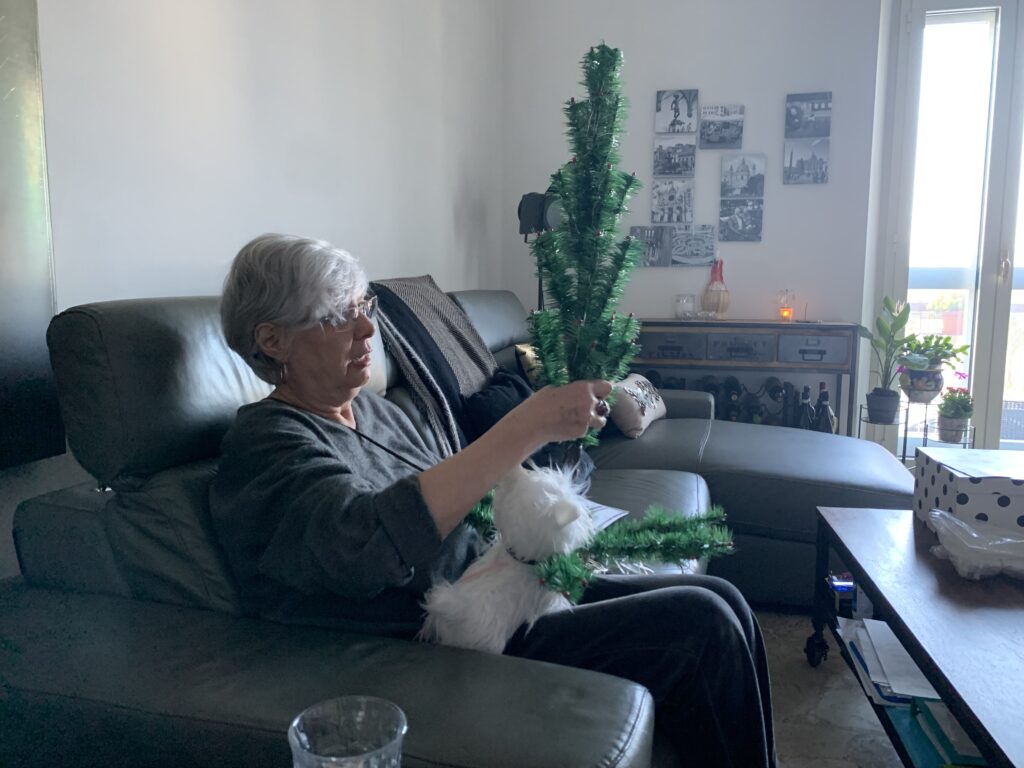 Mom:
The first thing we have to do is fluff the tree.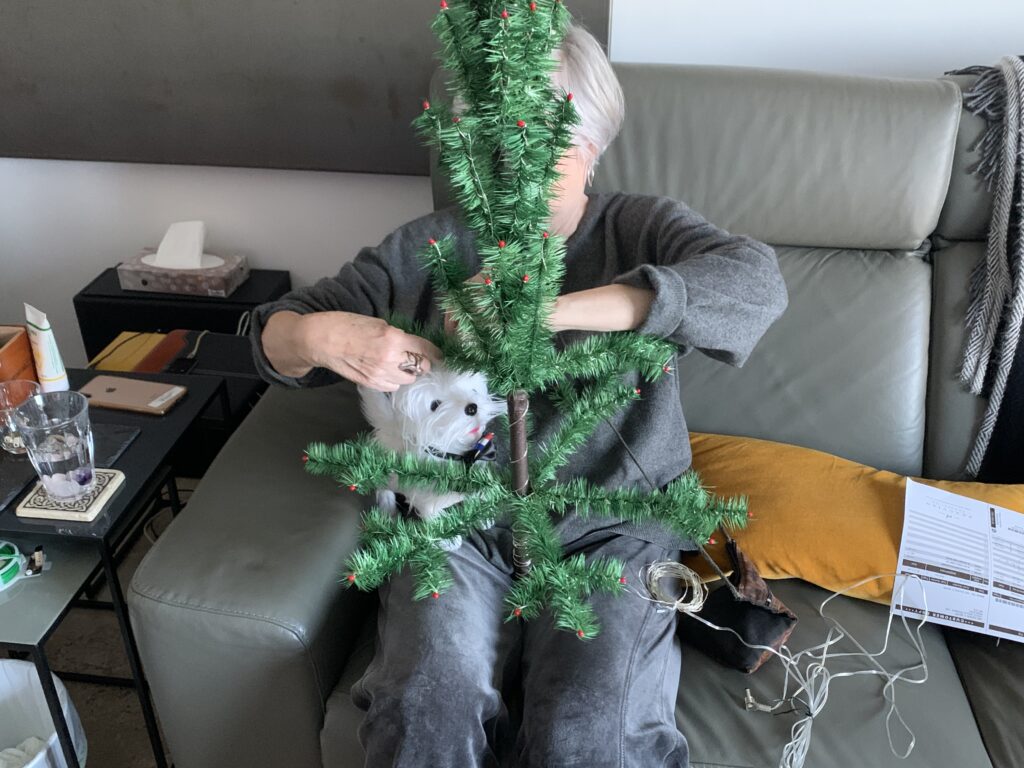 Arfy:
Is it done yet? Is it done yet? Is it done yet?Let's open the box!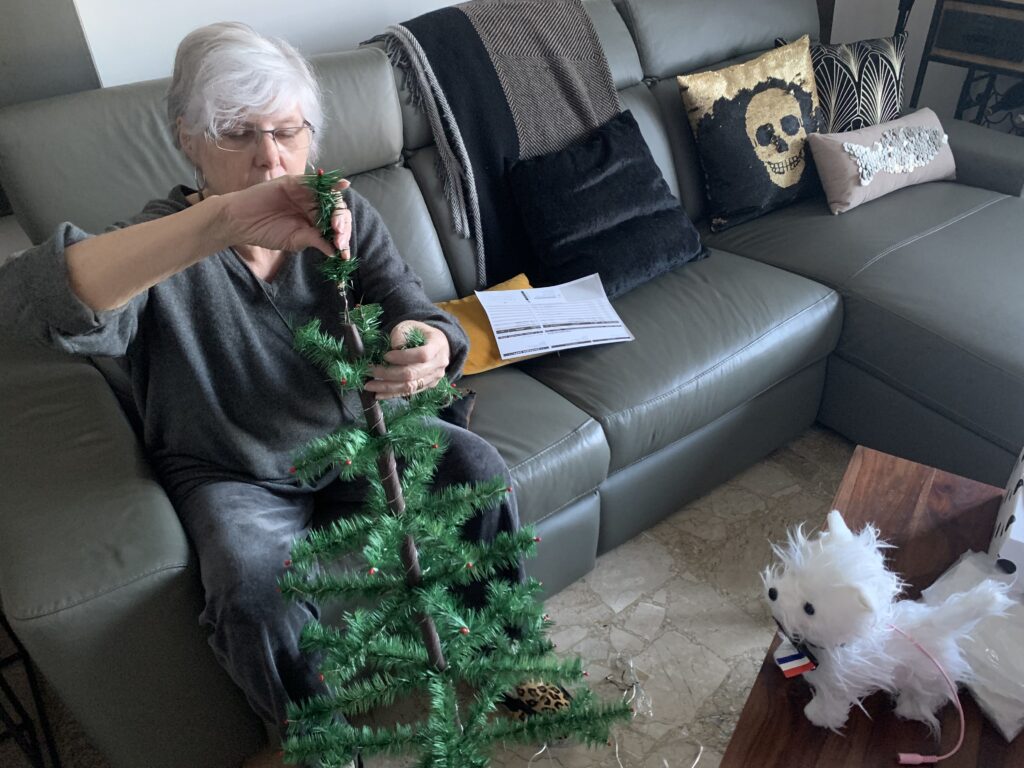 Mom:
Yes, Arfy. The Yule tree is almost ready to put in it's stand.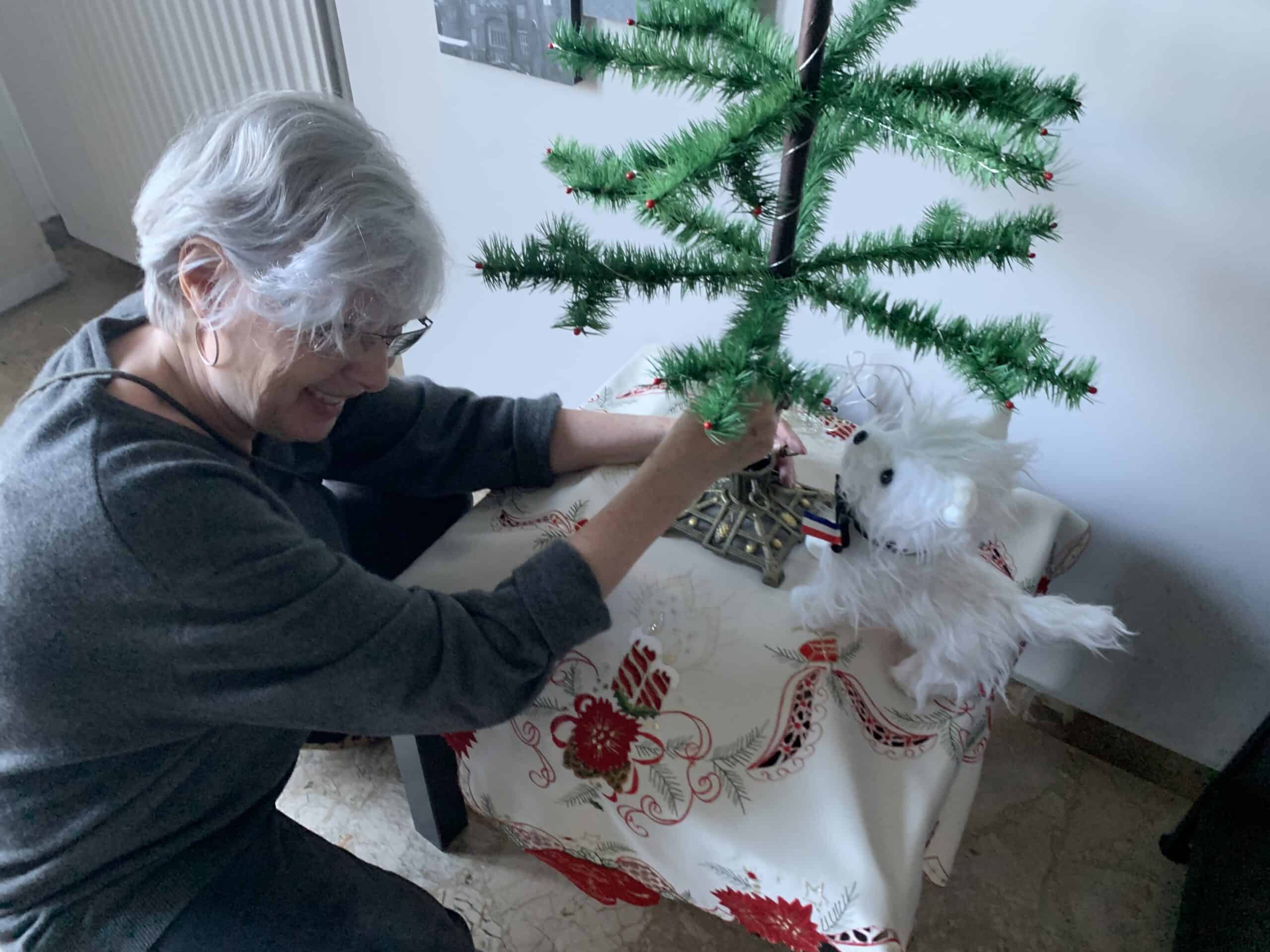 Arfy:
Let's open the box!
Mom:
We have one more task to complete. We have to flange up the electrical.
Arfy:
What?!? Awwwwww *sad puppy eyes*
Mom:
Look up at the tree, Arf.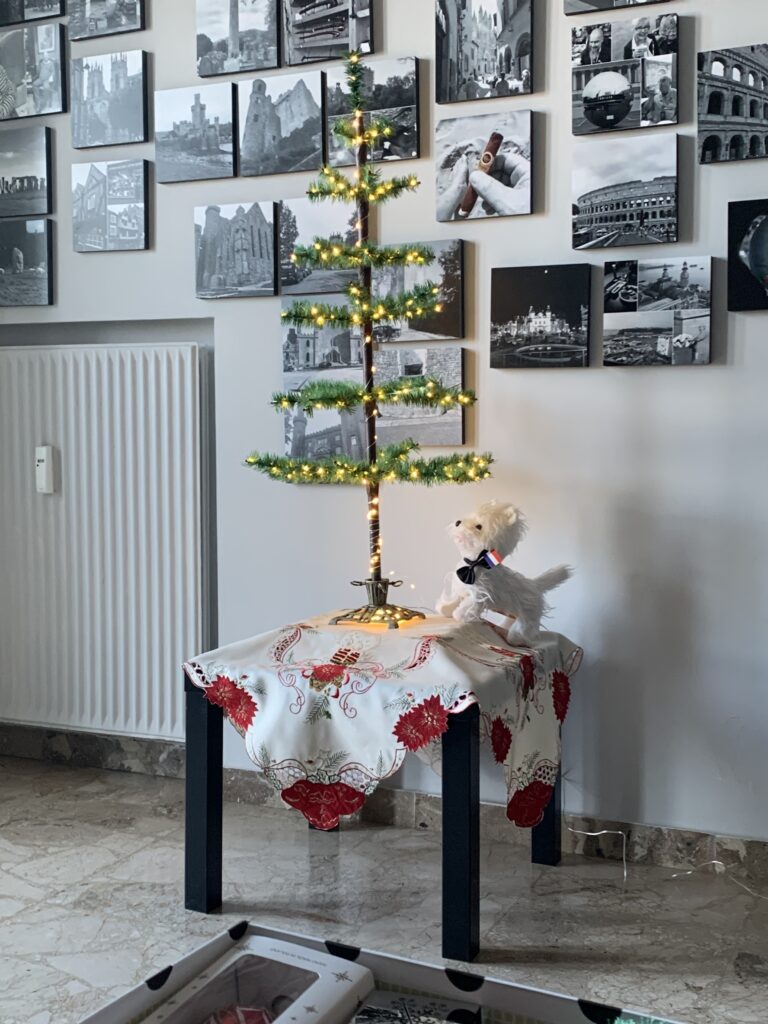 Arfy:
OOOooo pretty lights
Mom:
Arfy, the box is open. Come look.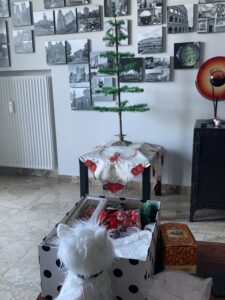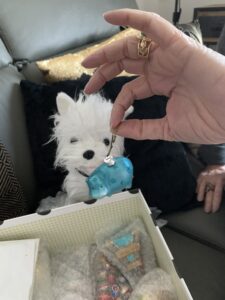 Arfy:
What's a Blue Moon, Mom? Why are you laughing?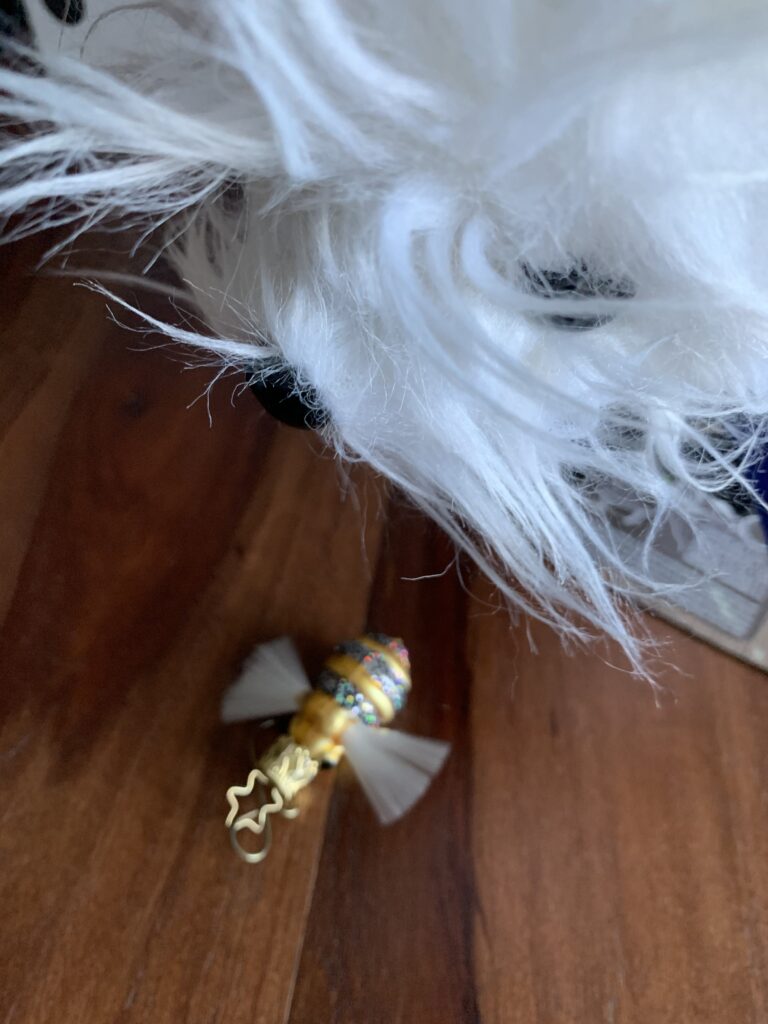 Dad:
That's one of my favorites, Arfy. The bee represents resourcefulness and order. It also reminds us of the one Labor Day where we had a swarm of bees move into our yard.
Arfy:
HI, Dad. Look what we've done.
Mom:
See? Here is Father Christmas, also known as Santa. Actually, he has a lot of names.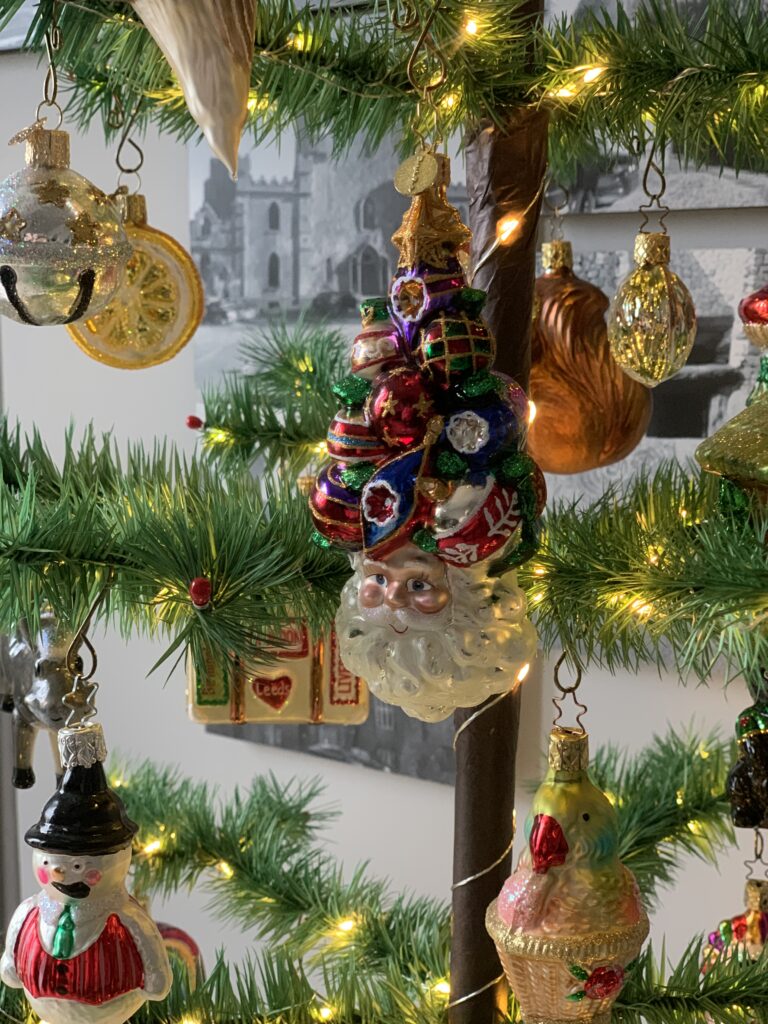 Mom:
Santa is kind and generous to everyone. I chose this ornament because of the magical sparkle, gifts, and excitement that is portrayed on his hat. This Santa reminds us to be gratefull. We are so blessed!
Arfy:
Thank you. Thank you. Thank you!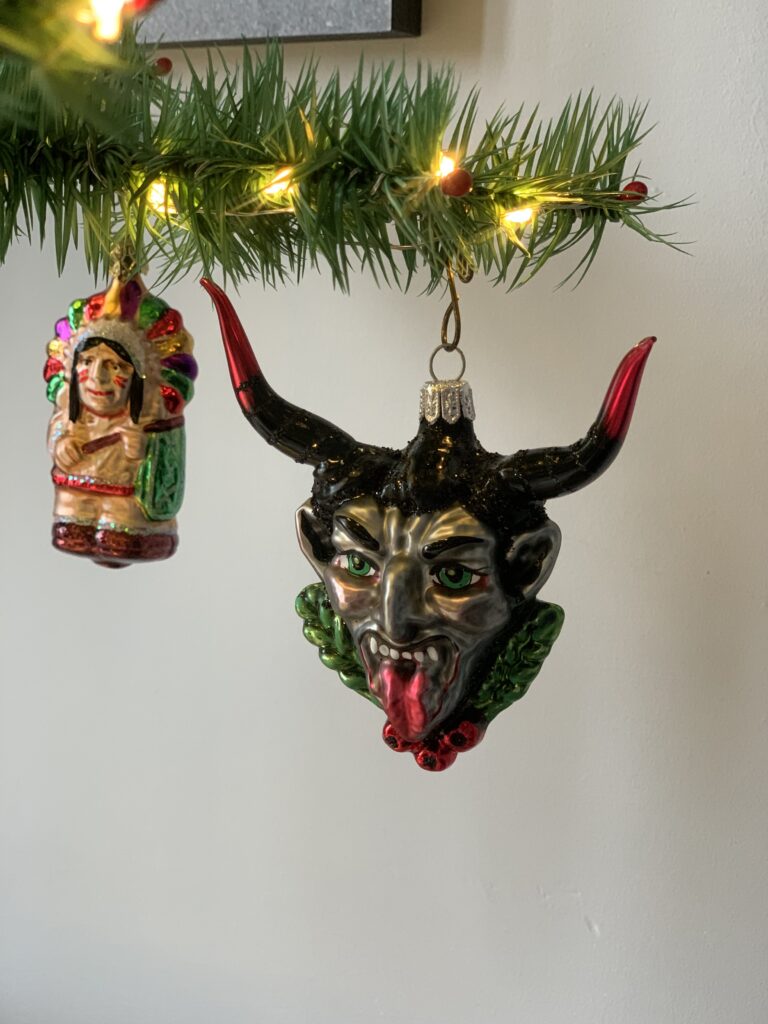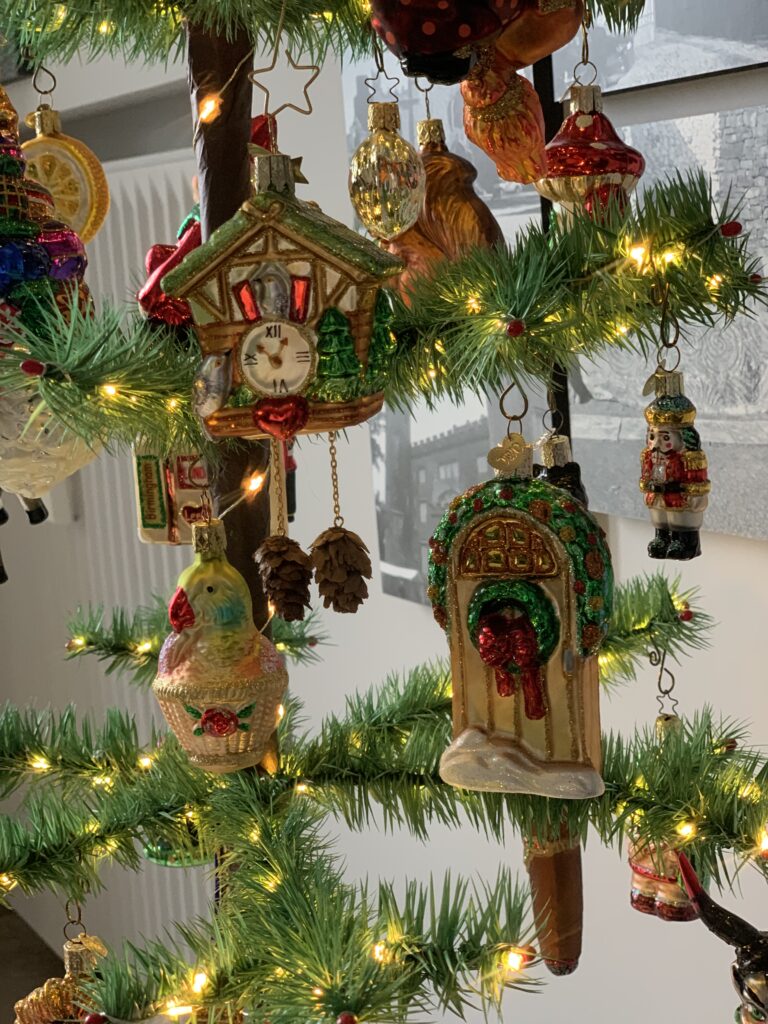 Mom:
Look at these, Arfy: 
The door welcomes us us with a promise of warmth and family waiting inside. It invites guests to come in and enjoy the company of friends, deliscious food and an abundance of good cheer.
Walnuts can represent breaking through the hardships – if the nut is healthy or tasty inside, than take it as a hint that your labors will pay off, and that the struggle was worth it. 
And see the Nutcracker? PK used to love them when he was a kid.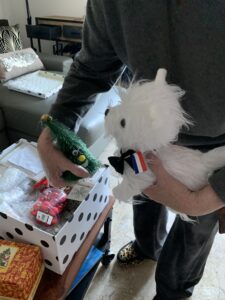 Arfy:
Arf! Arf! A a new friend. Hey … he sings. It's kinda awful, Mom …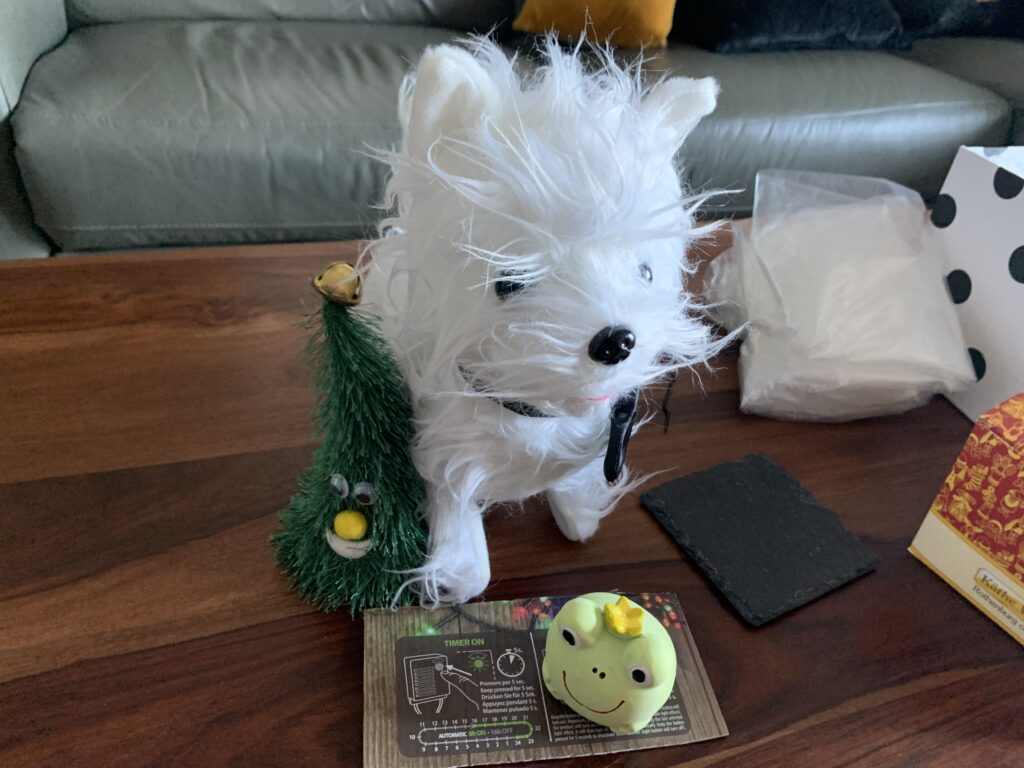 Arfy:
Making new friends is fun.
Arfy:
Whoa … this whole snow man blinks.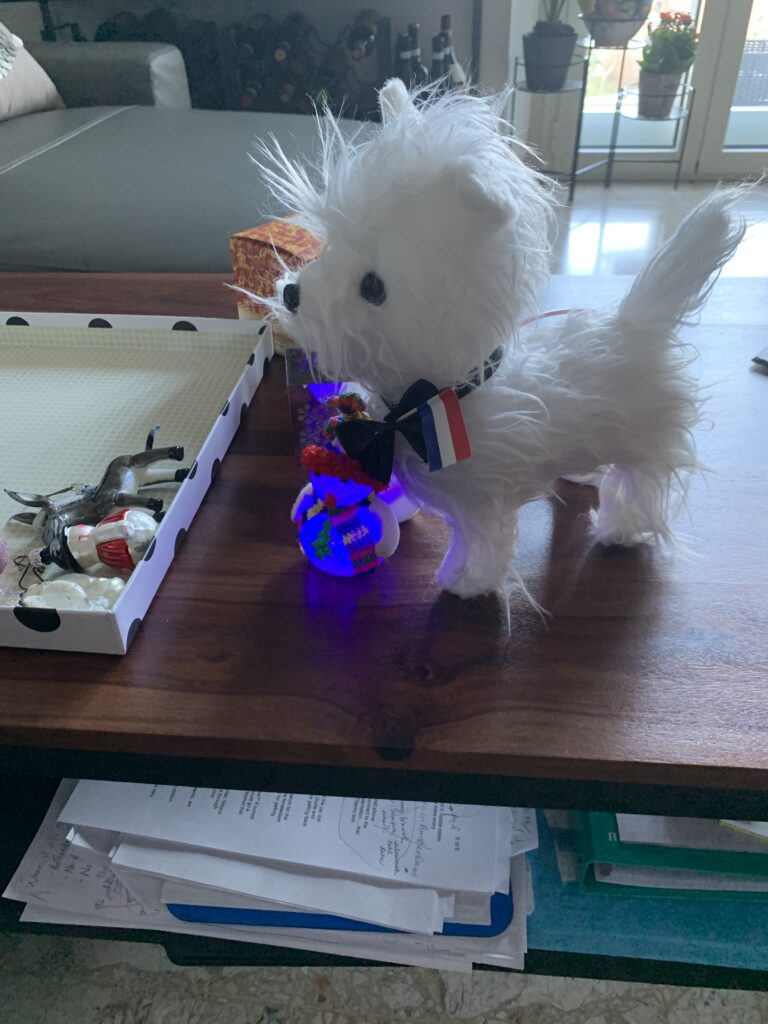 "CALVIN:

This whole Santa Claus thing just doesn't make sense. Why all the secrecy? Why all the mystery?

If the guy exists why doesn't he ever show himself and prove it?

And if he doesn't exist what's the meaning of all this?

HOBBES:

I dunno. Isn't this a religious holiday? 

CALVIN:

Yeah, but actually, I've got the same questions about God." 

― Bill Watterson
Arfy:
I want to see up close … I want to be friends with Santa!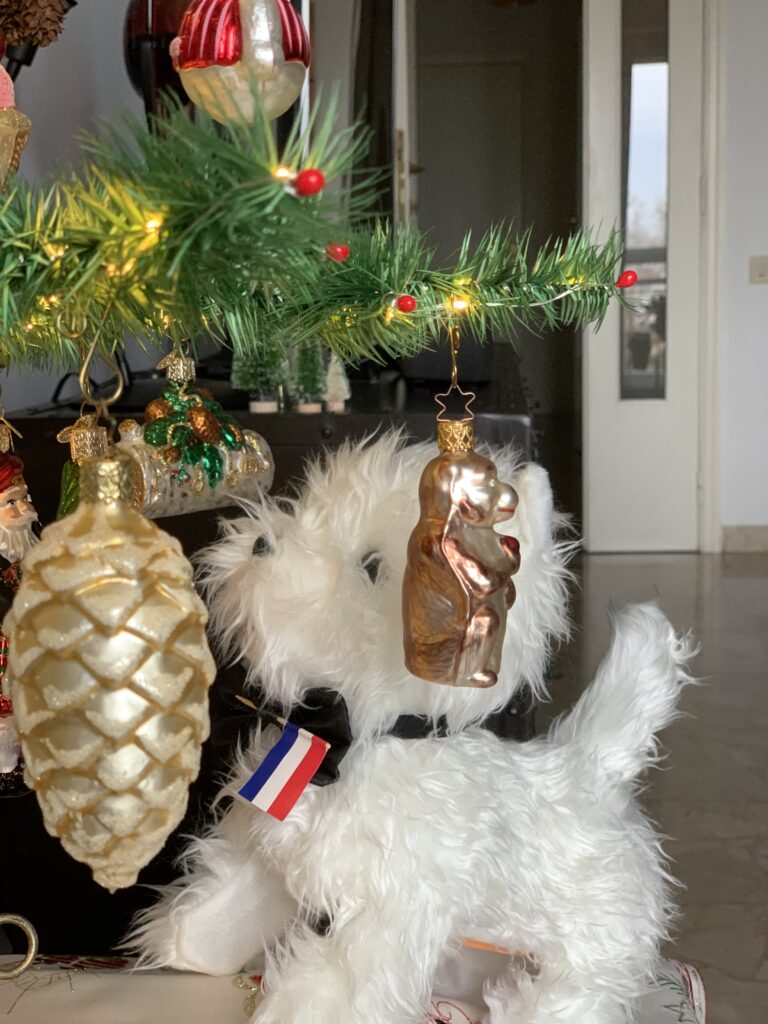 Mom:
That's Krampus. He is one of Santa's many helpers. Santa gives presents to all the good people. Krampus punishes the wicked.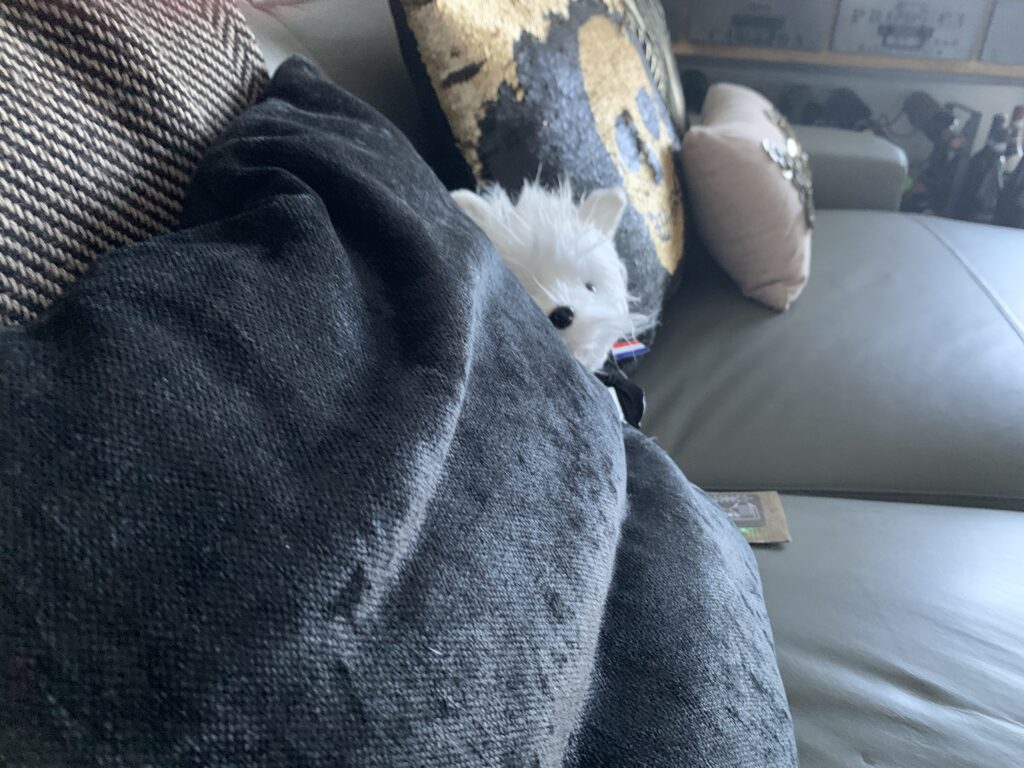 Arfy:
Like politicians? grrrrrrr
Mom:
Yes. That's right Arfy. All the bad people.
Krampus chases the bad people, puts them in a sack, and beats them with reeds.
Mom:
We're done hanging ornaments, Arfy. Isn't the tree magical?
Dad:
*Sniff* Arfy stinks. He needs a bath.
Mom:
Yes. I was looking at his pictures and he is unkempt and scruffy. Come on Arf …
Arfy:
After my bath, Mom floofed me up to look like Santa.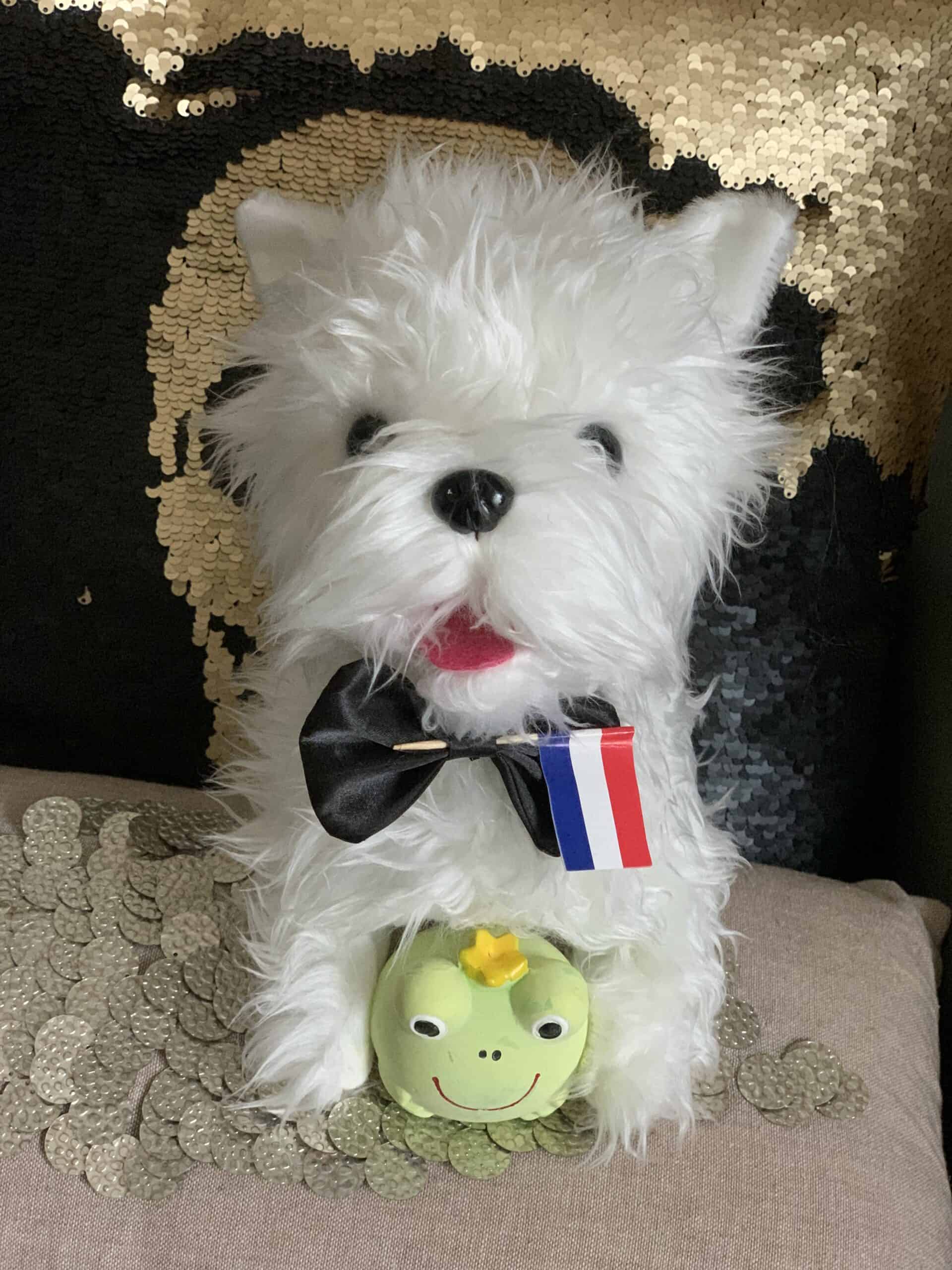 Dad:
Hi Arfy! Hey. You look like Eddie on the Munsters. 
Arfy:
Grrrrr *Snuggles with Dad.* 
*Synchronized snores.* *Naps.*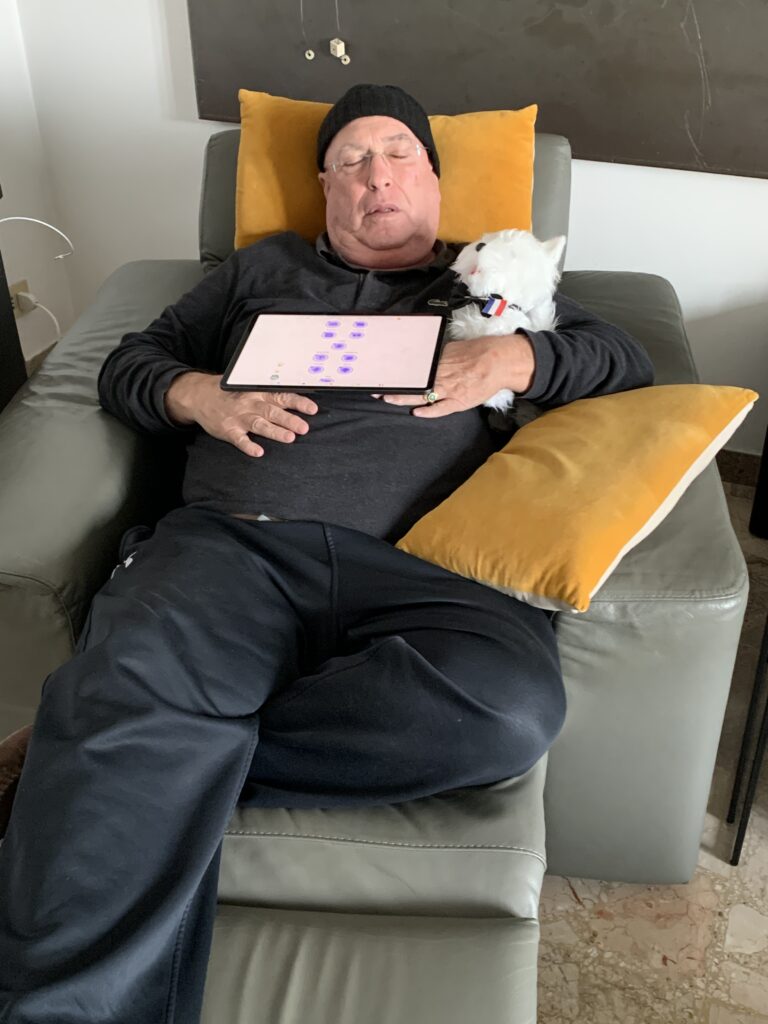 "I will honour Christmas in my heart, and try to keep it all the year. I will live in the Past, the Present, and the Future. The Spirits of all Three shall strive within me. I will not shut out the lessons that they teach." 

― Charles Dickens, A Christmas Carol