Well we've never been to Spain but we kinda like the freedom
Birthday freedom was awesome freedom. We need to find even more.
A non-stop 6-1/2 hour drive across France will get us to our next destination: Barcelona.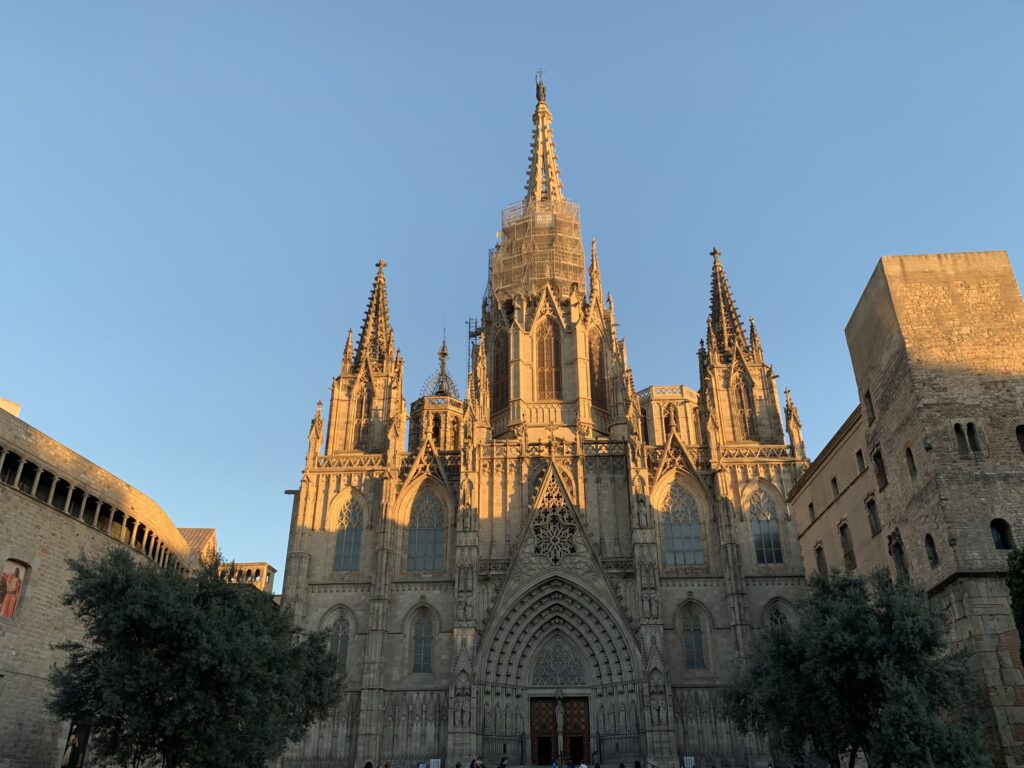 Dawn:
No construction on this leg, but we were a little concerned when Rollwronga informed us that we were driving into Tornado force winds which accompanied us all the way through France. The wind didn't stop until we crossed the border into Espana.
Steve:
As usual, the hardest part of the drive is arriving at any European city – especially the big ones – traffic is typically a nightmare. The streets are always tight and confusing. Barcelona has wider roads, but even more strange Parking facilities. Of course we parked in the wrong one. Still, the nice valet helped us pay, get out and then back in to the Parking garage right in front of our Hotel. After we got the bags in our room, we looked at each other and decided to have a bit of a nosh.
Dawn:
The front desk guy recommended a Tapas place, Bar Mono (Monkey Bar) – just our kind of place.
Steve:
A short walk through a warren away, we found Nirvana. Terrific food, great wine, and super service.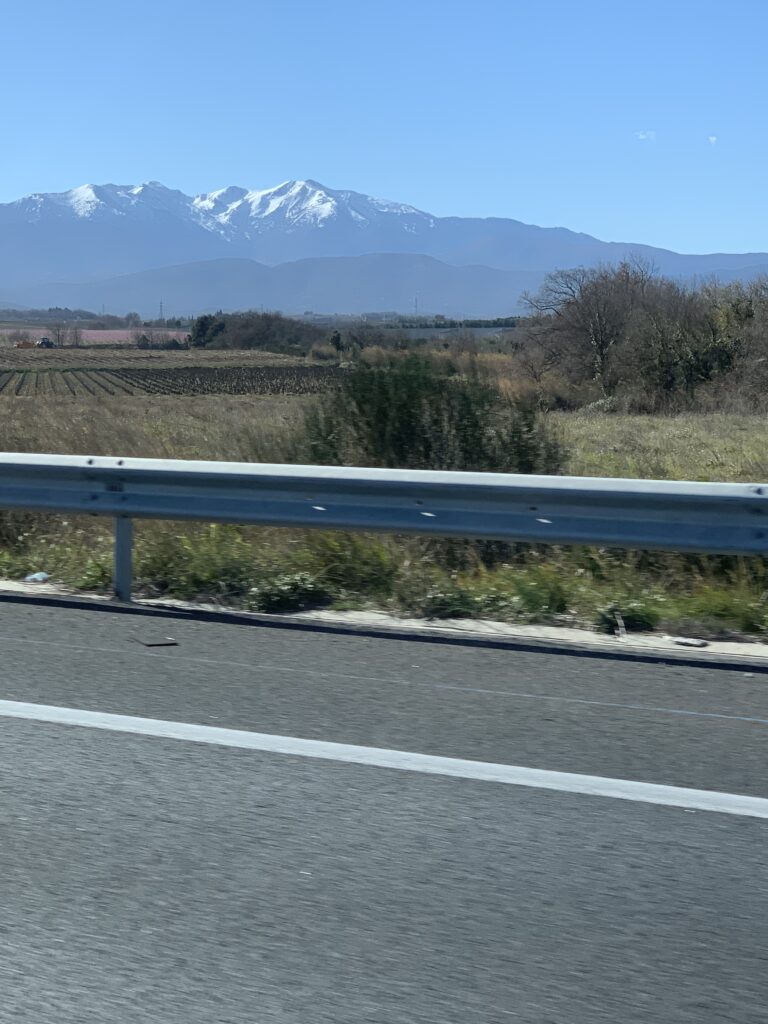 Flying through France. In the distance: The Pyrénées
Every city has a vibe. Barcelona has a costal Mediterranean feel that is laid back and energetic all at the same time. Free wheeling with a cuisine which has a distinctively Spanish influence – simply divine.
Dawn:
After a good night's sleep, I searched Google Maps for some breakfast. Too many choices. Did we mention that there are restaurants and cafes everywhere you turn?
Steve:
Just as I had hoped! After almost five months of cooking and dishwashing every day (we had become locked out remember) to enjoy all the restaurants and cafes whenever we want is a dream come true.
Dawn:
Steve will tell you, I have a gift for finding extraordinary restaurants. There is a plethora to choose from here! And they all have eggs benedict, DONUTS, BAGELS, etc. However, one intrigued me – they offered Chorizo Hash.
Steve:
I have trusted Dawn's instincts for decades. She has always been able to find the best food. Huevos Rancheros on the menu sold me.
Steve:
No sooner did we walk out the door of our hotel and rip off our masks we encountered a demonstration.
There were firecracker explosions. Let's go check it out!
Dawn:
When you are traveling Europe you must pay attention. Not to say we do, just that we should. More often than not. Probably.
Steve:
We didn't know what was going on. But in COVID years, any protest is a good protest. We cheered when the firecrackers went off. Then we cheered with all the guys in the vests.
Dawn:
When you are retired, there is no hurry. We could stand close to and become a part of what was happening. 
​As we strolled up the street towards breakfast, we realized that the protest was sponsored by a Labor Union. We walked right past their headquarters.
Steve:
We always learn something new…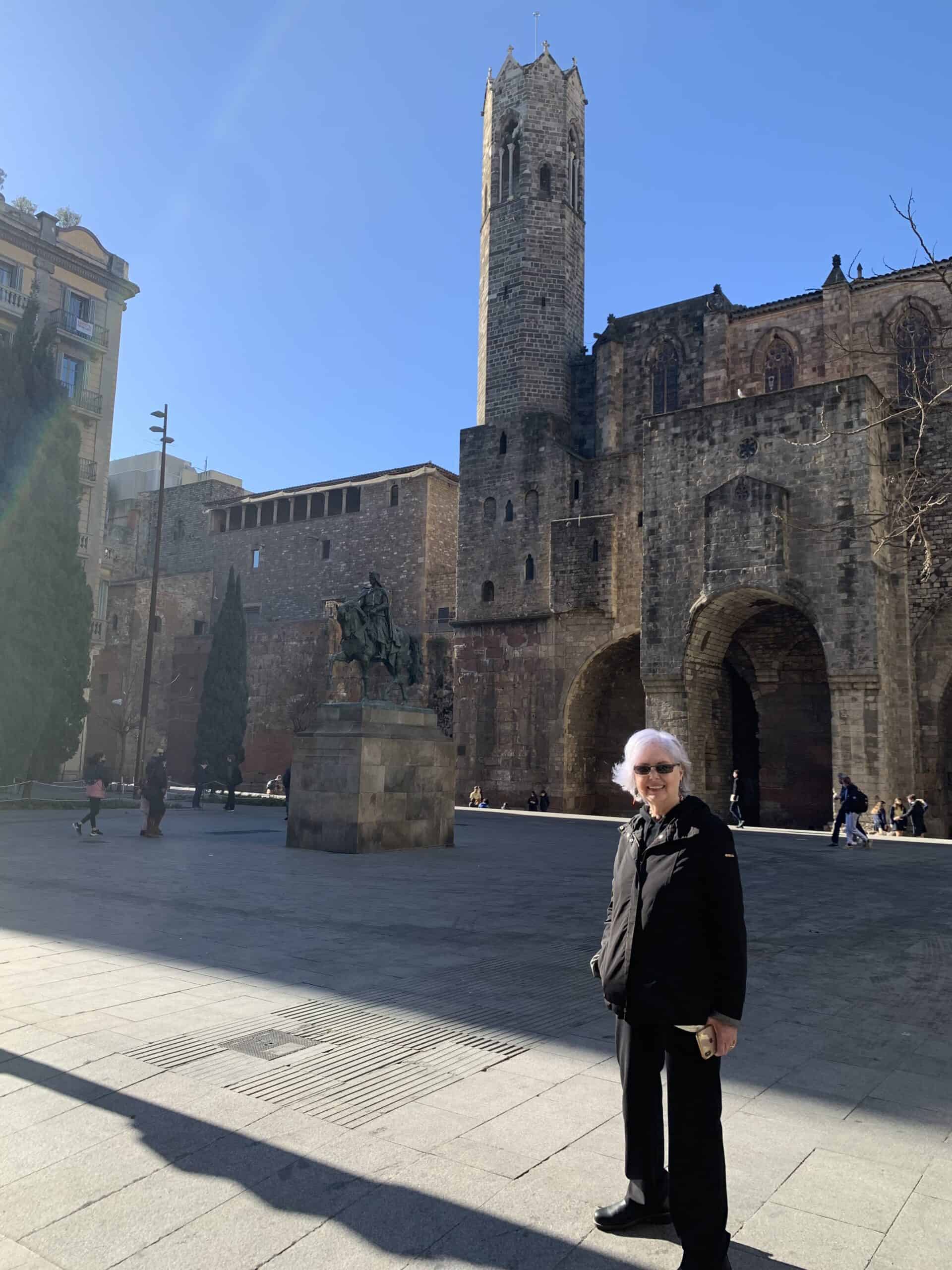 The Cathederal of Barcelona is our largest way point as we navigate the Gothic Quarter.
Bloody Mary, at Milk Bar & Bistro
"The only way to deal with an unfree world is to become so absolutely free that your very existence is an act of rebellion."

― Albert Camus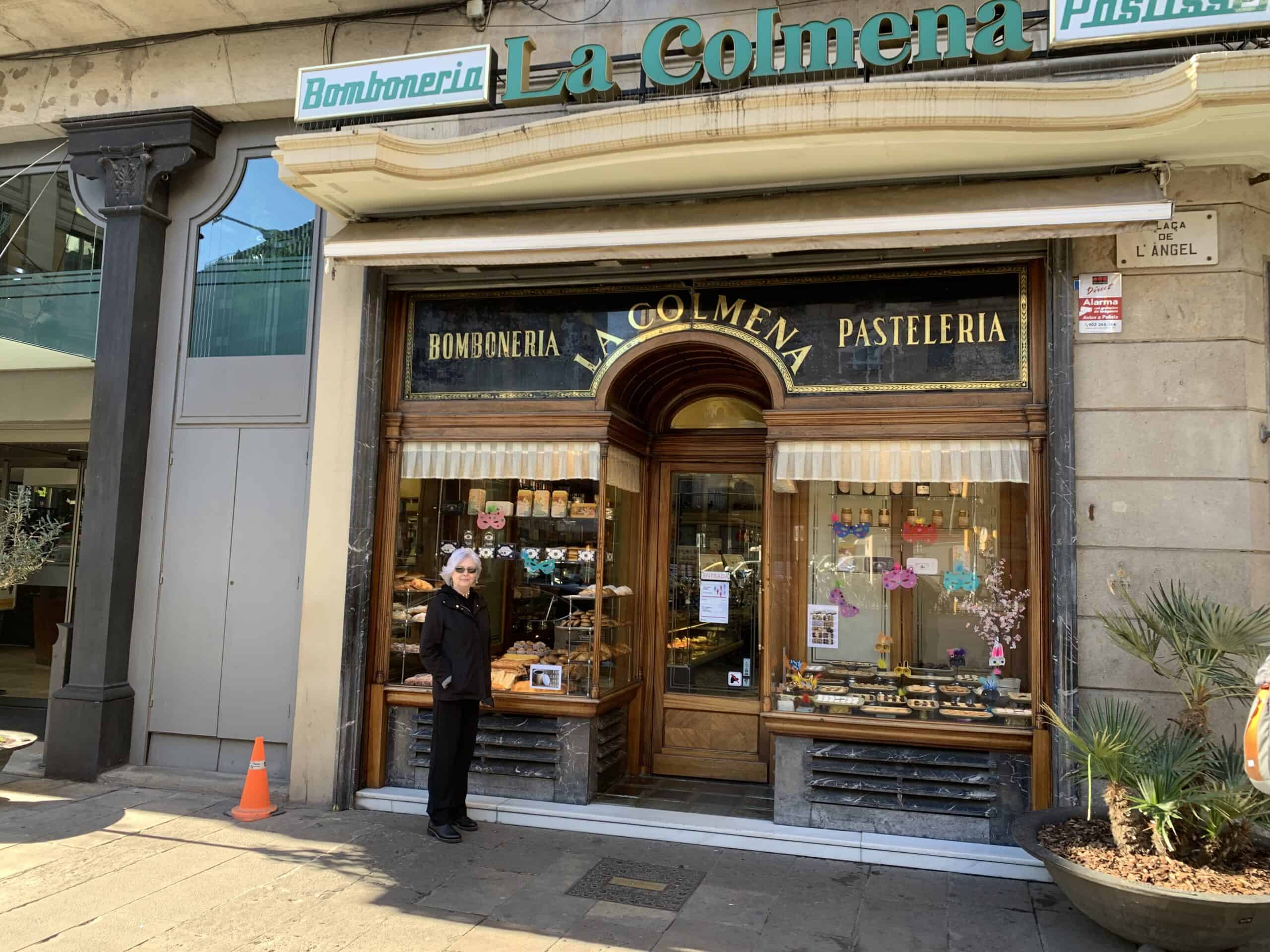 Window shopping a pastry shoppe. Just so happens to be right around the corner from our two favorite breakfast stops.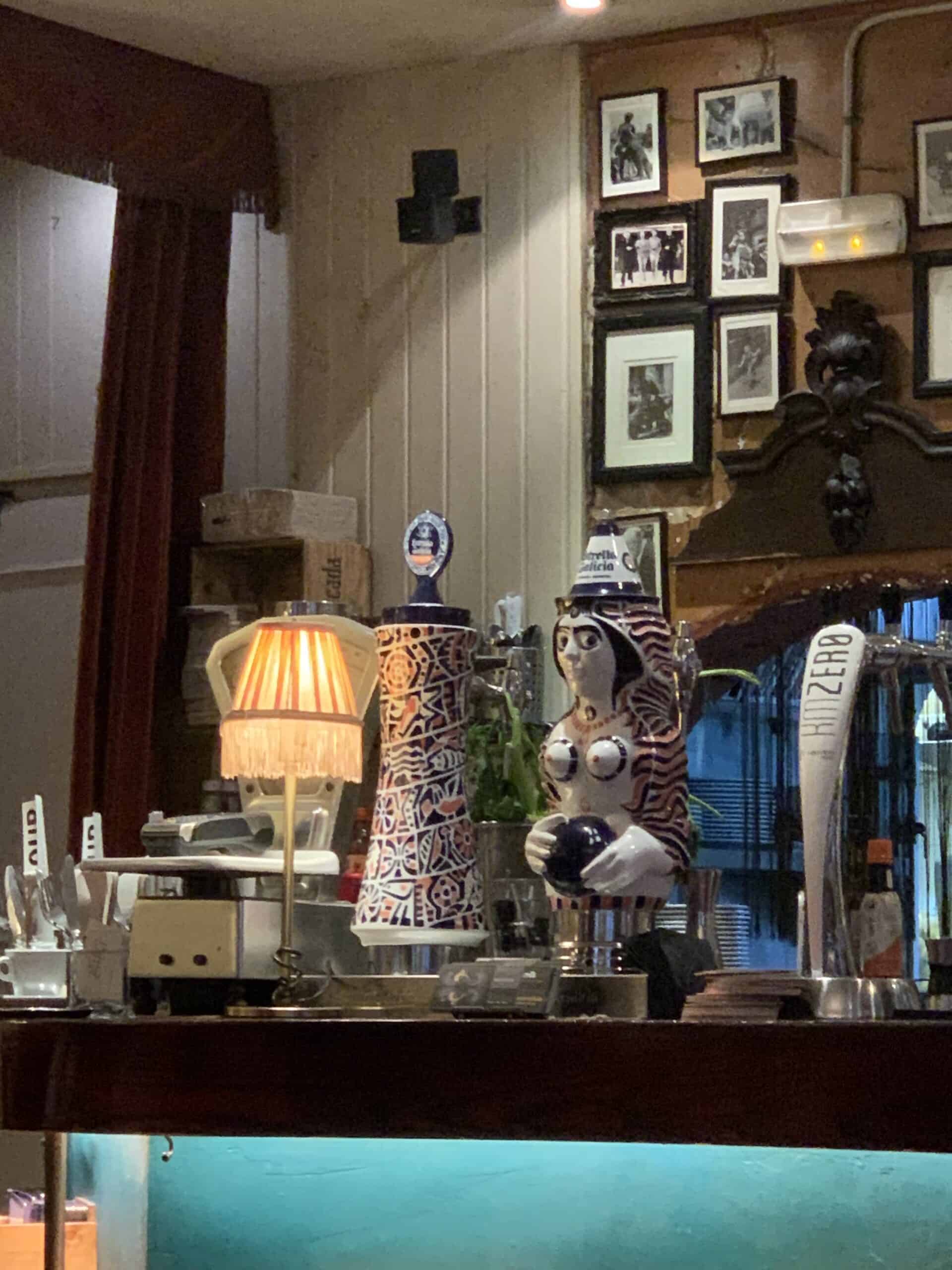 Interior, Milk Bar & Bistro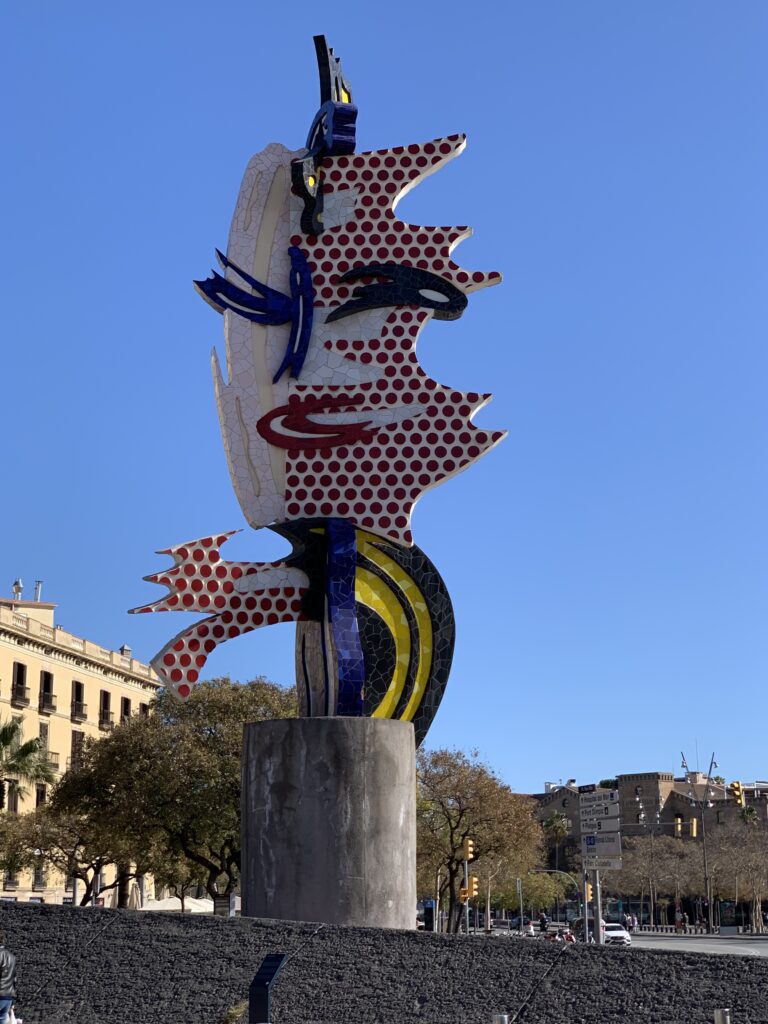 This sculpture drew us to explore in its direction. Named, La Cara de Barcelona, it is a surrealist sculpture created by American Pop artist Roy Lichtenstein for the 1992 Summer Olympics in Barcelona. It was the artist's first out door work using ceramic tile. Some say it is a nod to Antoni Gaudí and the city's affinity for mosaics.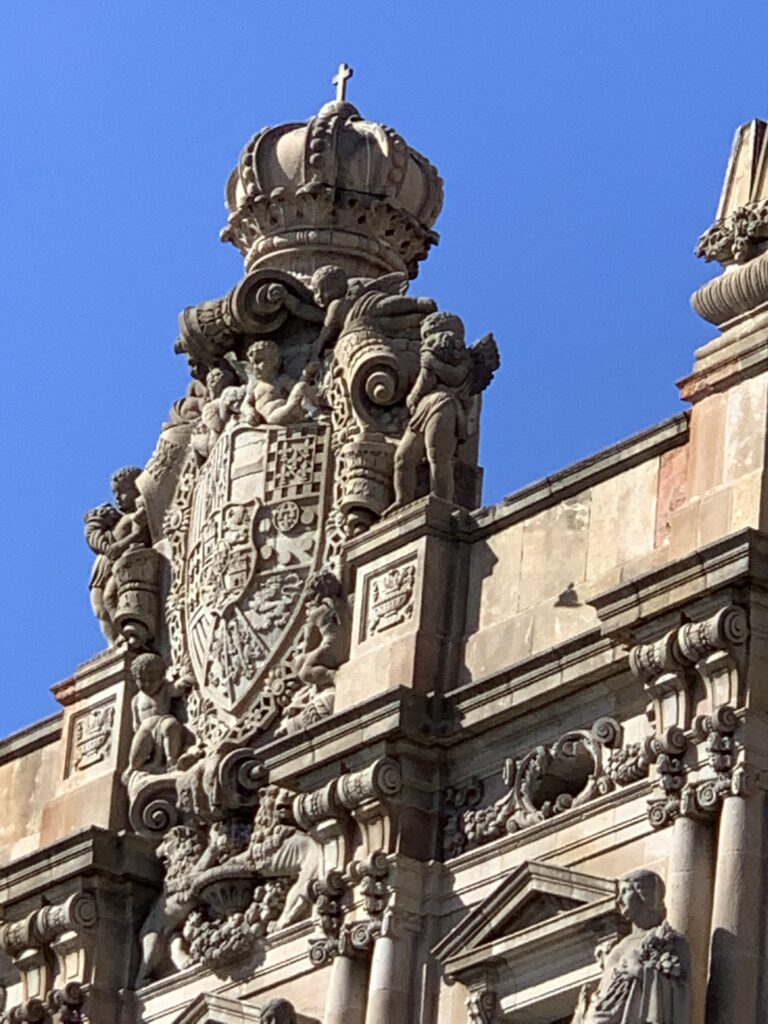 Building detail, of the Correos.
​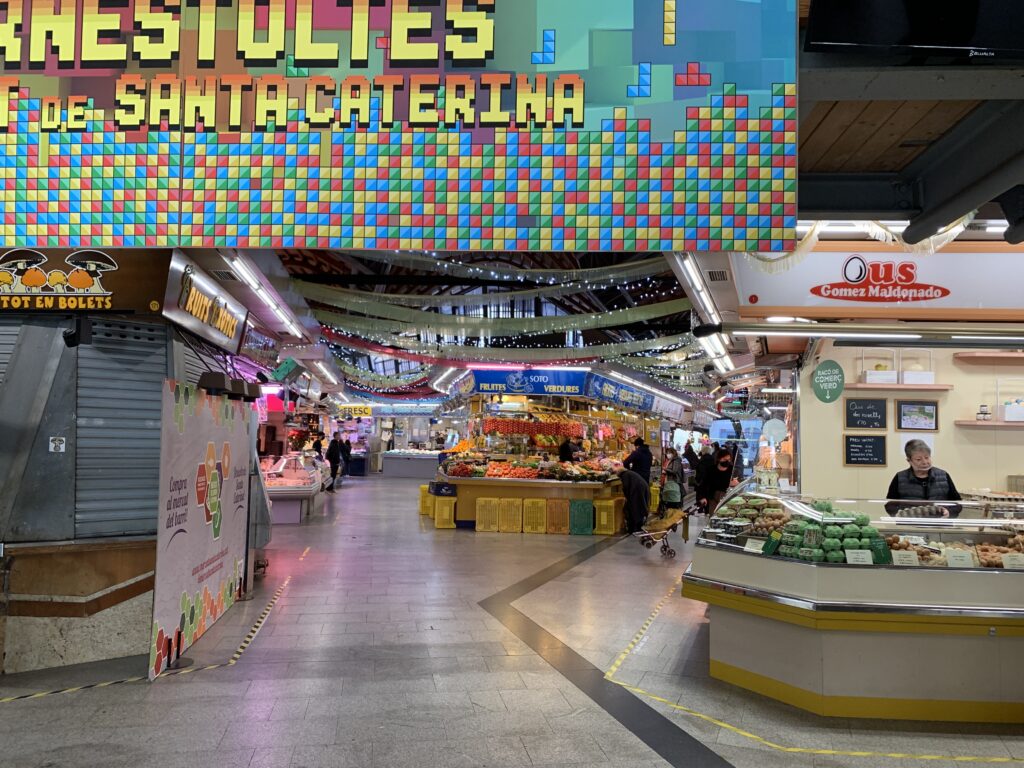 Entry sign to Santa Caterina Market.
​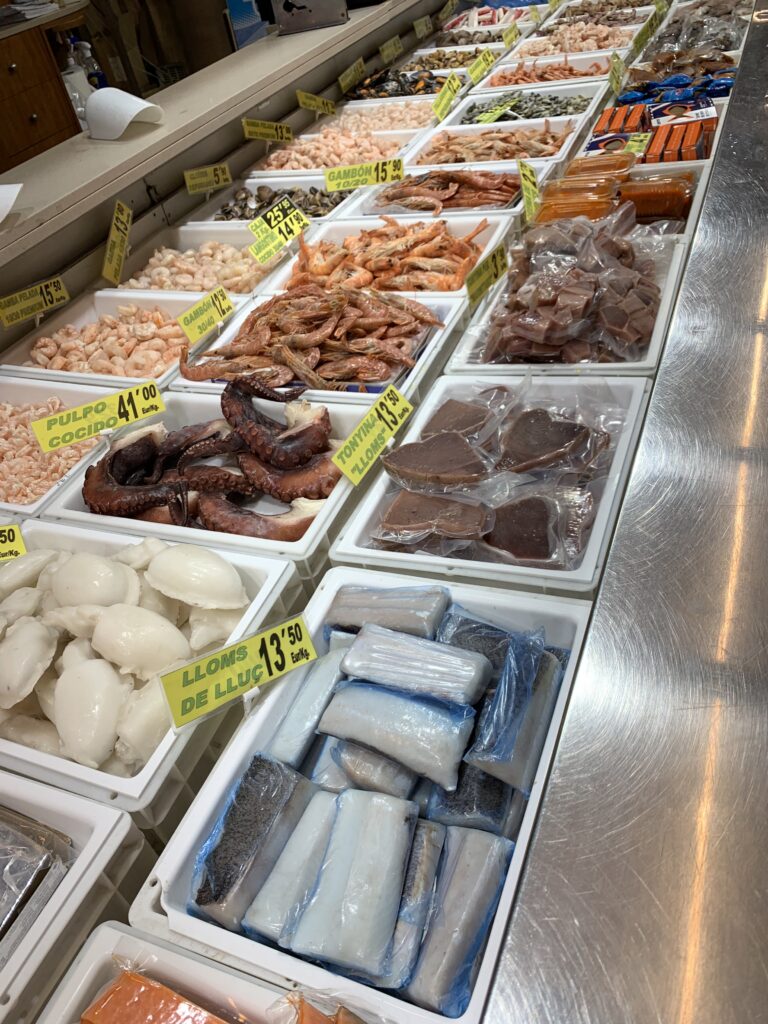 Abundant seafood offerings.
​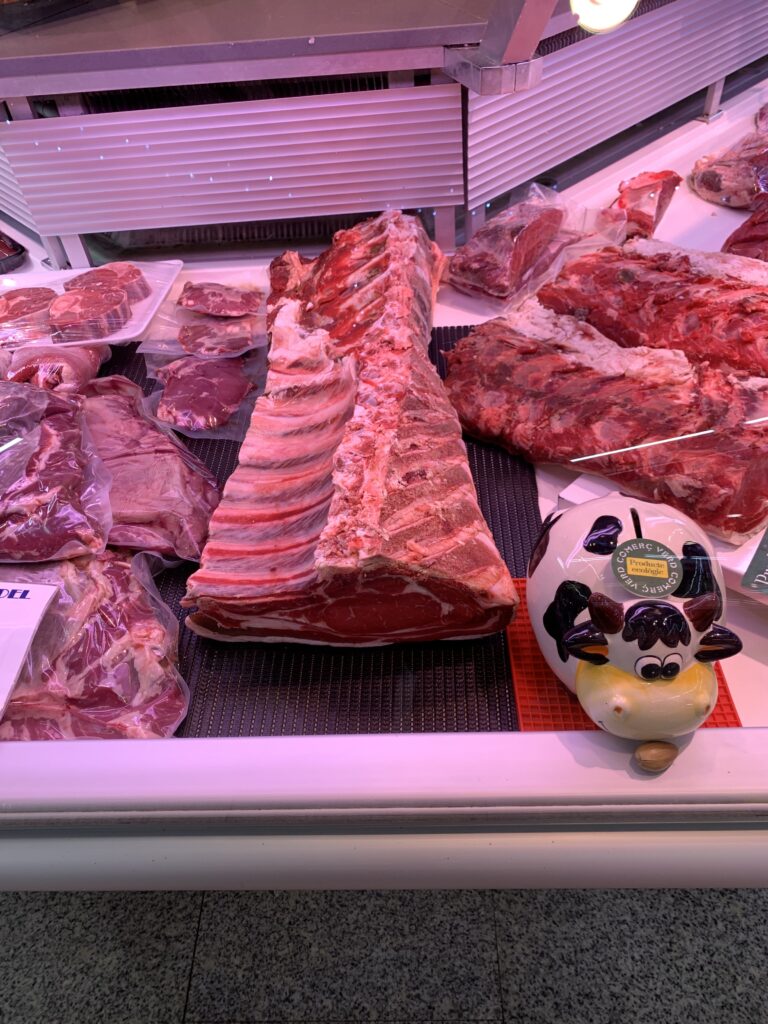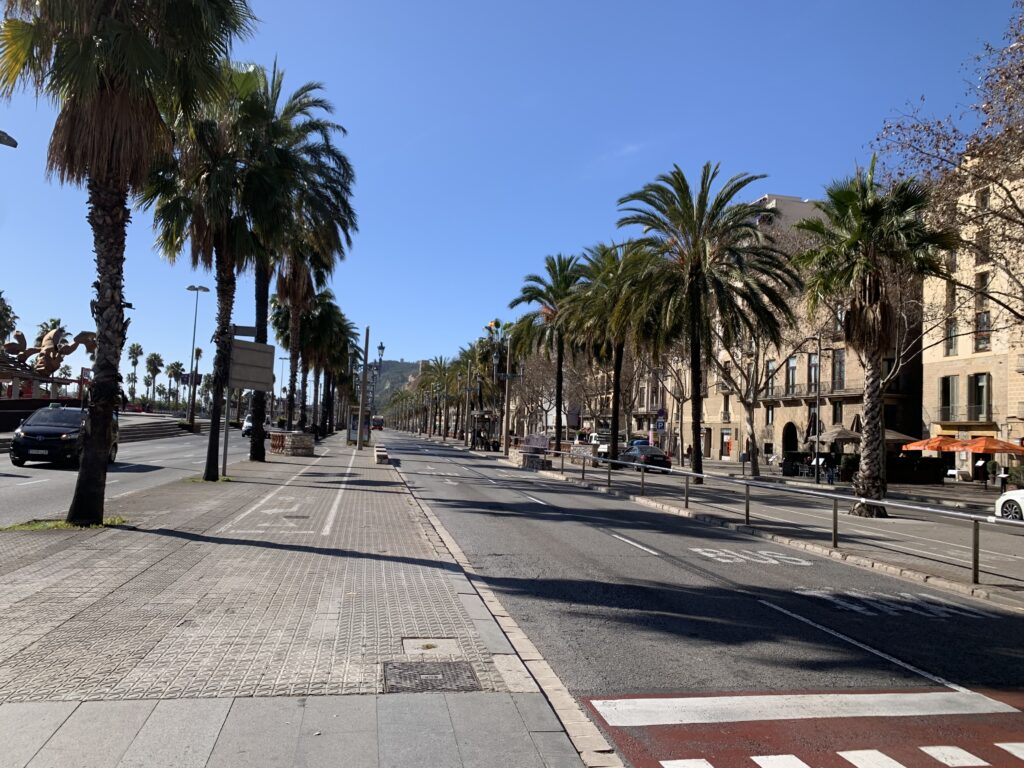 Impossibly wide main artery Posseig de Colom (B-10). It took ten minutes to completely cross.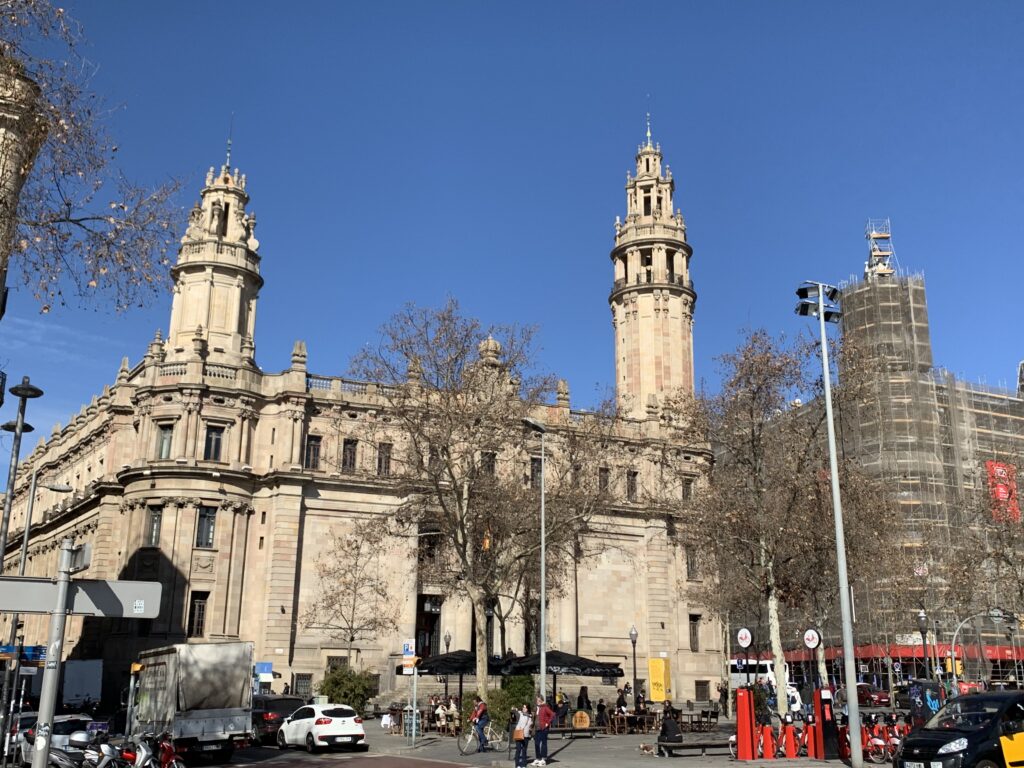 Across the street we spotted Spain's official Post Office, Correos which shares this space in an historic building with a labor Union, SiPcte. Sindicat Independent Professional de Correus i Telègrafs.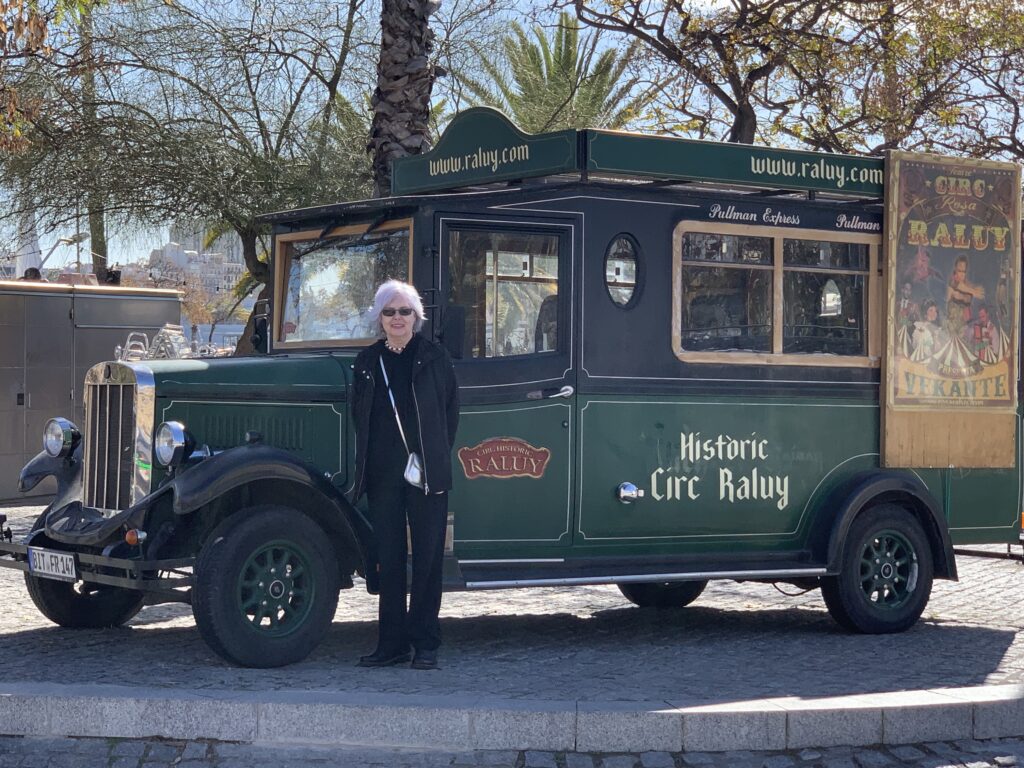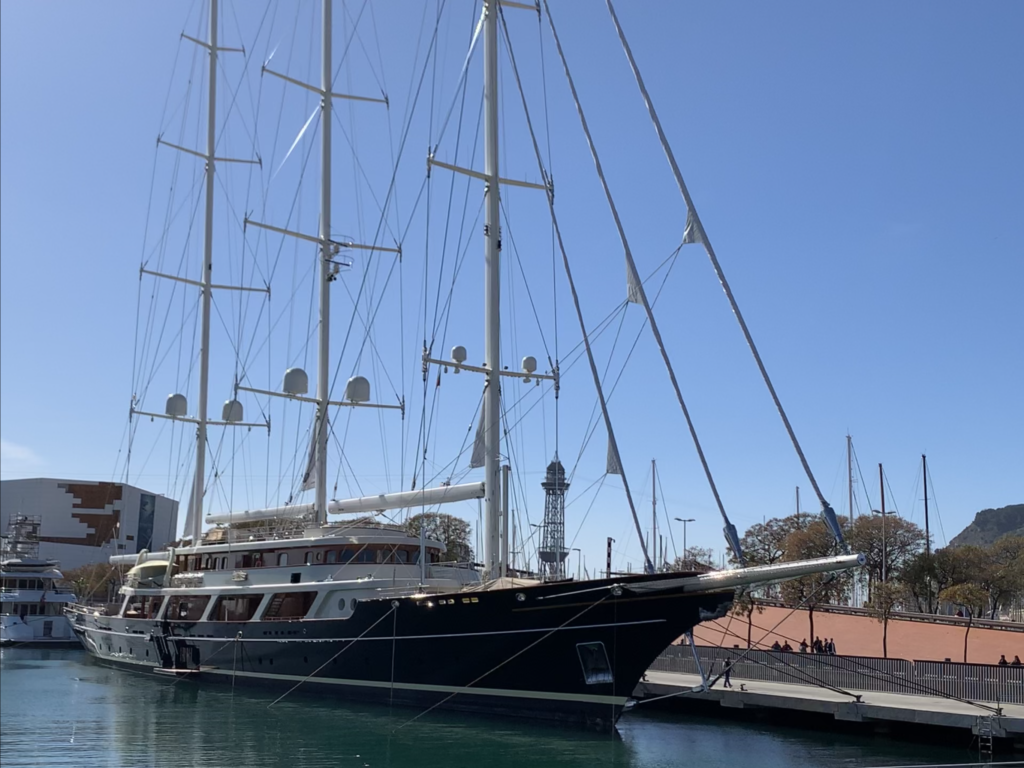 A handsome seafaring vessel docked at La Barceloneta, the harbor area. It also includes the very popular adjacent public beach.
"Slow down and enjoy life. It's not only the scenery you miss by going too fast – you also miss the sense of where you are going and why."

– Eddie Cantor 
Dawn:
After our walkabout, we headed back to our hotel. They have a cafe outside in the square that fronts the Cathedral whose patron saint is Santa Eulalia. What a wonderful place to sit, people watch and write our stories for y'all.
Arfy:
Mom and Dad brought me, too! I love being out and about. PIGEON! ARF ARf Arf arf arf