Barcelona prides itself on its artists and architects. The City has a singular love for exquisite art that can be seen everywhere in its buildings and parks. Most especially in the buildings designed by Gaudi and his Modernist contemporaries.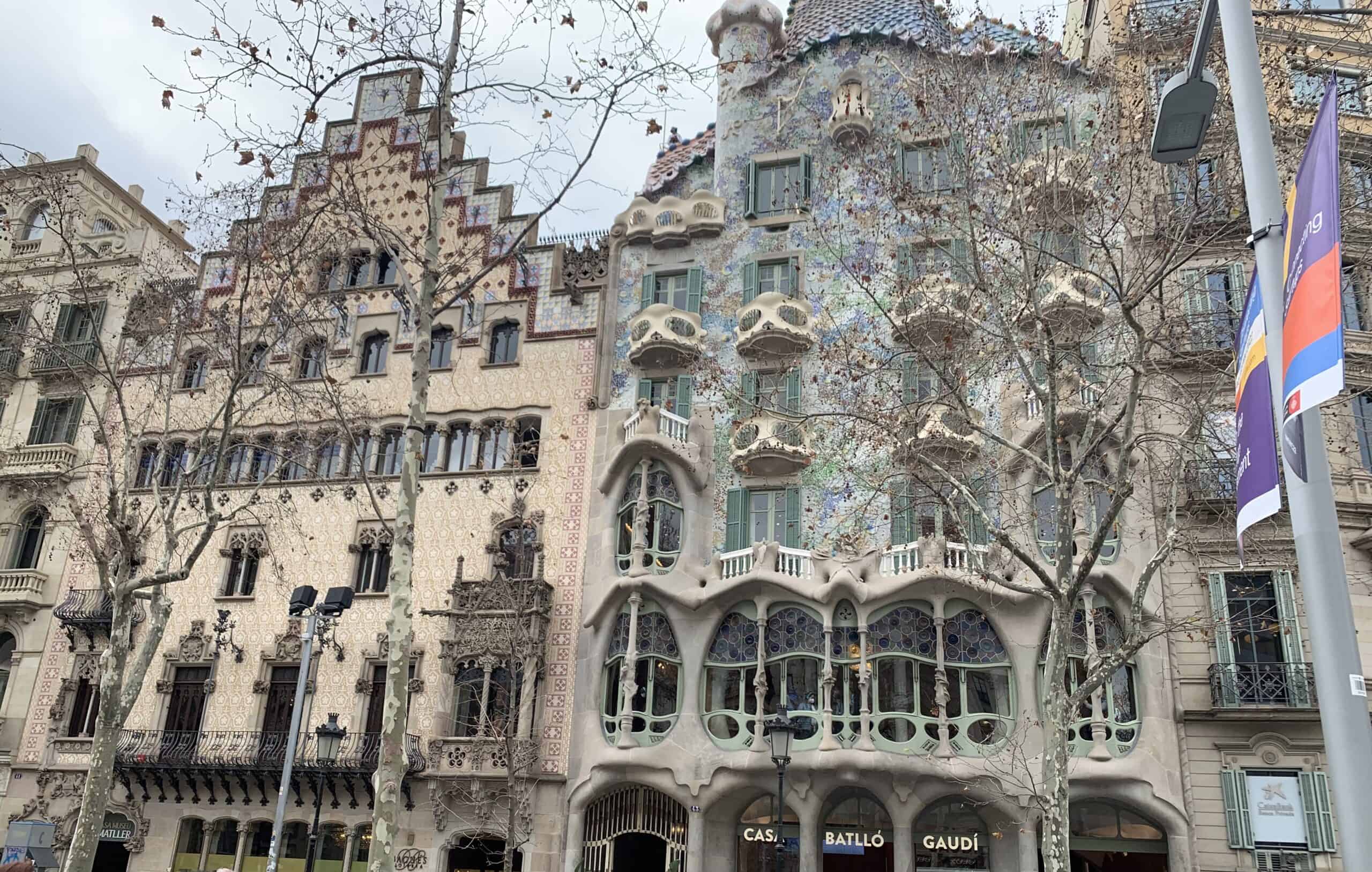 Dawn:
We read that Gaudi's works are a MUST SEE in Barcelona. Now we know why.
Steve:
Antoni Gaudi saw the natural world as a perfect creation from which he drew his inspiration. His revolutionary take on architecture was rooted in his development methods. As he matured in his work, his devotion to nature led him off the conventional architectural path.
Dawn:
He developed a method of construction which became known as "equilibrated." The term means it could stand on its own without internal bracing or external buttressing. Using this innovative method, a building was born into balance as it was being built.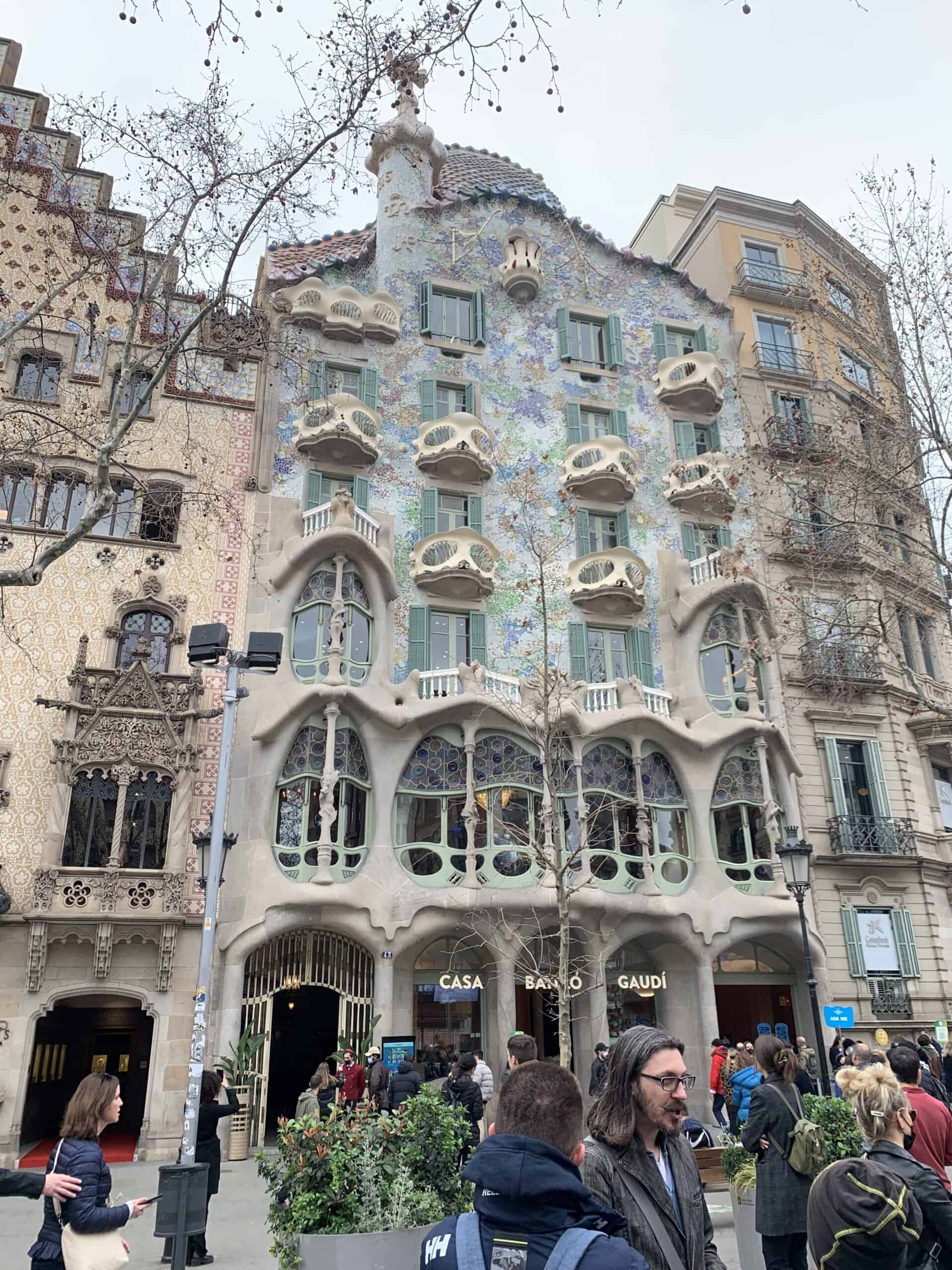 Casa Batllò is known as Casa dels ossos (House of Bones) because of the skeletal, animal-like appearance of its façade. Others see a sleeping dragon because of its arched roof which is covered in tiles that resemble scales.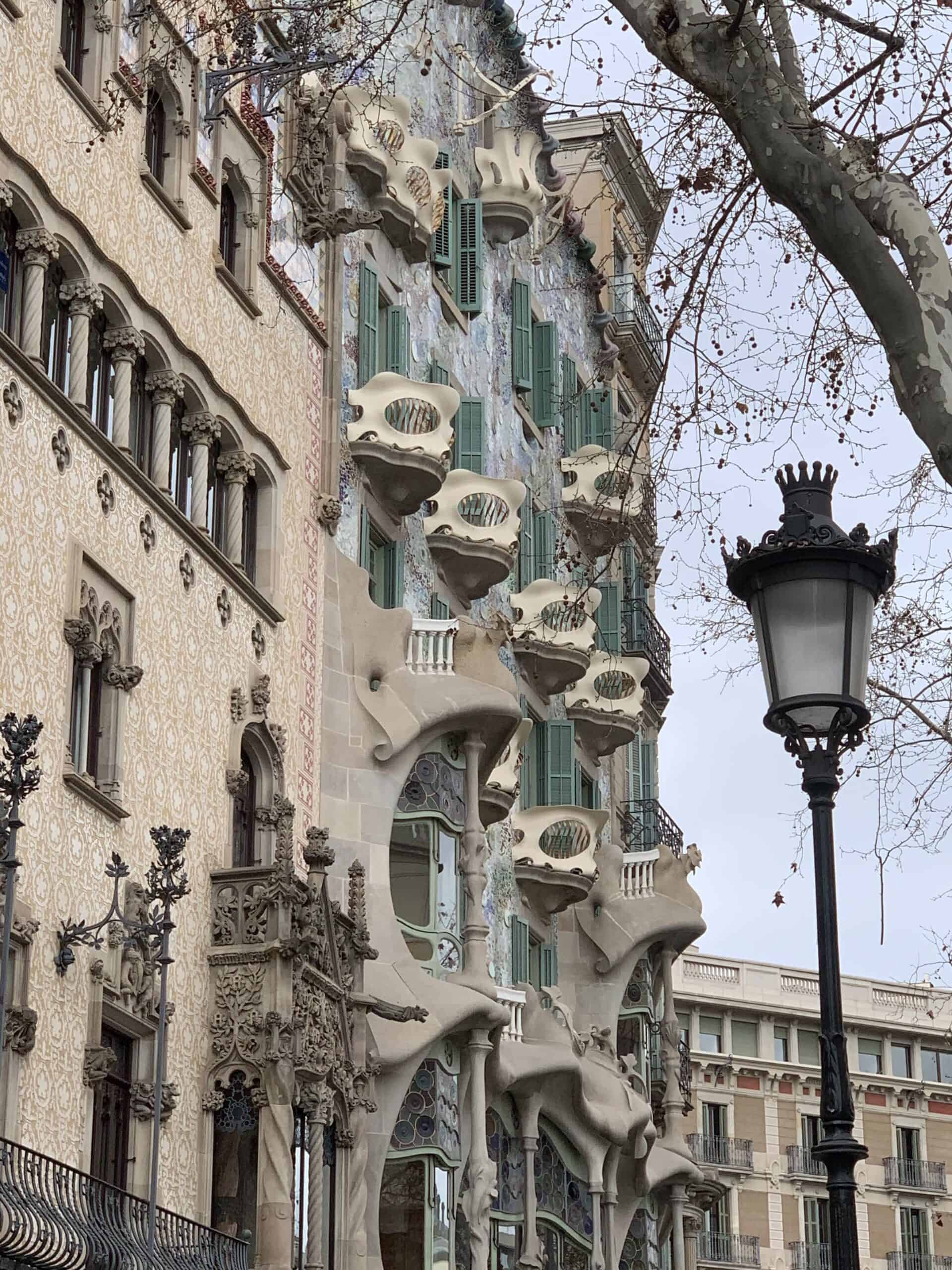 Likened to the Mediterranean Ocean or the Mountain of Montserrat, Casa Batlló's façade resembles the waves of a calm sea. Its softer elements are revealed when day light illuminates the structure. 
Steve:
Instead of starting with two dimensional drawings, Gaudi would work with clay, rock,  paper, and other medium to construct his blueprints. Conveying his plans was done through these handcrafted 3-D models. Some were even populated with live plants, animals, and humans as references. He often used his blueprint models as test subjects for the analysis and proof that his structural elements would function properly.
Dawn:
Those issuing building permits and such were often old school "Building Inspectors" who had a hard time understanding Gaudi's ideas. It caused delays.
"Gaudi was inspired by organic shapes of nature. He found examples of these everywhere for instance, in bones, reeds and rushes, He exploded the static forces of nature and used its principles to form structures and spaces in a building. He established a really sensitive relationship with nature and translated it into a highly original ornaments."

– misha khaliq
Casa Batllò 1904-1906

, Barcelona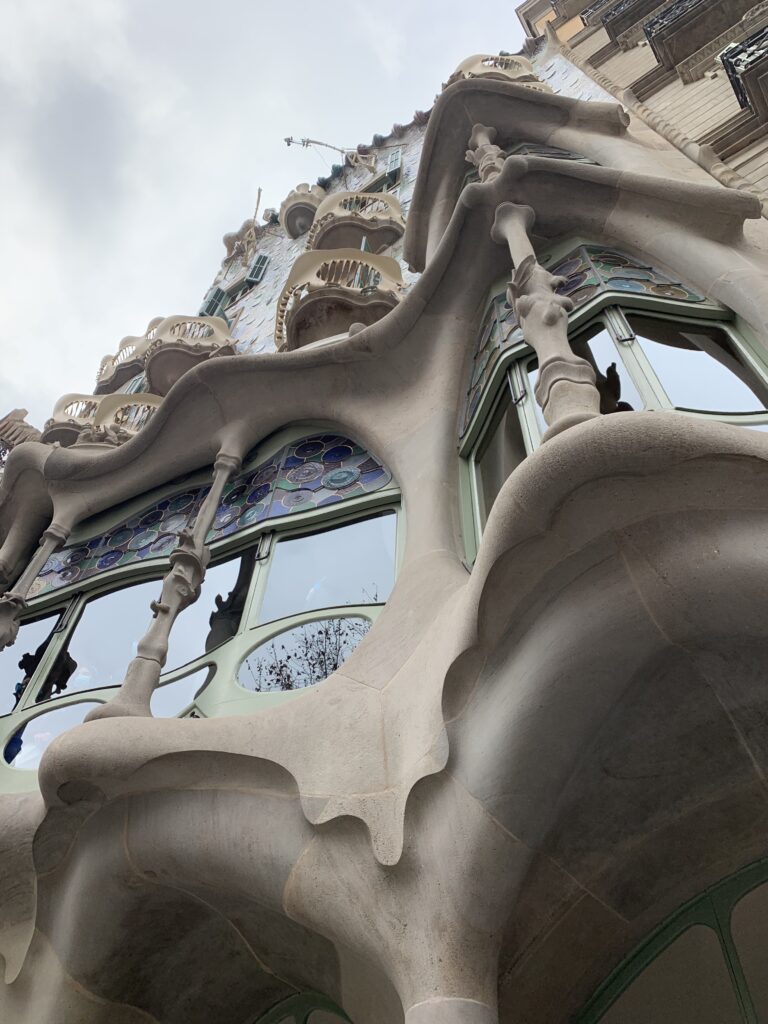 In 1903, Gaudi was engaged by textile industrialist, Josep Batlló who bought a building on the corner of the most important boulevard in Barcelona, Passeig de Gràcia. Señor Batlló thought the existing building dull. He envisioned tearing it down in order to build spectacular. Gaudi convinced his client to retain the original building then proceeded to design and reengineer it into this stunning apartment building for the Batllò family.
You see, during that period, many extremely wealthy industrialists had been recently kicked out of Cuba and decided to repatriate to their home, Barcelona. They each sought to outdo the other by building fanciful and ornate residences on the same block. The City encouraged this activity by offering hefty cash prizes for Art and Architecture. Casa Batllò was nominated, but lost. 
Now operated as a museum, the curators have stayed true to Gaudi's innovative thinking. They have added some very inventive interpretations and methods for visiting. 
Dawn:
​​​​A sensory engulfing peek into Gaudi's mind was a perfect start to the incredible tour. What a trip.
"Men may be divided into two types: men of words and men of action. The first speaks; the latter act. I am of the second group. I lack the means to express myself adequately. I would not be able to explain to anyone my artistic concepts. I have not yet concretised them. I never had time to reflect on them. My hours have been spent in my work."

― Antoni Gaudí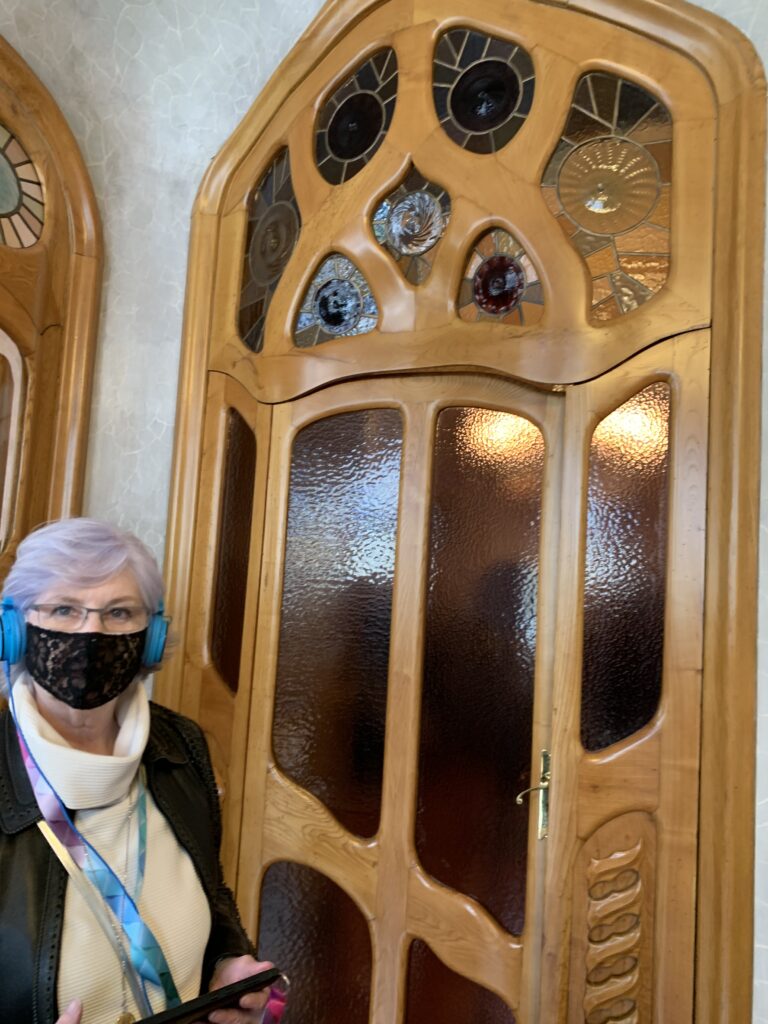 The handheld tablet gave a 3-D "view" of what the Batllò family's living quarters actually looked like throughout the visit.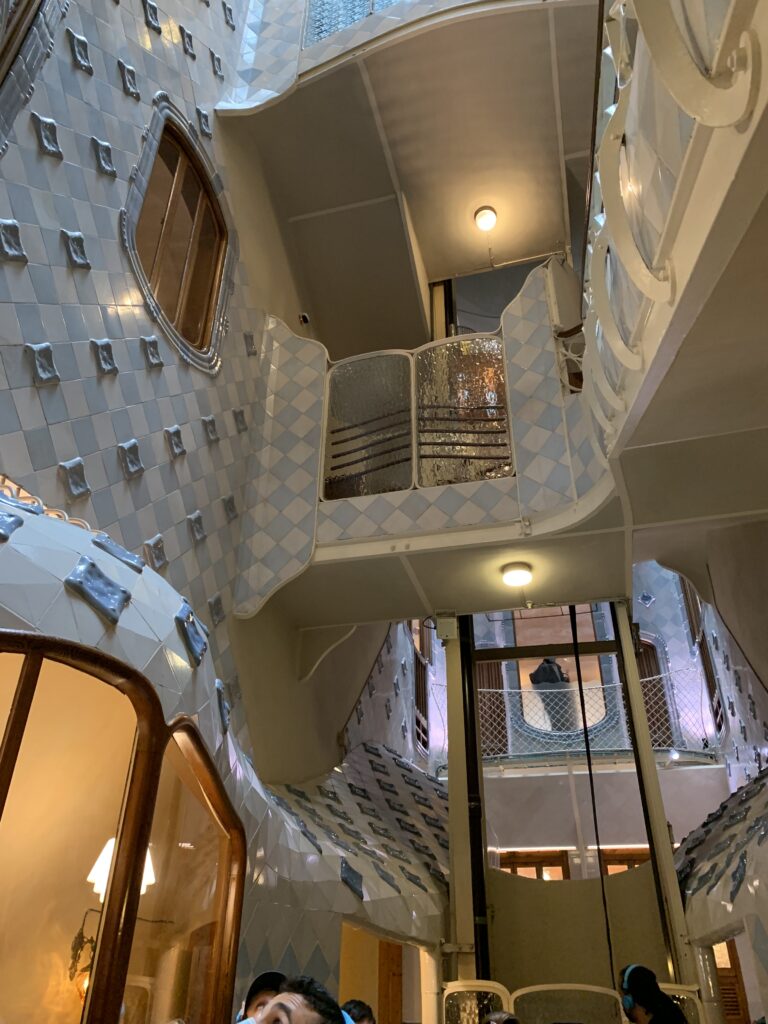 ​In the very center of the building is the central vestibule.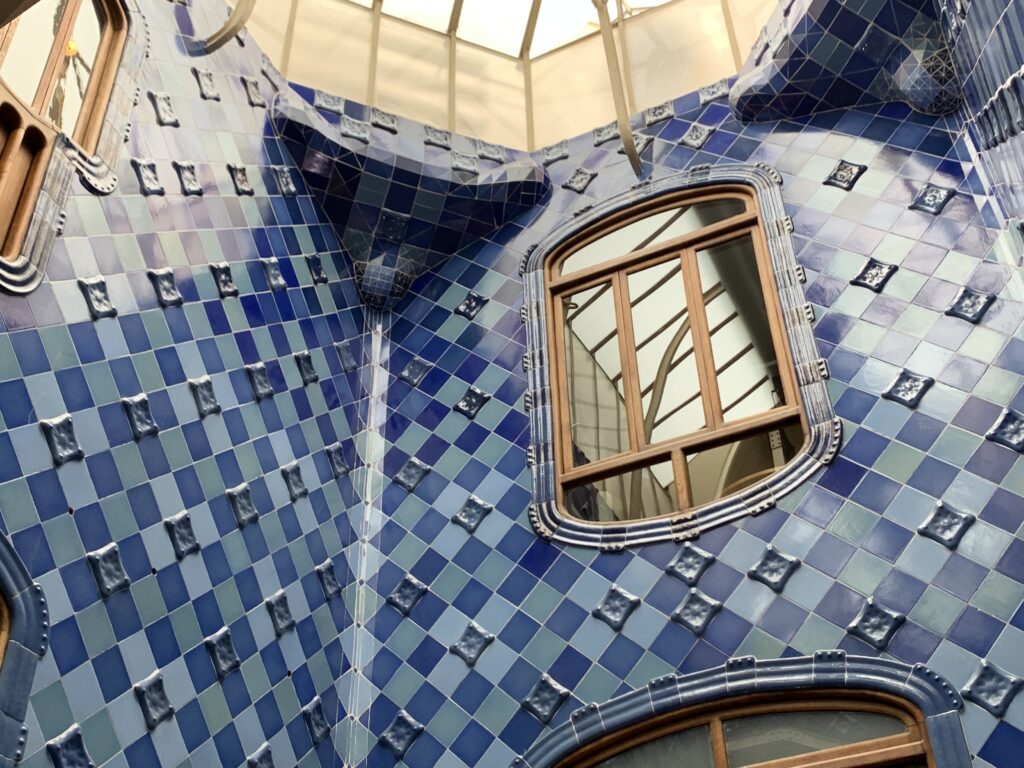 ​Gaudi enlarged the vestibule space, thus substantially improving the interior rooms' ventilation and illumination. He devised large-sized windows and vents for the walls and used glossy, light tone tiles to reflect the natural light provided by the attic's large, rectangular skylight.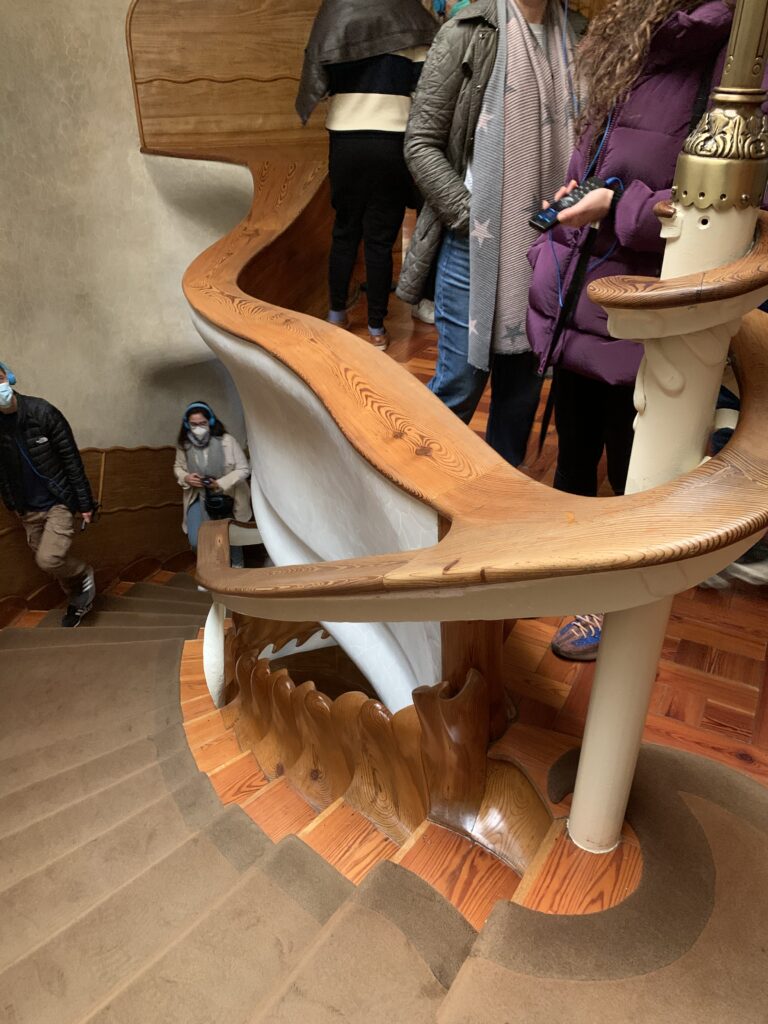 The staircase is made of oak and has no straight lines. Gaudi even thought to design the  handrails ergonomically and are made in the shape of a human hand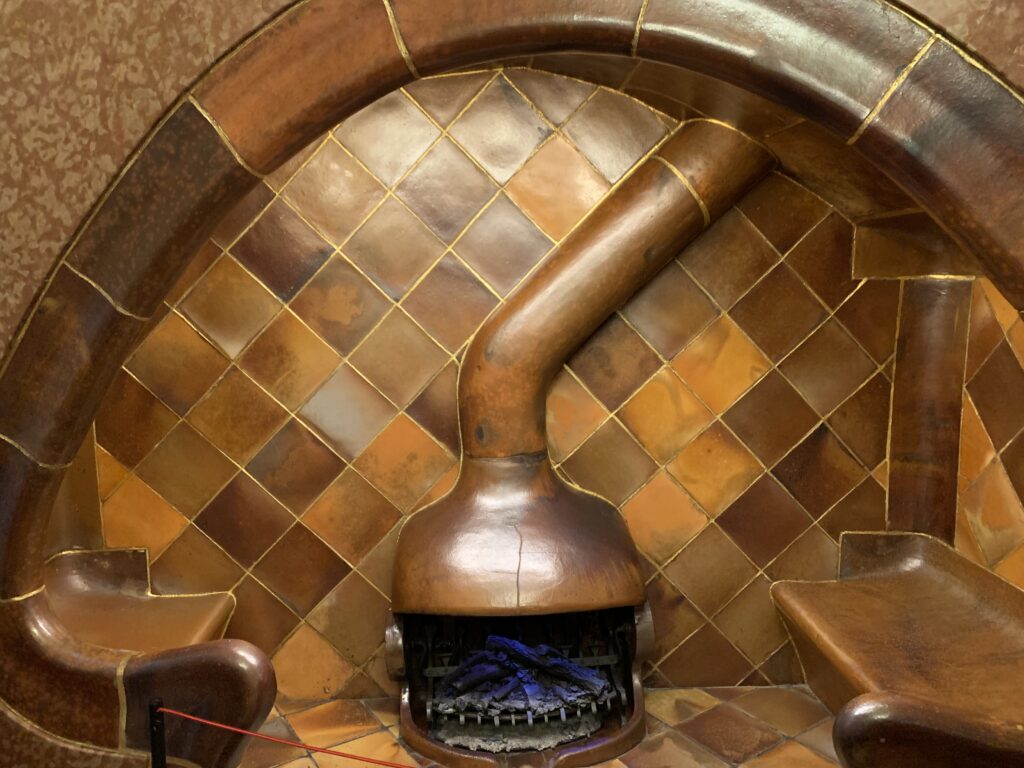 There is an odd little room with a fireplace and two benches. The cutout in the wall has the shape of a mushroom. Although it seems another of Gaudi's imaginative devices, it is simply Mr. Batlló's cabinet where he worked.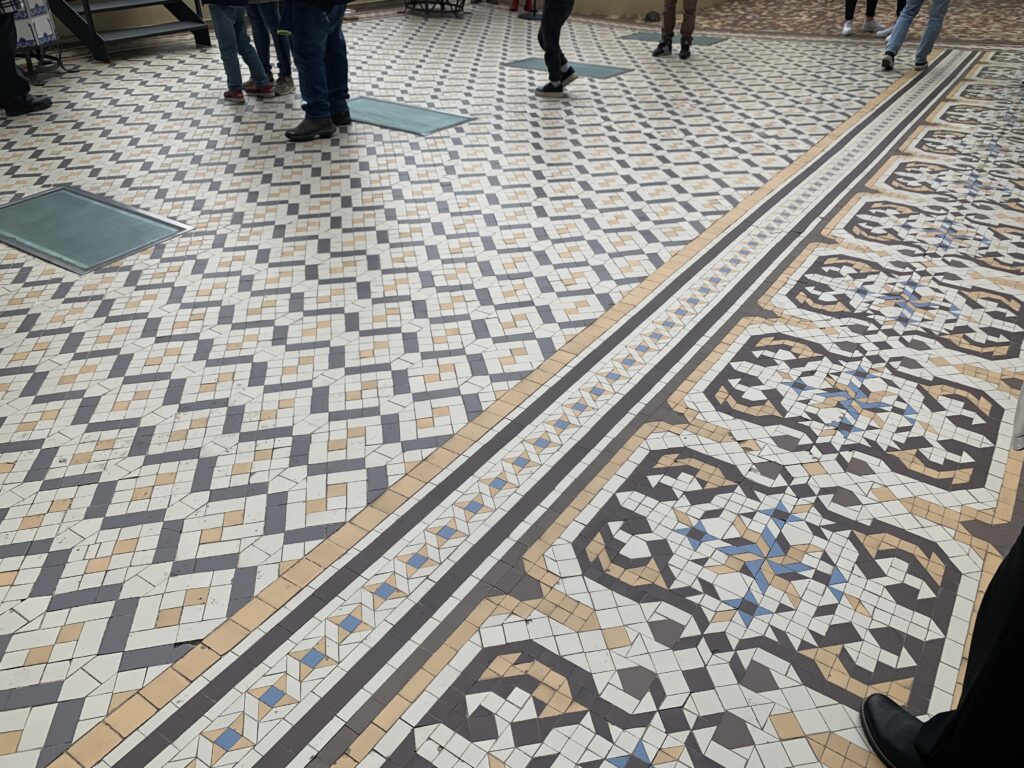 Tiled floors are a staple of Barcelona terraces.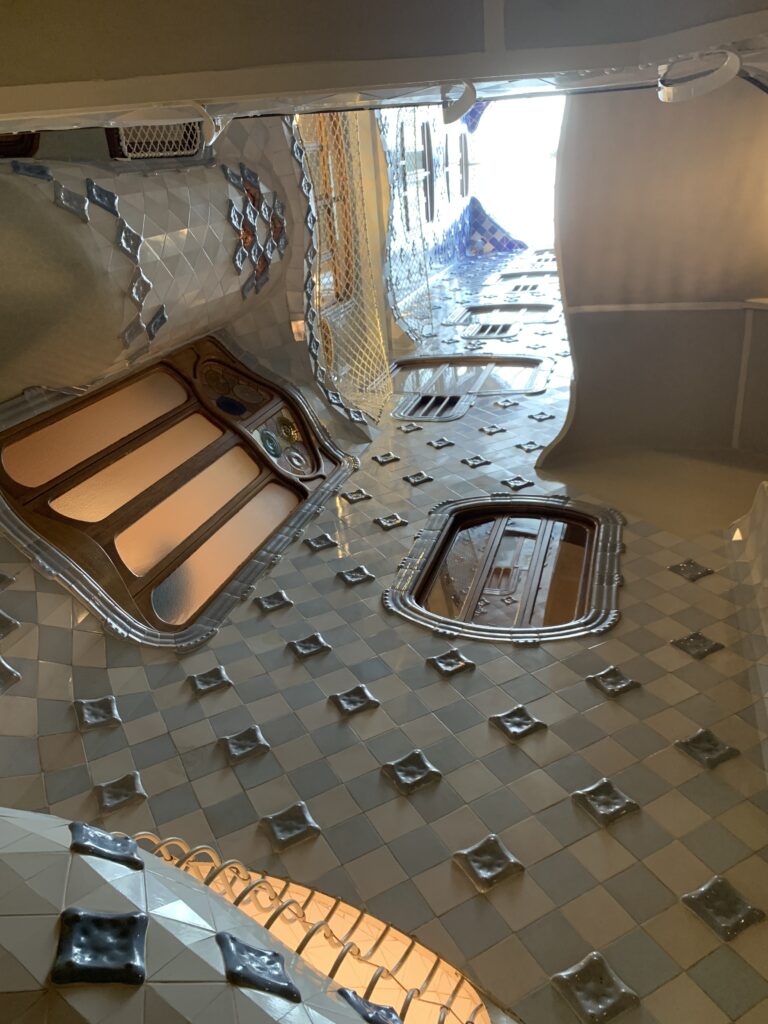 ​Serving as the heart of the building, the vestibule houses the building's main stairway, as well as the private lift which leads to the Family's apartments.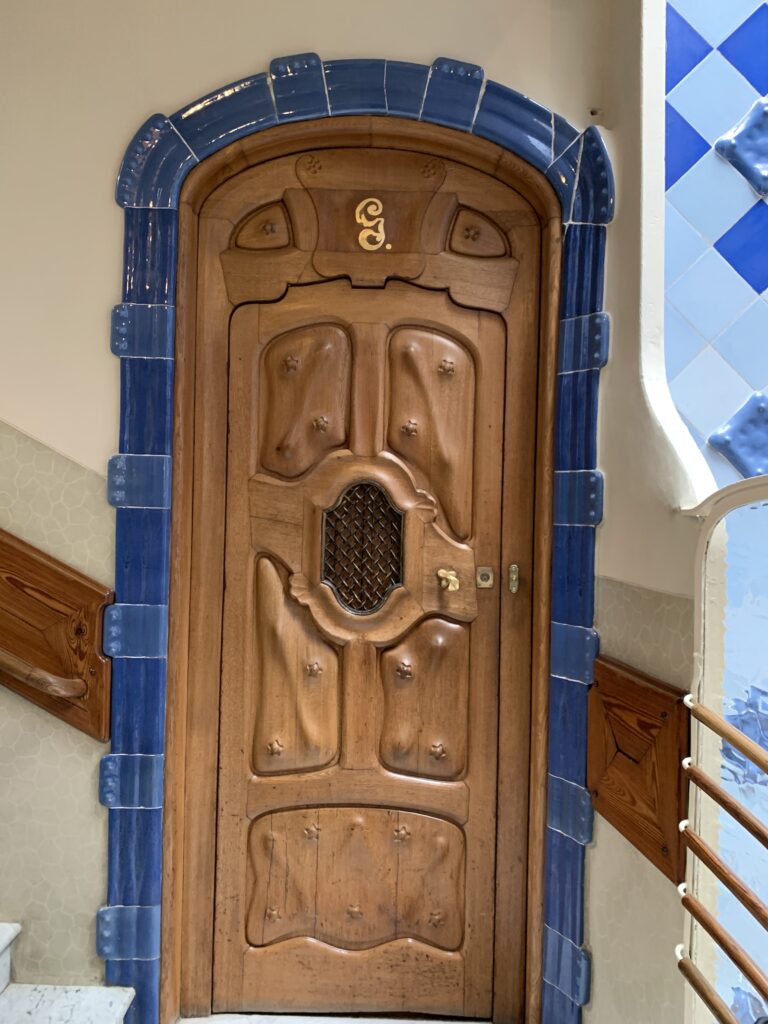 "Color in certain places has the great value of making the outlines and structural planes seem more energetic."

― Antoni Gaudí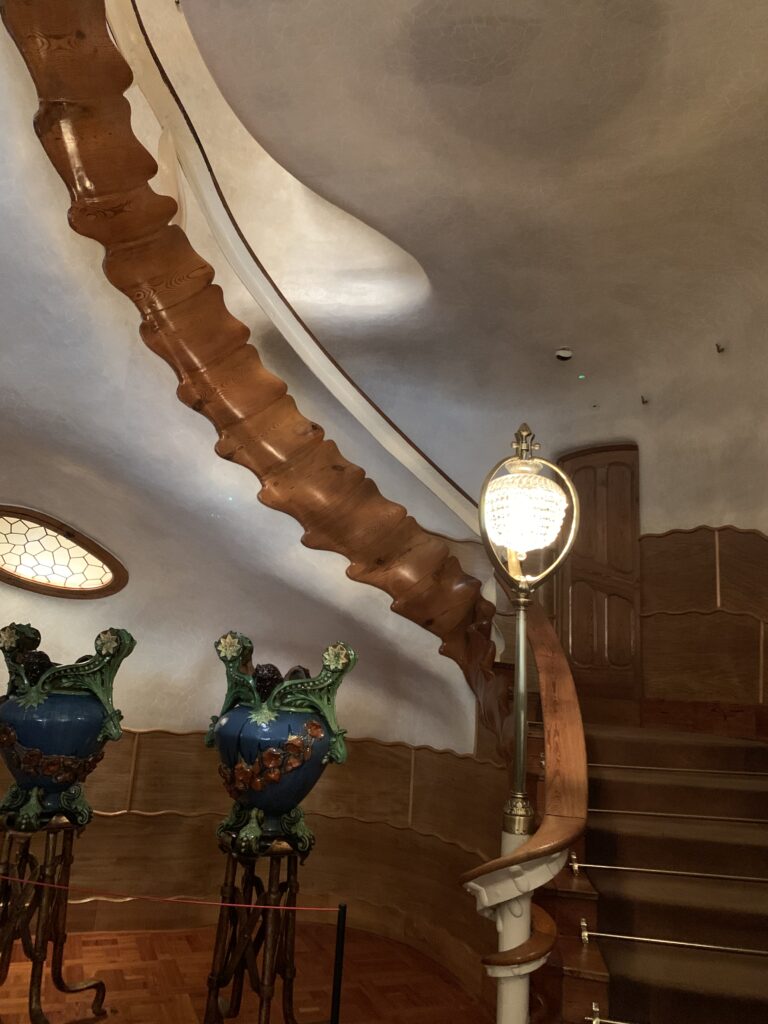 The underside of the handrail seems to resemble the backbone of an animal, doesn't it?
​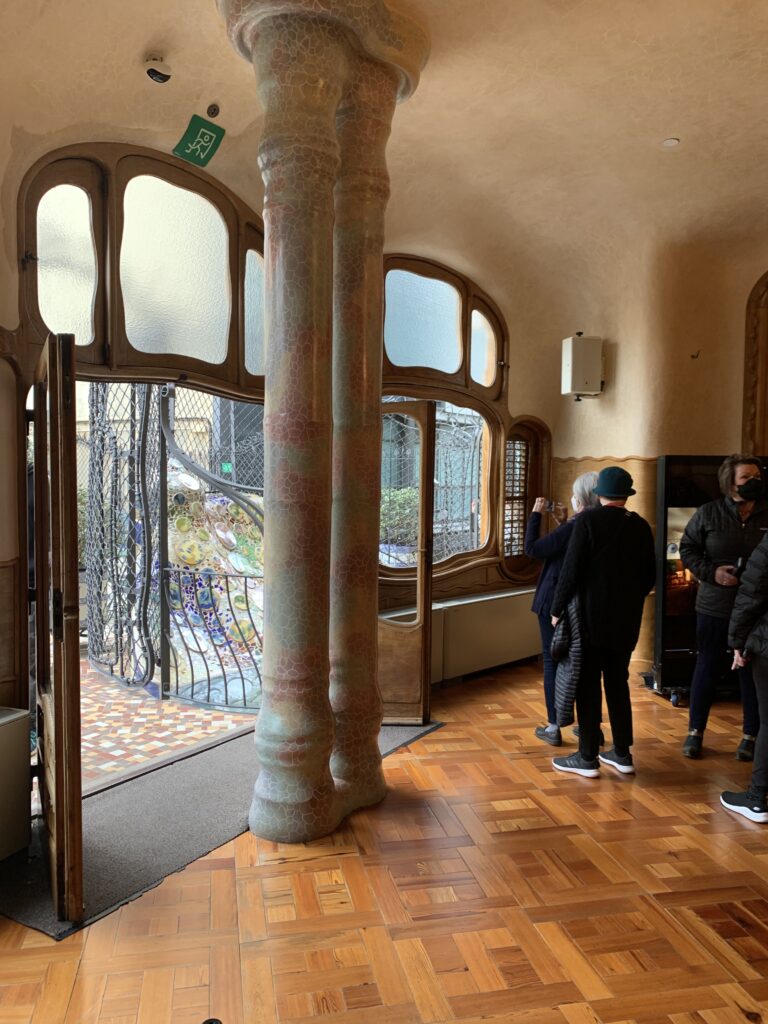 The Family was fortunate to have a generous and private terrace garden right outside the dining room door.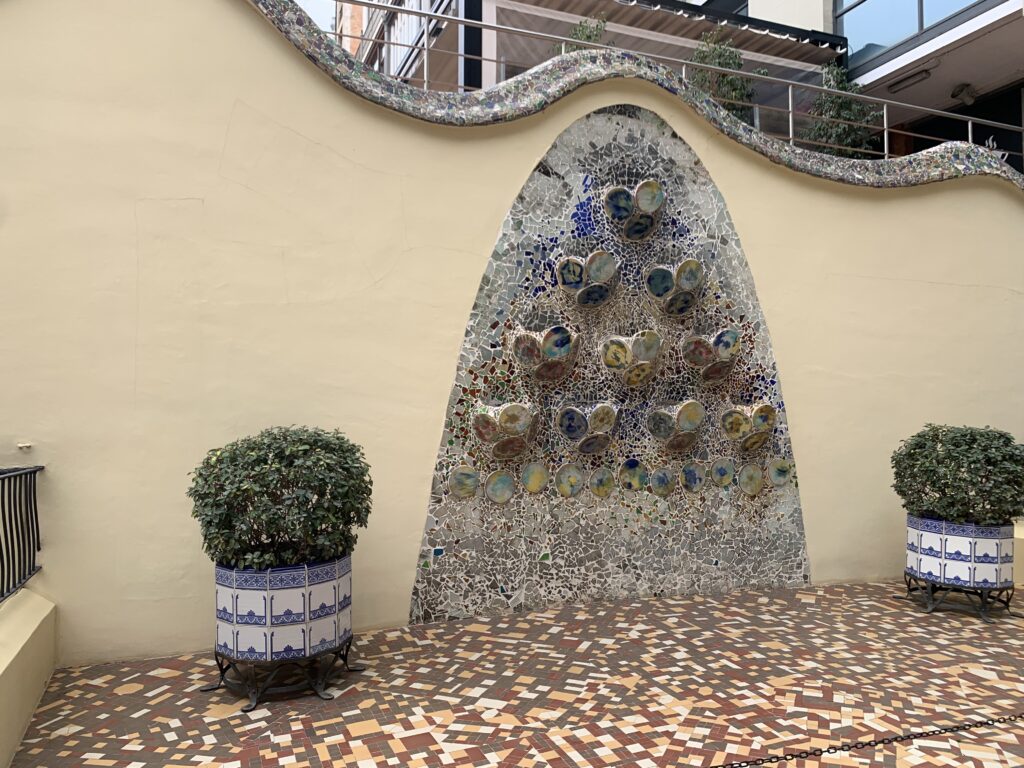 A small ornamental spot on the terrace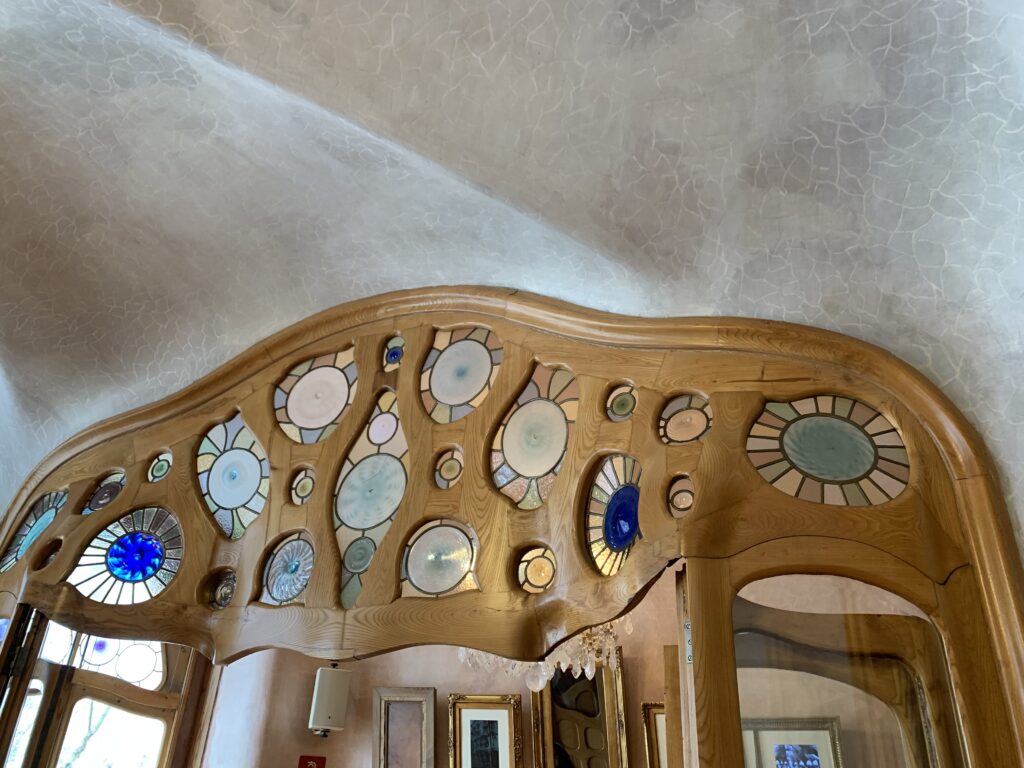 Sensitive to the bounce of light, Gaudi kept his rooms bright by using circles of glass that evoke an underwater feel throughout the apartment.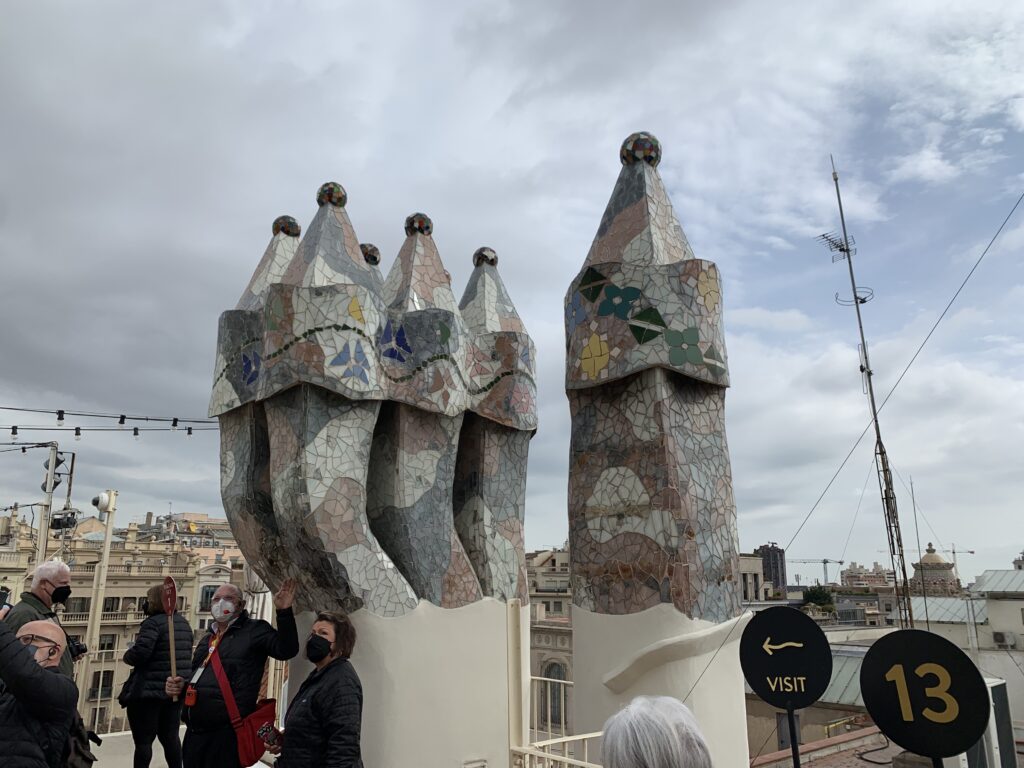 Gaudi's imagination was unbridled when it came to constructing this area of the house. Everything was covered in delicately colored trencadís work.
Trencadís is a type of mosaic used in Catalan modernism as an architectural or artistic finishing consisting of irregular pieces of broken ceramic, glass, or marble.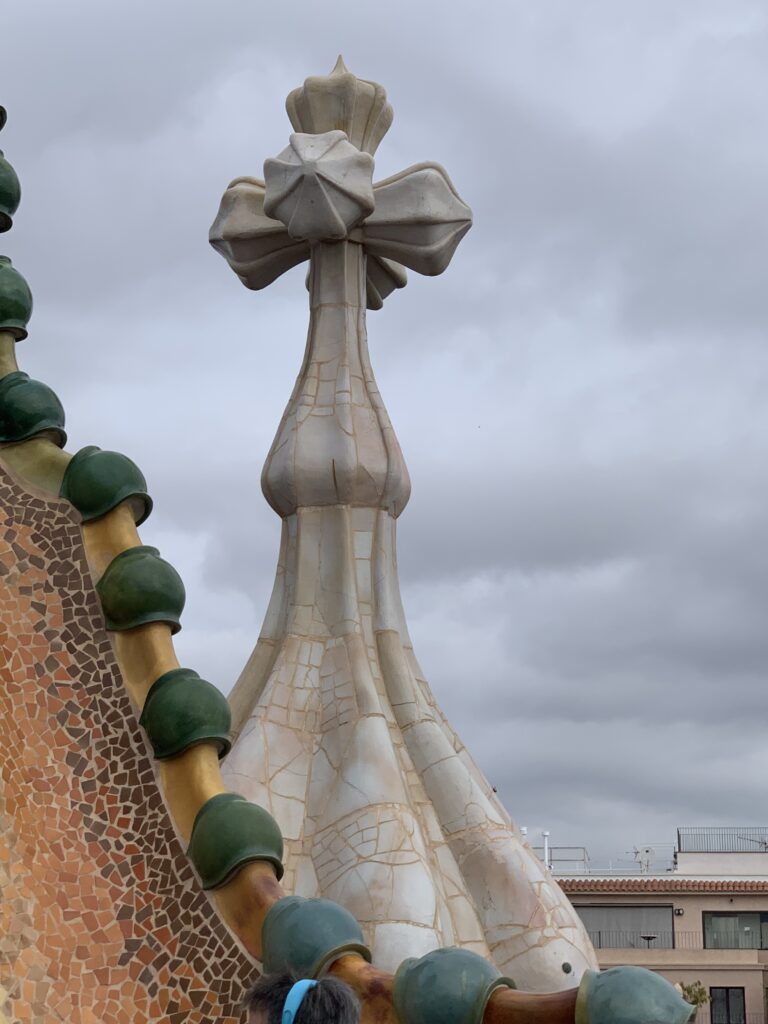 Many suggest that this is the Cross of St. George. Yes, the George who was a dragonslayer. St. George (Sant Jordi) is Barcelona and Catalonia's Patron Saint.
"Nothing is art if it does not come from nature."

– Antoni Gaudi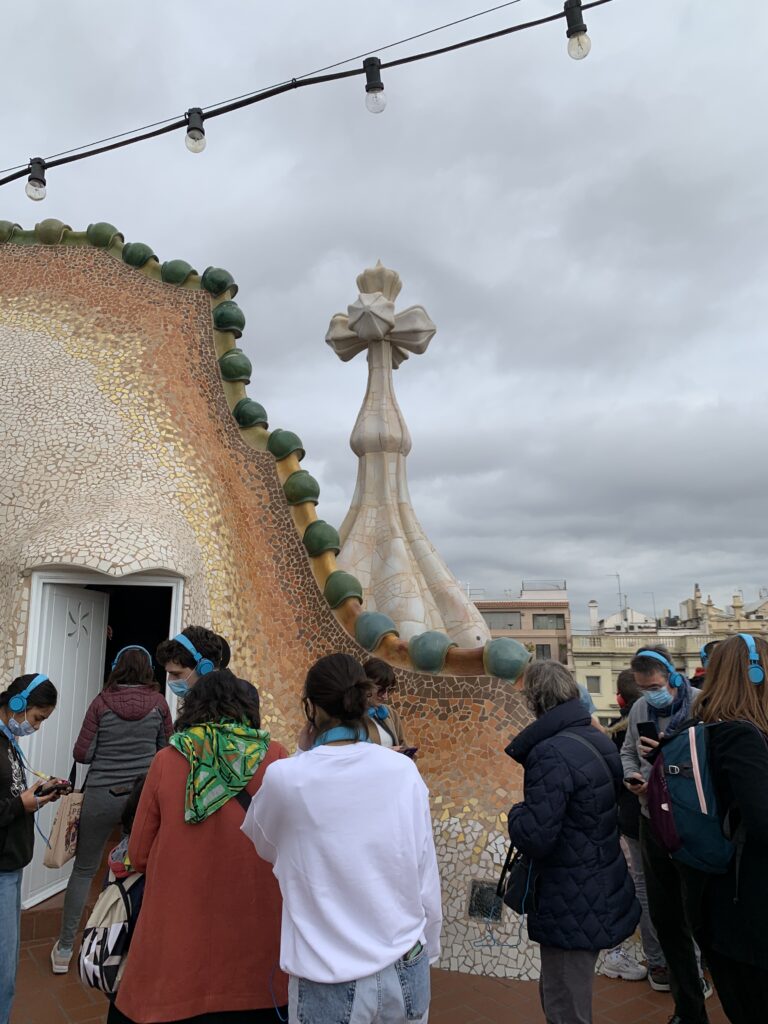 Gaudi created a whimsical upper terrace using Trencadís along the roofline. It certainly creates the impression of a resting dragon's back.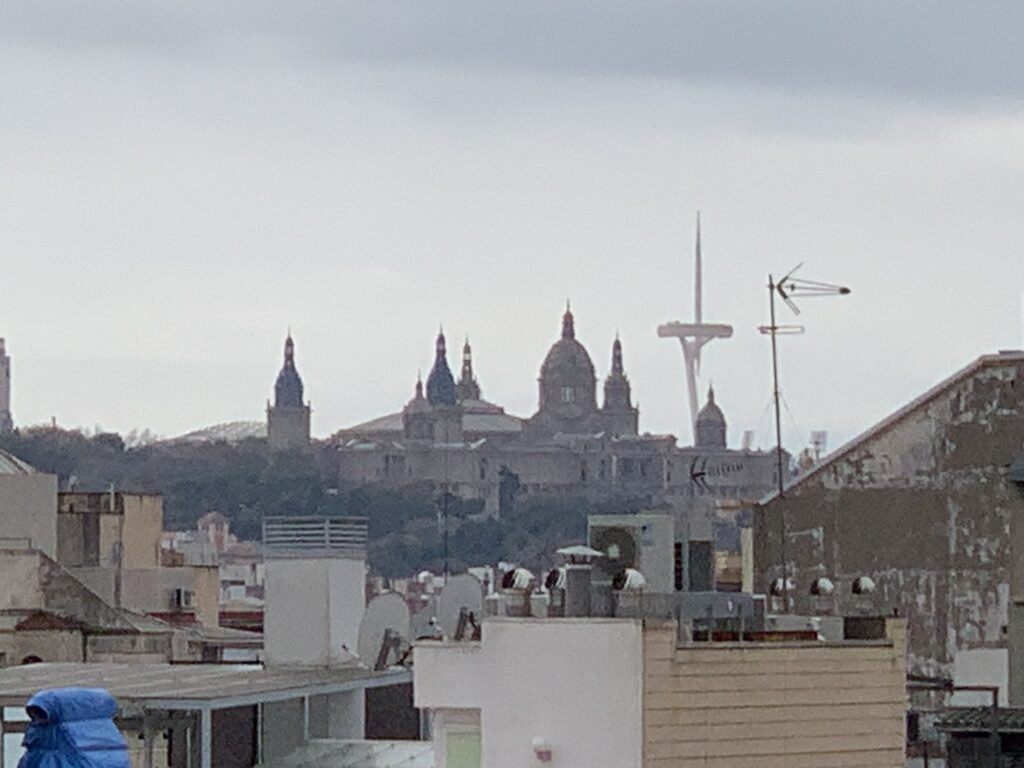 ​A view of Barcelona rooftops from the upper terrace. So as to make beautiful even the mundane, Gaudi created his fantasy skyline profile to lend nature's beauty to even this chaotic city scene.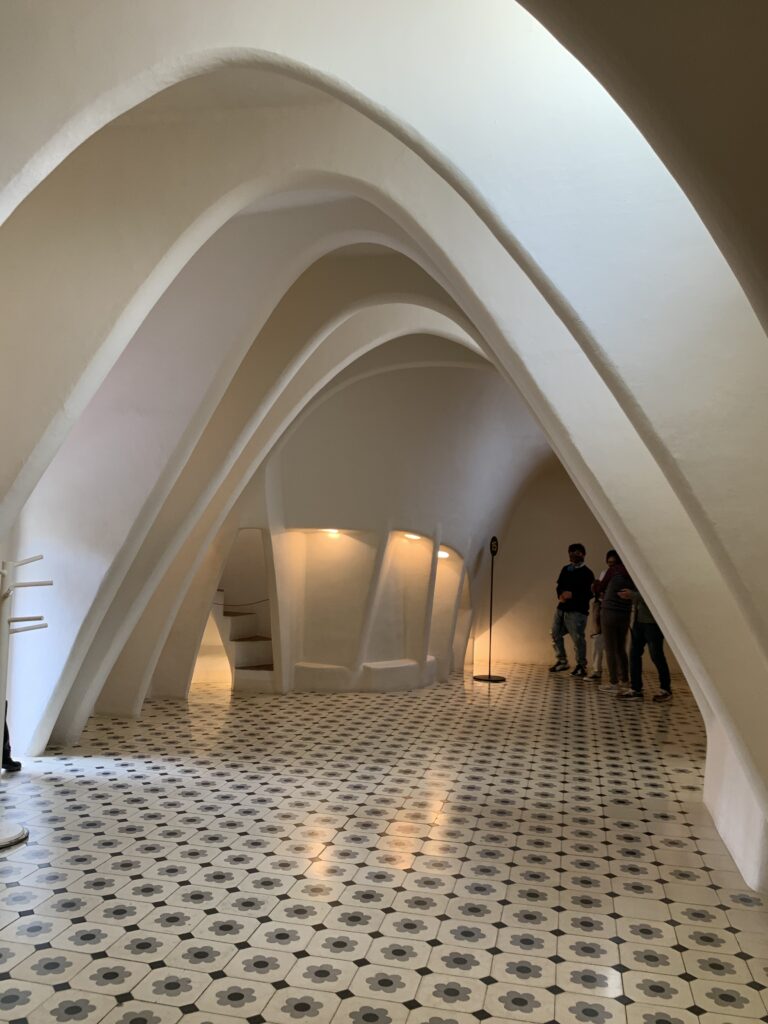 Because the attic and rooftop terrace were new additions, Gaudi treated this as an independent construction. From a functional point of view, Gaudi saw the attic as a protection chamber for the building that would house servants, plus a storage area. Built only with plaster over brickwork, a series of catenary arches supports the ceiling vaults. Employing his equiliberated technique, the roof terrace rests securely atop this riblike structure.
By organizing the topmost floor and its elements in a logical way, Gaudi put two stairwells, four groups of chimneys and ventilation shafts here. All harmoniously incorported within his artistic design.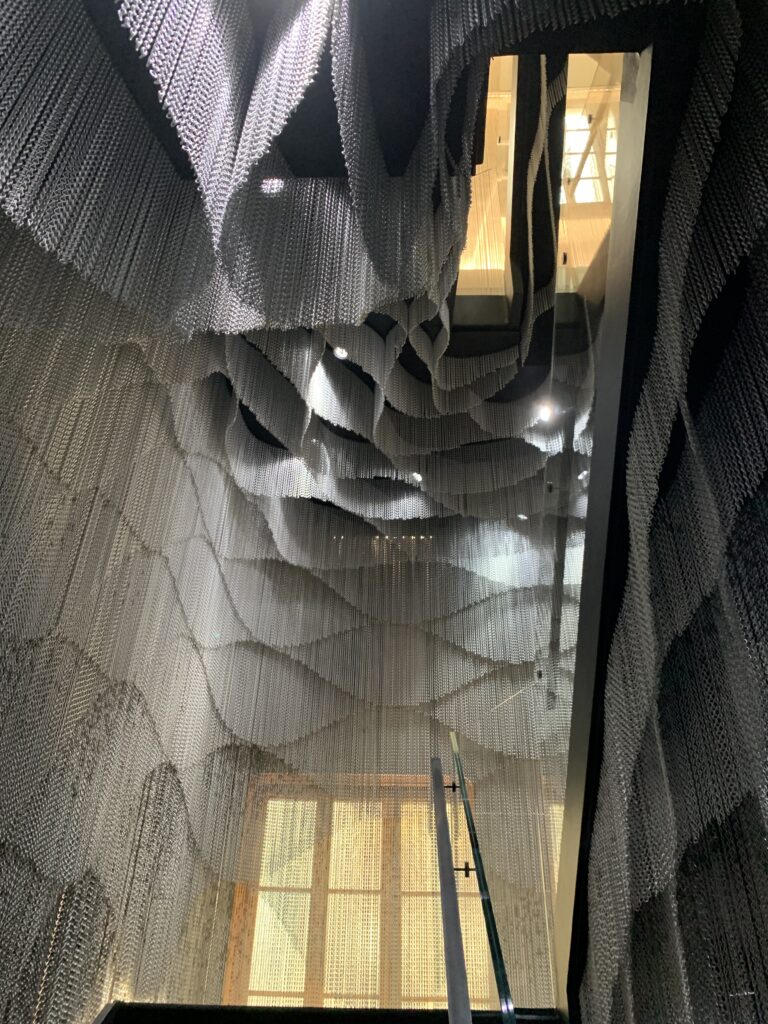 A Chinese artist designed this wonderful waterfall of chain to decorate the stairway leading to the final exhibit.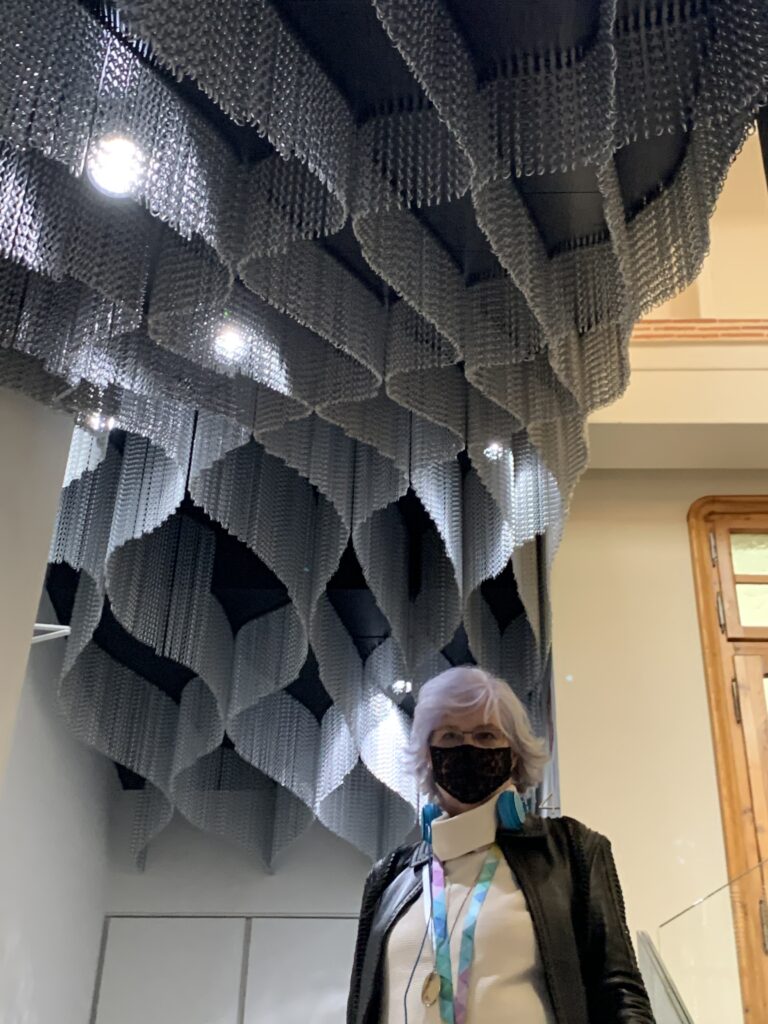 We really enjoyed the entire experience. What unexpected beauty in simple components!
Dawn:
​​​​The experience ended with a 360-degree mind-blowing event. You get filled with Gaudi-ness then you get popped out back to the street dazed and confused.

Here are three other neighbors who strove to outdo each other on the same block as Casa Batlló. Today, the residences share space with retailers who all want flagship stores up and down the Passeig de Gràcia.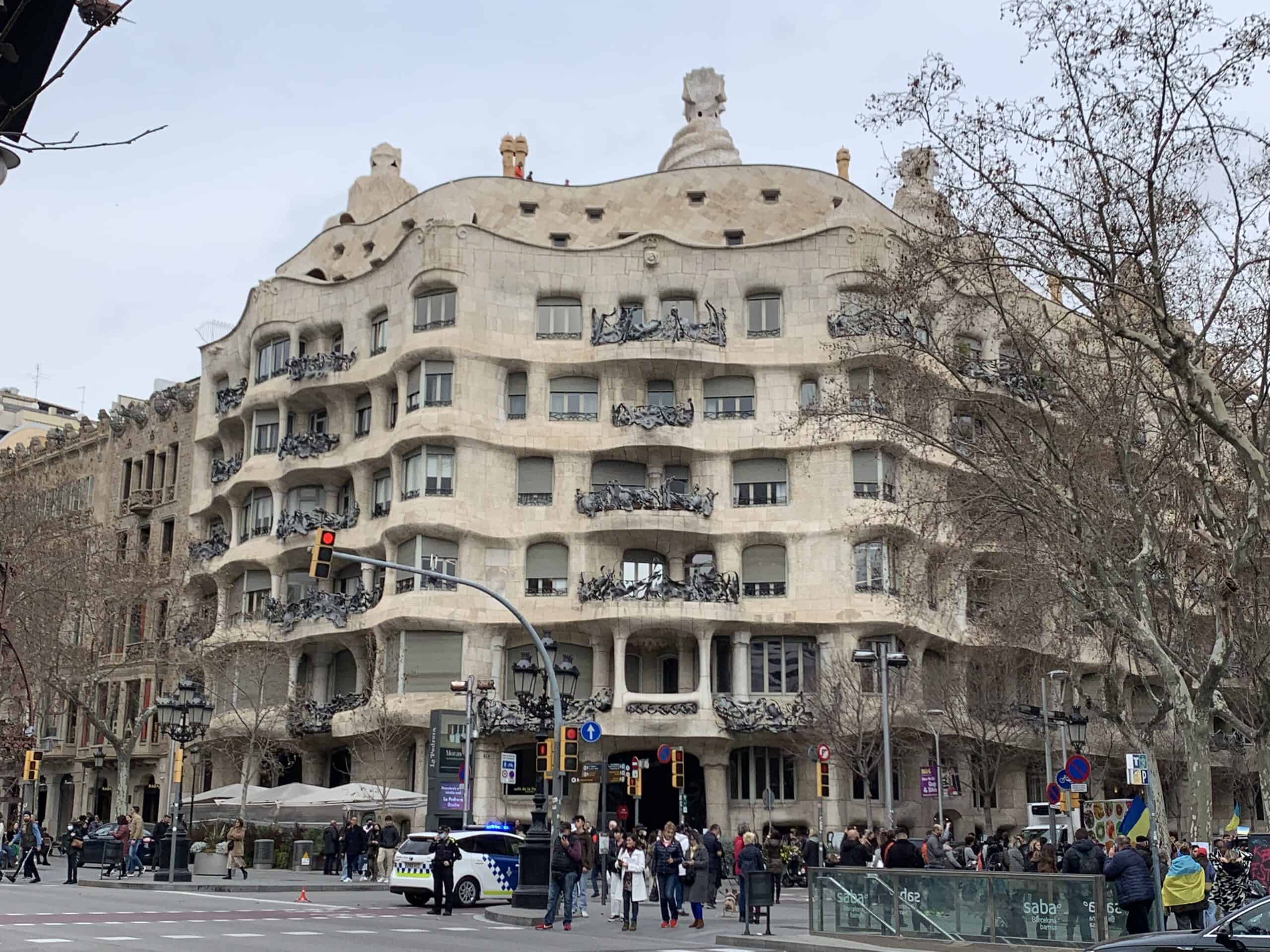 The Casa Batllò is one of two Gaudi buildings on this important boulevard. This is the other, Casa Milà, or La Pedrera.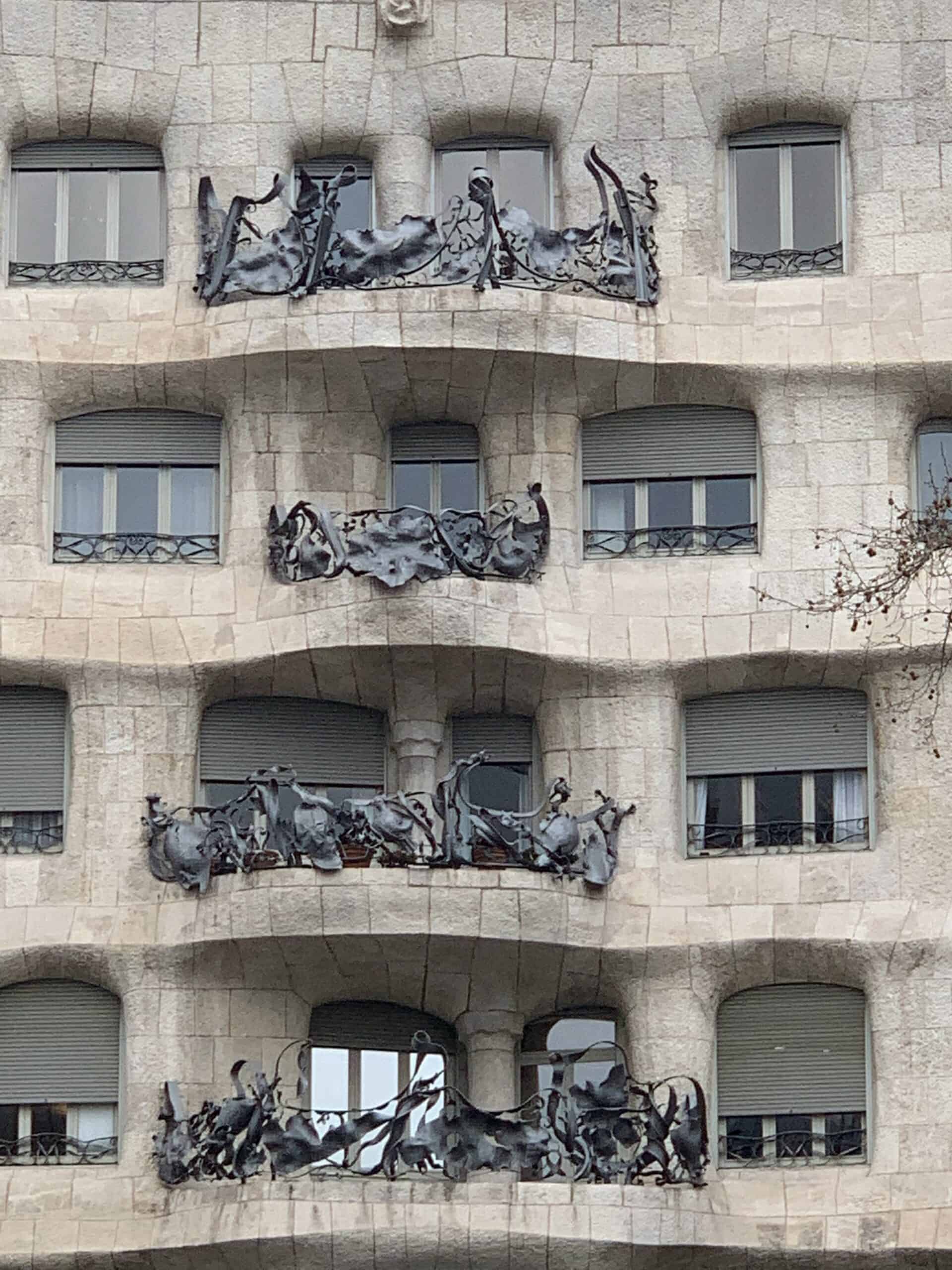 Ironwork detail on Casa Milà
After a full day of sightseeing, we encounter a demonstration in support of Ukraine on our walk back to the hotel. A little lay down gave us the energy we needed to go out for more great tapas that evening.